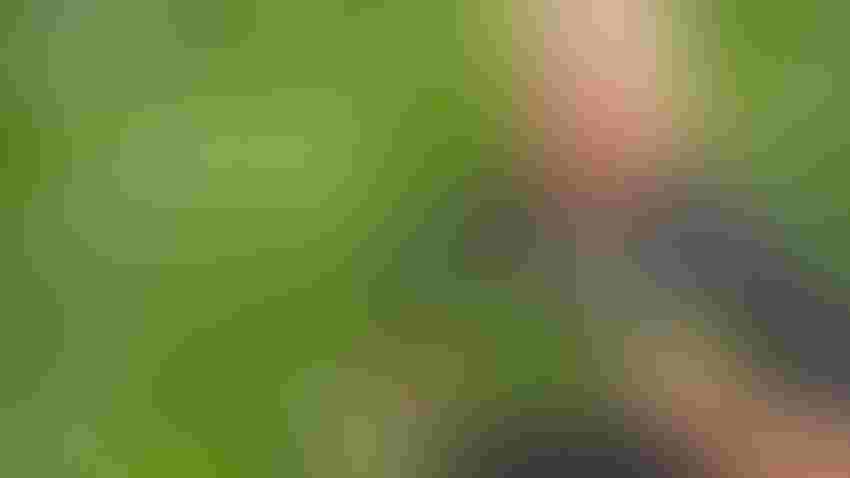 KEEP EYE OUT: Ryan Gentle, Wyffels agronomy manager, says tar spot needs the right environmental conditions to thrive — and leaf wetness is the key. When you have a lot of moisture sitting on the leaf, like heavy morning dews or general prolonged leaf wetness, plants are more susceptible to tar spot.
Photos by Holly Spangler
Agronomists have two basic messages about tar spot. No. 1: There's no easy button for tar spot. And No. 2? Don't skimp on fungicide.
"Research from several different Midwestern universities last year reaffirmed that fungicides with multiple modes of action are definitely performing the best on tar spot," says Ryan Gentle, agronomy manager for Wyffels Hybrids.
Gentle says no two years are the same for a lot of reasons, but his takeaway from 2022 is that timely fungicide application is best. But what time? Tar spot came on a little later in 2022, which meant an application at brown silk stage was better than a tassel application. Further, two applications were better than one in many cases.
Gentle points to a test plot in northeast Iowa, in Fayette County, where a portion of the field was untreated, another portion got one application of a 7-ounce rate of Veltyma at VT, and the third portion got two applications of Veltyma at VT and at R3. Here are the results:
No application yielded 165 bushels per acre.

One application yielded 200 bushels per acre.

Two applications yielded 225 bushels per acre.
"Your double and triple modes of action are more expensive, but it goes to show, this is one area where if you battle tar spot, you don't want to skimp and use a cheap generic — because it's going to cost you in the long run," Gentle adds.
For a good look at fungicides and modes of action, the Crop Protection Network has published a complete chart showing fungicide efficacy for corn diseases. CPN is a multistate network of land-grant universities and Extension professionals that provides unbiased, research-based information.
Across most of Illinois, tar spot was not as bad in 2022 as it was in 2021, in part because rains were a little more favorable and even. Continued leaf wetness makes for the most ripe environment for tar spot, so heavy morning dews and excess rain were triggers in areas that did experience tar spot.
"Everybody was geared up for tar spot to be like it was in 2021, but it really depends on the environment," Gentle says. The pathogen overwinters well in Midwestern soil, which experienced a mild winter this year. That means it's in the residue, and whether it shows up in 2023 will come down to rainfall.
"Until we find some genetic resistance, resistance is still gonna come in the jug for a while," he adds.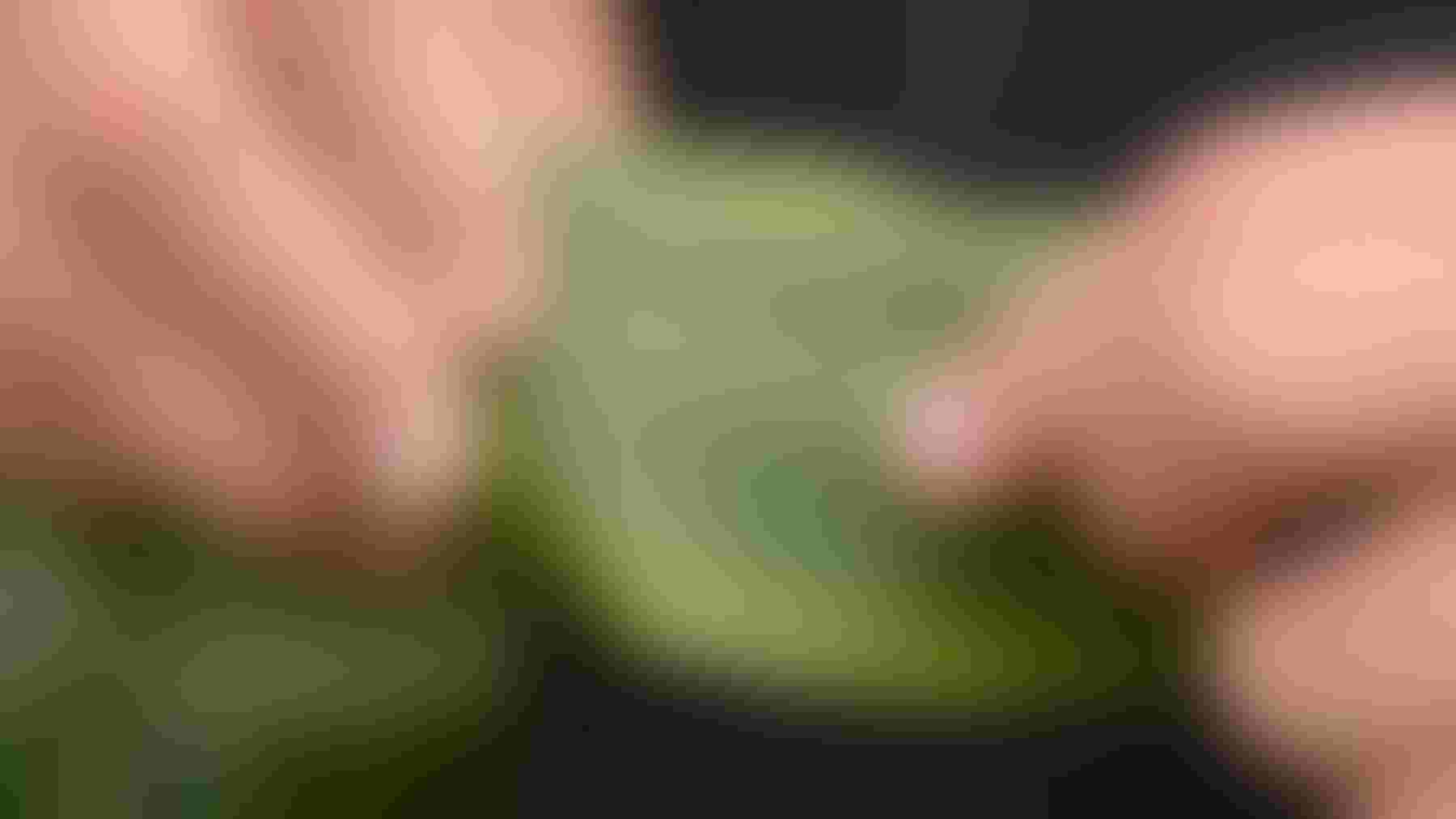 SPOTTED: Tar spot barely made an appearance in this field in 2022, photographed in mid-August. "If you're past the quarter milk line and it shows up, go gas up the combine and don't worry about it," says Ryan Gentle, Wyffels agronomy manager.
Gentle says research at both Purdue University and the University of Wisconsin favored spraying a little later than at VT stage, which is the traditional recommendation. In low tar spot areas, spraying at R2 or R3 provided a little more residual, which helped with the later-developing tar spot of 2022.
Gentle says he'll be sending out texts to the farmers he works with to help monitor tar spot. Especially through July and August, if a farmer gets a large rainfall, he'll shoot out a text: "Scout for tar spot a week from now."
Overall, he recommends scouting right before tassel time and spraying a fungicide of some kind. "We've still got gray leaf spot and northern leaf blight and a lot of other diseases out there, so we're still going to recommend spraying by brown silk, no matter what," Gentle says.
"With tar spot, there's no easy button. We can't just say, 'Every year you need to spray at VT with this fungicide at this rate,'" he says. "Some years that's going to be right and some years it's going to be wrong."
Tar spot battle plan
Here's a look at a tar spot battle plan, courtesy of Gentle:
Scout from July 4 through August.

Starting at V8 to V10, look for lesions; if you find them, apply fungicide ASAP.

If no disease is present, keep scouting and apply fungicide by brown silk.

After the first application, keep scouting.

Consider a second fungicide application if the disease progresses, up to dent stage.
Subscribe to receive top agriculture news
Be informed daily with these free e-newsletters
You May Also Like
---