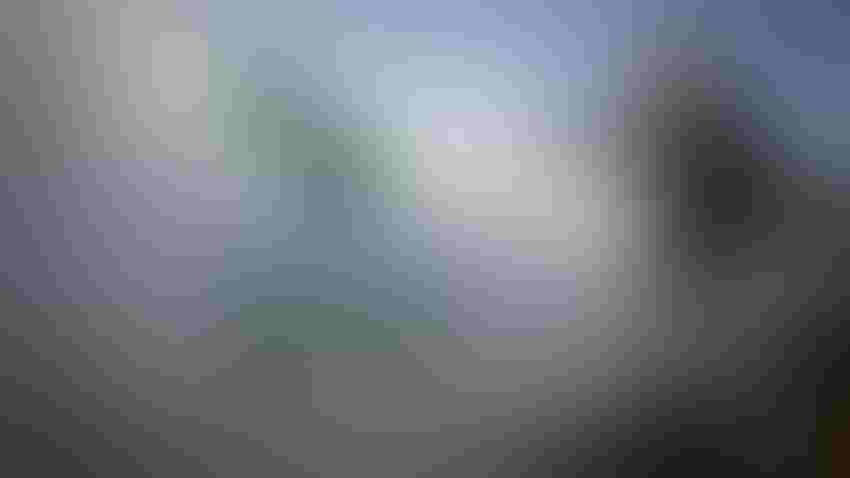 NITROGEN: "Using fertilizer nitrogen uptake efficiency as a means of ranking fertilizer practices makes a lot of sense," says Kelsey Griesheim (not pictured), a former University of Illinois graduate student who now conducts research as an assistant professor of soil fertility at North Dakota State University. "More fertilizer in the crop is good for the farmer, but it also means less fertilizer left in the soil, which is good for taxpayers and surrounding ecosystems. It's a win-win."
Betty Haynes
Studies from the University of Illinois have found that corn receives most of its nitrogen from naturally occurring sources in soil, rather than from fertilizer application.
The four studies were conducted by Richard Mulvaney, U of I soil fertility professor, and Kelsey Griesheim, former U of I graduate student who now conducts research as an assistant professor of soil fertility at North Dakota State University. The pair have spent the last seven years exploring the efficiency of nitrogen uptake in corn from different fertilizer treatments.
Their studies used N15, a heavy isotope of nitrogen, to track the fate of nitrogen from labeled fertilizers at harvest in both poor and fertile soils.
"My hope would be that producers would just realize the magnitude of these numbers," Griesheim says. "They're purchasing nitrogen, and it's not all getting into the crop. It's important to make them aware of it, so that when they're looking at their bottom line and how much they're spending on nitrogen, they realize the situation."
The team's first study ran from 2017 to 2019, looking at fall applications of anhydrous ammonia. The findings showed a mere 12% to 24% of applied nitrogen was present in corn at harvest.
"Naturally you would wonder where the rest of the nitrogen came from, and the answer is very simple — it came from the soil," Mulvaney says. "About 80% of the N in that grain was being taken up from the soil itself. That's a major finding, but nothing new according to many previous N15 studies that show the same dominance of soil N uptake by corn and other crops."
At harvest, 80% of the nitrogen detected was from "unlabeled N" as opposed to fertilizer, raising questions about the constraints of application timing. In addition, the best soil had the lowest nitrogen uptake at just 12%.
"Soon after the fertilizer is applied, it will be the dominant source of N, but it doesn't last," Mulvaney explains. "Fertilizer is typically a single or split application, rather than a continuous source like the soil. Once harvest rolls around, the soil has outstripped fertilizer as the main source of N."
Timing matters, too
A separate study focused on application timing of nitrogen by comparing fall-applied ammonia and in-season urea ammonium nitrate. The findings were astounding to the researchers: Nitrogen uptake was only slightly higher in corn with the UAN Y-drop application than with fall-applied ammonia.
"That surprised all of us," Mulvaney says. "We thought the in-season applications would be much more efficient. But it didn't turn out that way."
Mulvaney and Griesheim discovered that decisions on fertilizer form, timing and placement had only a minor effect on the corn crop.
"Instead, the main differences that we saw were connected with the sites that we studied," Mulvaney explains. "In other words, it's a soil issue. And why shouldn't it be if the soil is the main source of N the crop uses?"
Their studies make two points farmers can take home:
Variable-rate nitrogen pays.

Soil differences matter when applying fertilizer.
"If you have rich, fertile soil, corn crops have less need for fertilizer because the soil already supplies plenty of N," Mulvaney says. "If you're farming poor soils, the N rate should be higher since the crop is more reliant on what comes from the fertilizer."
Adjusting nitrogen applications on a site-specific basis has both financial and environmental benefits for farms.
"Variable-rate applications help minimize excessive inputs that are all too common with nitrogen applications," Mulvaney says. "Minimizing nitrogen should reduce cost for unneeded fertilizer while also minimizing environmental effects like nitrate pollution and greenhouse gas emission."
Subscribe to receive top agriculture news
Be informed daily with these free e-newsletters
You May Also Like
---