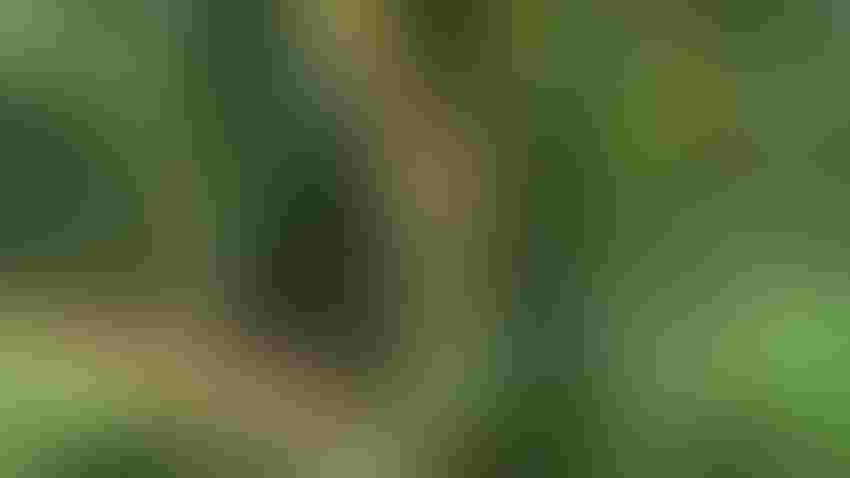 The results of "Homo sapien freeloader disease" in corn.
Rome Ethredge
At a Glance
Folks are finding some Southern rust, our most serious yield-robbing foliar disease, now.
By Rome Ethredge
Other than stinkbugs, Southern rust, nematodes, watering concerns and mother-in-law blight, there are no big worries with the southeast corn crop. Mother-in-law blight (lol), also know as "Homo sapien freeloader disease," is pretty common after roastin'-ear stage, or where ears have been pulled to boil or cut for cream corn, and the plant doesn't have a source for the photosynthetic sugars so the corn plant turns reddish.
Corn crop is promising and moving along with the oldest corn planted the last week of February (in south Georgia) and is in "Dent" stage, which is R5. The outer edge of the kernel hardens as starch content increases and moisture decreases. This hardened area will progress towards the cob over the next 3.5 weeks or so until we get black layer (corn maturity). Heat units are accumulating a little slower this year, but harvest time is fast approaching.
Water is very important for top corn yields with the Milk, R3, stage and early Dough, R4, stage needing the most water at 2.3 inches per week. Water needs slightly decreases after that, but corn needs some water until maturity even after dent starts. A few days without water really cuts yields. Recent storms have flipped several pivots, unfortunately, in the region.
Folks are finding some Southern rust, our most serious yield-robbing foliar disease, now. It doesn't overwinter except maybe south Florida, so it must come north every spring. It often arrives the first of June but came later this year, thankfully, but threatens later planted corn now and responds to fungicide use.  There are copycats out there now like common rust and abiotic spot but these are of no real concern. Other diseases such as NCLB and SCLB are around, mainly on genetically susceptible hybrids.
Stink bugs are the most serious insect in terms of damage in corn, and we're seeing them again in 2023. They feed right through the husk on the young corn ear and later kernels. They can be implicated with later aflatoxin problems as well. They are entering the field from the edges and can sneak up on you, so scouting is needed. Brown stink bugs are harder to kill, so high rates of certain pyrethroids are needed.
Caterpillars seem earlier and worse this year than normal with a high percentage of ears having a corn earworm in the tip. They can cause about a 4% yield loss but not a big concern in field corn and once they're in the ear, not controllable. Genetics can help and often used on later planted corn especially.
Nematodes have been serious this year, stunting corn from the get go. The value of in furrow nematicides is great but many times it's not enough. Extra spoon-fed fertilizer and water can help the problem.
In Genesis 27:28 we read, "May God give you heaven's dew and earth's richness an abundance of grain and new wine." Prayers for a good finish to the 2023 corn grain crop and watch those mother-in-laws.
Ethredge is a crop consultant in southwest Georgia.
Subscribe to receive top agriculture news
Be informed daily with these free e-newsletters
You May Also Like
---