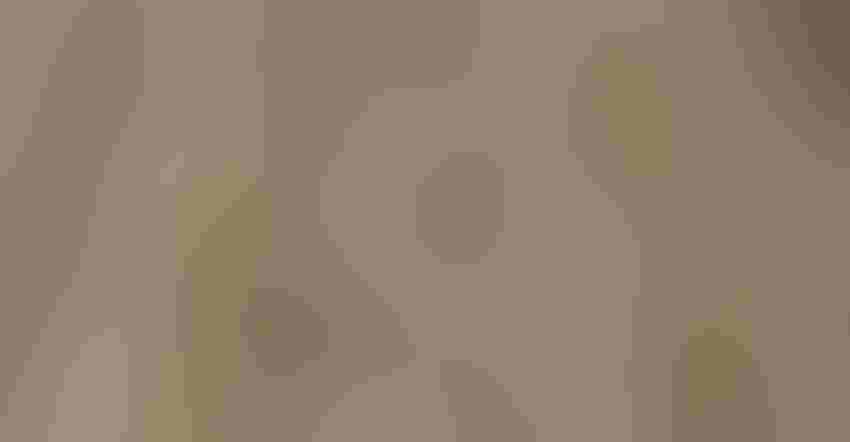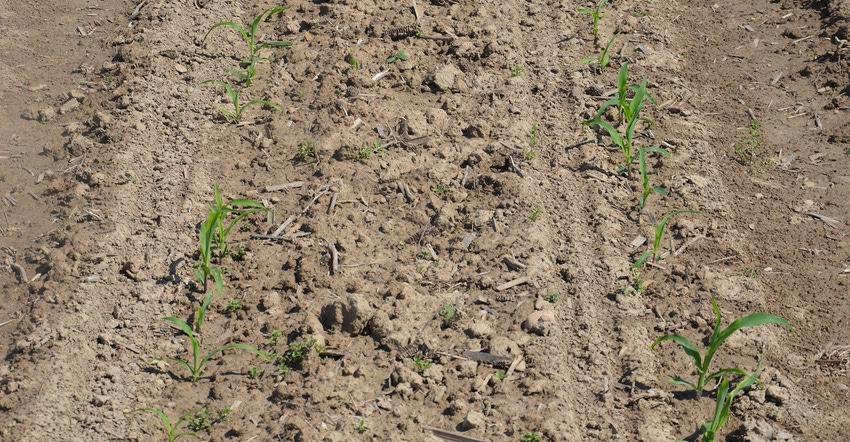 TRICKY CALL: More corn was added to a thin stand here. Often, this creates a less-than-desirable situation, Dave Nanda says.
Tom J. Bechman
Imagine you're evaluating a cornfield. The calendar says May 25. The stand count averages 22,000 plants per acre. Cool soils early and wet weather lately contributed to a weak stand. Yet most plants are evenly distributed. It's dry enough to run. Should you hook up the field cultivator and tear up the stand, or stay with what you have?
Dave Nanda, director of genetics for Seed Genetics Direct, says you've already taken the first step to making a sound decision by determining the average stand count. Seed Genetics Direct is the sponsor for Corn Watch '20.
Find a worksheet for replanting and helpful tables from Purdue University Extension. Extension corn specialist Bob Nielsen also recently posted advice for replanting. These publications provide insight into the various trade-offs in cost and yield potential for replanting versus keeping the current stand.
What data says about replanting
Let's say you originally planted the field April 20. If you leave it, information based on past research indicates you can expect 94% of original yield potential. If 225 bushels per acre was realistic, the new ceiling is 212 bushels per acre, or 13 bushels less. At $3 per bushel, you've given up about $40 per acre.
If you replant on May 25 and obtain your original target population of 32,000 plants per acre, you can achieve 87% of original yield based on history. That's 196 bushels per acre, or 29 bushels and nearly $90 per acre below your goal. You also would have replant costs and no guarantee of a better stand.
Related:What you should know about early-season corn insects
Note, however, that even in the difficult 2019 season, some corn planted in June still yielded 220 bushels per acre. Many factors besides planting date affect corn yield. But if you believe in historical averages, the stand in this example would have to be under 18,000 plants per acre before you would just break even by replanting in terms of yield potential, not counting replant costs.
Some companies provide free seed for replanting. Others cover a percentage of the cost. Replanting may also mean costs for fuel, plus wear and tear on machinery.
If you find yourself with a stand that is thinner than you like, put your real numbers into the Purdue replanting worksheets. Then make your decision.
Another replant option
There is another alternative, Nanda says. Some four years ago, a cool, rainy spell after planting in late April led to less-than-desirable emergence in the Corn Watch field. Populations varied across the field, from near 30,000 to 10,000 plants per acre. The operator chose to no-till in extra seed once it was dry enough next to existing rows. The field yielded over 200 bushels per acre.
Nevertheless, Nanda is not a big fan of this option. "You wind up with too many plants in some places, and where the first stand was very thin, you have plants of different sizes next to each other," he explains. "You get shading on smaller plants next to larger plants. If tall and small plants are side by side, the small plant may end up being worse than a weed — it doesn't produce anything."
Nanda's preference would be to decide one way or the other. Where the stand is good enough, leave it. If it's obviously subpar, such as 10,000 to 15,000 plants per acre, consider replanting.
Purdue doesn't recommend trying to thicken a stand unless at least 25% of the stand is missing.
About the Author(s)
Subscribe to receive top agriculture news
Be informed daily with these free e-newsletters
You May Also Like
---