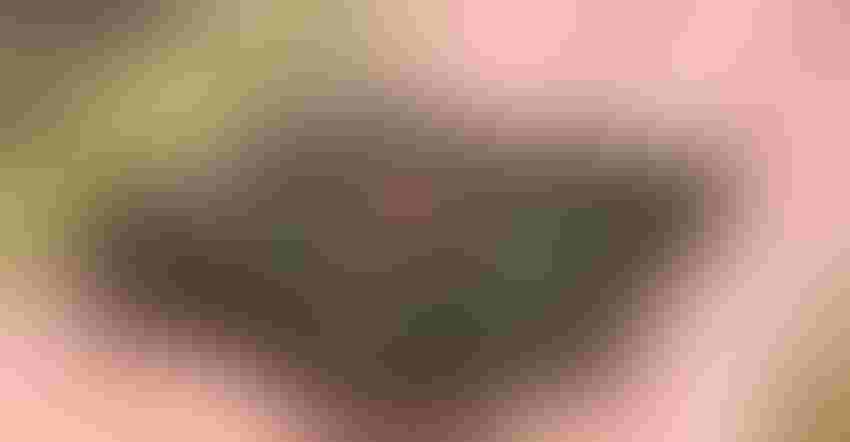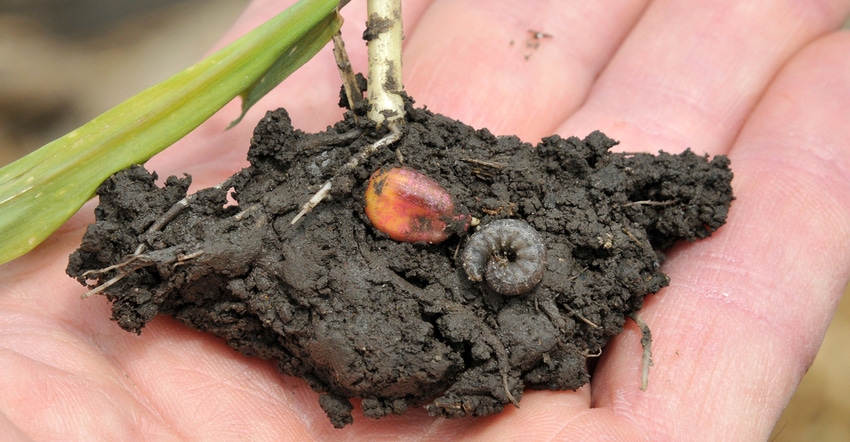 ONE TO WATCH: Black cutworm moths were prevalent in traps in certain areas this spring, but that doesn't mean the timing will be right for larvae to damage young corn plants.
John Obermeyer
If you plant traited corn with protection against aboveground insects, you may pay less attention to potential insect pests early in the growing season than you once did. However, experts say it's still smart to scout for insects rather than get an unwelcome surprise later.
Dave Nanda, director of genetics for Seed Genetics Direct, Jeffersonville, Ohio, will look for both insects and disease symptoms once corn emerges in the Corn Watch '20 field in central Indiana. The idea is to report on what's happening in this field so it might alert you to potential problems in your own fields. Seed Genetics Direct sponsors Corn Watch '20.
Entomologists rely on cooperators, some of them farmers, to trap moths that fly into the eastern Corn Belt from southern regions each spring. They report moth counts caught in traps weekly on various reporting sites.
Moths vs. larvae
"We saw some fairly high moth counts for black cutworm in some areas in later April," notes John Obermeyer, a Purdue University Extension entomologist. "However, that doesn't mean we will have outbreaks of black cutworm feeding in susceptible corn.
"Big numbers of moths don't always translate into insect issues. The moth traps tell us moths have arrived, and when to better plan our scouting trips. However, what matters more is weather conditions when moths lay eggs and larvae hatch. If environmental conditions favor timely field work and planting, we may not see much damage in fields, even though the moths made it here from Southern states where they overwinter."
Related:How corn emerges when things go right
In fact, Obermeyer says that with a sizable amount of corn already planted in some areas, and with weeds burned down with herbicides in other fields, timing may not be right for black cutworm larvae to do much damage in these fields. The corn could be past the stage where the pest can inflict considerable feeding damage by the time larvae are grown and ready to feed.
You still may want to scout fields of corn that could be susceptible to damage, especially later-planted, weedy fields. Black cutworm feeding often shows up in patches and certain areas of a field, rather than uniformly throughout the field. The Purdue University Corn & Soybean Field Guide provides scouting tips and threshold information for treatment for black cutworm and other pests, including armyworm and corn earworm.
Corn earworm update
You may have picked up on more interest in corn earworm over the past couple of seasons, Obermeyer notes. The insect can cause feeding damage on tips of ears later in the season.
"You're hearing about it because it has developed resistance to most Bt traits, with the most reports coming from the Carolinas," he explains. "If we happen to get storms coming up from that area that collides with a cold front and drops earworm moths over the eastern Corn Belt states, then we could have them here. That happened last year, and there was a surprising amount of damage in some fields."
The Viptera trait still is fairly effective against earworms, although it's even showing some signs of being less effective than before in the Carolinas, he reports.
"It's similar to the situation with western bean cutworm in northwest Indiana," Obermeyer says. "The Herculex trait is no longer effective in controlling it. Viptera still does a good job on western bean cutworm."
About the Author(s)
Subscribe to receive top agriculture news
Be informed daily with these free e-newsletters
You May Also Like
---