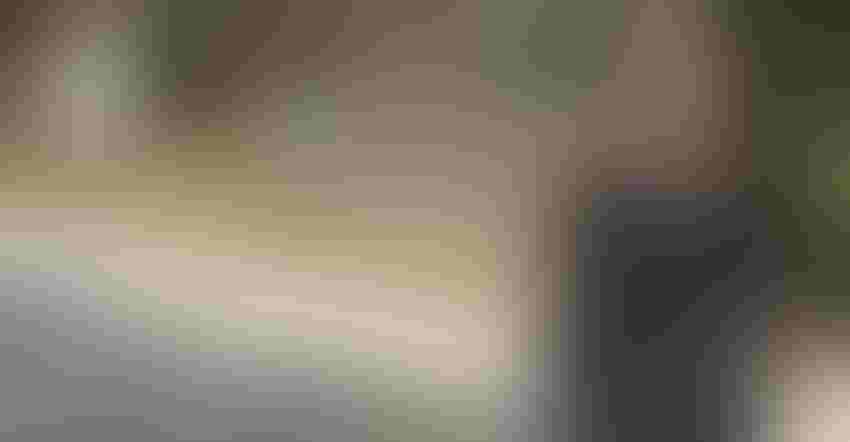 Turlock Irrigation District General Manager Michelle Reimers says her district continues to seek new technologies to better understand and manage the Tuolumne River watershed.
Todd Fitchette
When Central California's Turlock Irrigation District was formed in 1887, it already had rights to the Tuolumne River. Today this river sustains billions of dollars in agricultural output and the livelihoods of water attorneys in a region known for its food production and processing prowess.
The benefits of those appropriative water rights – a legal guarantee dating back to California's Gold Rush and formalized in 1914 by the Water Commission Act – allows Turlock Irrigation District (TID) to divert river water for beneficial use. Today the benefactors of those rights include about 4,700 farmers, and numerous major food processors including Hilmar Cheese Company and Blue Diamond Growers.
The electricity generated from the district's stored water provides green power to the same processing facilities, thousands of homes, industrial users including Amazon, and the economies of 14 cities across two counties.
Curtailments
When the State of California issued its water curtailments late last summer, TID and neighboring districts pushed back. A coalition of water districts from Modesto, Oakdale, Manteca, and San Francisco sued the state over its curtailment order.
Michelle Reimers, TID's general manager and chief executive, says she understands the idea behind the curtailments. Aside from the pre-1914 water rights the districts own and what that means under California law, Reimers says TID is bothered by the blanket order because it fails to consider how well-managed irrigation districts like hers operate and manage their systems. 
"We recognize there is a need for curtailment at some point; the question is how they are implemented," she said of the state's curtailment order. "For instance, they have no jurisdiction over pre-1914 water rights."
Plaintiffs in the lawsuit against the State of California include the Turlock, Oakdale, and Modesto irrigation districts, South San Joaquin Irrigation District, and the City/County of San Francisco, which owns the Hetch Hetchy project.
"For us the issue (of curtailment) is that we've managed our water appropriately," Reimers said.
Questions arose quickly over the late-summer curtailment order. Water districts sought clarification from the state while TID growers had one basic question: "will I get the rest of my irrigation water this year?"
TID was willing to challenge its right to stored water in court, Reimers said. The water in question was stored in Lake Don Pedro, awaiting delivery to district growers and other water users. One almond grower who spoke with Western Farm Press in August said he'd used about 25% of his 34-inch irrigation allotment on the season by mid-August and was planning to use the rest for his post-harvest irrigation in a move meant to set the trees up for winter dormancy and a way to replenish his aquifer.
Careful management
TID growers were allocated just under three-acre feet of ditch water for the season that ended in October. This was about 30% lower than the previous year, according to Brad Koehn, chief operating officer for the district, and just over a foot less than what is typically a full allotment.
That allocation could be reduced further next growing season if winter rain and snow does not materialize, Koehn said.
Reimers highlights the district's water management efforts by saying that district staff consistently update the board of directors – this five-member board generally meets once a week – and by employing new technology to closely predict and manage water supplies.
Technology
Growers in the district have access to online ordering systems that streamline water deliveries and tell them how much water they have left in their allocation. The automated system streamlines delivery. Among the online water tools is a water budget to help growers plan their water usage during the season.
District staff works closely with NASA and the USDA to accurately understand snowpack and its available water content while watching the weather. Through a partnership with Scripps Institute of Oceanography, the district seeks to better understand atmospheric rivers and effectively capture water from those events while minimizing downstream damage and better manage the spillway at Don Pedro Dam.
In 2017 the district worked with the Army Corps of Engineers while seeking permission to deviate from its flood control plan as heavy runoff upstream from Lake Don Pedro forced the district to open one of three spillway gates.
"Having the technology we had really helped us," Reimers said. "We had to open one spillway gate, not all three, but we were able to control it with the data and technology we had."
Some of the new technology TID is using is also being used by other water agencies in the state. The Airborne Snow Observatory is an aerial snow monitoring tool that provides precise measurements of snow depth for every square meter of snow in the watershed. The technology was developed at the NASA Jet Propulsion Laboratory and allows accurate snow water measurements by air.
Who's in charge?
Reimers argues that because the state of California is uninvolved in district water management and, more importantly, does not understand the Tuolumne River watershed like the district does, issues like the curtailments and proposed unimpeded flow requirements punish local agencies that manage their water supplies well. She argues that the unimpeded flow proposal by the state that will force water users to give up 40% of their water to unimpeded flows during the spring will not have the environmental benefits officials claim.
The unimpaired flows are said to improve river ecosystems and delta health under the Bay Delta Water Quality Control Plan.
Dam relicensing
Reimers said TID has been represented at meetings to discuss the unimpaired flows. These discussions have particular significance for TID because it is also undergoing a relicensing process for Don Pedro Dam with the federal government.
Reimers says the California State Water Board has mandatory conditioning over the Federal Energy Regulatory Commission (FERC) license TID must renew, meaning that the state board can insert the Bay Delta Water Quality Control Plan into the FERC license and the federal government can't do anything about it.
"It's probably the biggest driver on why the relicensing is taking so long," Koehn added.
TID is operating under a year-to-year license through FERC while the district works on upgrades to the hydroelectric facilities.
Though not directly tied to the FERC relicensing, the repairs to the powerhouse are necessary, Koehn said. The aging facilities needed replacement at the same time the FERC relicensing came about.
When complete, Don Pedro Dam will produce 30% more power than it does today on the same volume of water. Existing power generation is 203 megawatts, of which 139 megawatts is used for TID customer needs. The district delivers 64 megawatts to neighboring Modesto Irrigation District.
Koehn said the ability to generate carbon-free hydroelectric power like this benefits TID and California.
"These facilities are fast-acting," he said. "We can increase supply in minutes, just by using water."
That is just one more benefit of a well-managed water system, Koehn continued. The district's ability to store water does not merely affect irrigation deliveries to farmers but allows them and others to keep the lights on.
Moreover, TID is its own power balancing authority, according to district spokesperson Brandon McMillan, "meaning we are solely responsible for meeting the energy demands of our customers and are unaffected by California ISO rolling blackouts."
Subscribe to receive top agriculture news
Be informed daily with these free e-newsletters
You May Also Like
---