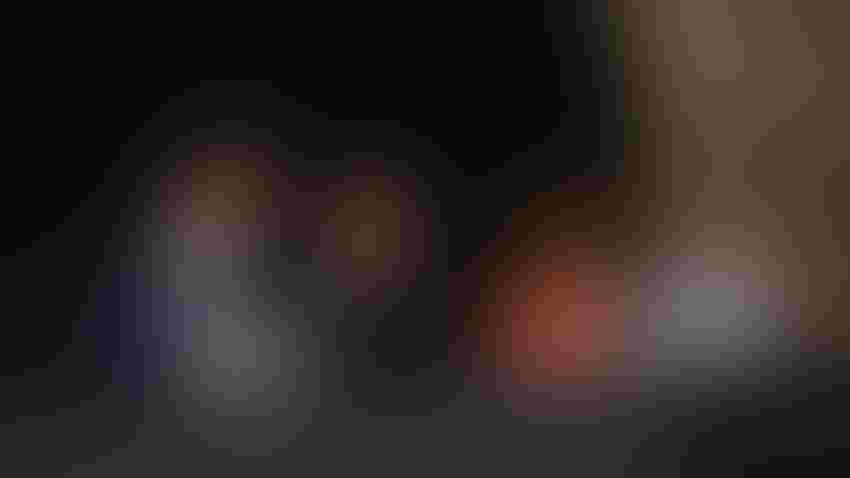 Discussing the Endangered Species Act at Commodity Classic in Orlando March 10 are from left, Jake Li with the Environmental Protection Agency; Stanley Culpepper with the University of Georgia; Patty Mann, a Jackson Center, Ohio farmer; and Tony Burd with Syngenta.
John Hart
At a Glance
EPA must find a way to comply.

Panelists say flexibility is key.
For decades now, the Environmental Protection Agency has not been in compliance with the Endangered Species Act, which means that pesticide restrictions and protection measures specific to the Endangered Species Act haven't been enforced and seen on pesticide labels.
Therein lies the challenge, and the EPA official in charge of pesticide issues within the agency's Office of Chemical Safety and Pollution Prevention warns that the situation is urgent.Jake Li, deputy assistant administrator at the EPA, addressed the latest challenges surrounding EPA's compliance with the Endangered Species Act at Commodity Classic in Orlando March 10.
In a panel discussion moderated by Mary Kay Thatcher, senior manager, federal government and industry relations with Syngenta and former top lobbyist with the American Farm Bureau Federation, Li said the EPA is in a situation right now, after losing multiple court cases over the last few years, where it simply cannot move forward without complying with the Endangered Species Act when it registers pesticides.
"The reason is that as a federal agency all of our actions have to ensure that you're not going to basically put an endangered species in extinction. None of us want an endangered species to go extinct or disappear in the world, they provide a lot of value to humans, so we have to figure out a way to balance the use of pesticides with our competing goal of how do you protect endangered species from pesticide use," Li said.
Joining Li on the panel were Stanley Culpepper, professor of weed science at the University of Georgia; Patty Mann, a Jackson Center, Ohio farmer; and Tony Burd, senior regulatory stewardship manager with Syngenta.
A long-term process
Li said the courts have ruled that EPA, after 40 years of not complying with the Endangered Species Act, must now find a way to comply. The challenge, Li said, is that it will be tough for the agency to dig itself out of a 40-year hole overnight.
"What we are doing right now is developing a long-term plan for every year on how can we meet milestones that bring us closer and closer to compliance without being fully in compliance right away because it's going to take decades for us to be fully in compliance," Li said.
"That's why this is going to start getting real for all of you because what it's going to mean is that on pesticide labels, you're going to increasingly see restrictions and other mitigation measures to protect endangered species from pesticide use. What we are trying to do in our office is to ensure that those protections and those restrictions are as flexible and as reasonable for growers as possible," he told a packed room at the Orange County Convention Center in Orlando.
Li said it is a complicated problem to solve, but the EPA is on the way to solving it. He said EPA's workplan, announced by the agency last April, works to address EPA compliance with the Endangered Species Act when it comes to pesticide registration and use.
Li noted that the EPA actively sought public comment on the workplan and held "tons of meetings with growers and other stakeholders to figure out what are practical ways to protect endangered species in your part of the country while still providing the tools that you all need to manage pests."
Following the science
In short, Li said protection measures must be in place for pesticide use to comply with the Endangered Species Act.
"Some of these protection measures are going to appear on the label itself. In other situations, we're going to ask you to go on a website that we have created that is going to provide geographically specific protection measure maps of the county you're in. You can figure out are you in an area where there's an endangered species and therefore you need some restrictions or are you out of the area where there are not restrictions that are needed for endangered species," Li said.
Li said the challenge is the sheer side of the problem with a large number of pesticides to bring into compliance after 40 years of non-compliance. He noted that every single pesticide registered without compliance is technically a legal formability that EPA can get sued over.
"What we're afraid of is regulatory decisions made without science. I think Jake wouldn't disagree with that. Jake and his team are being put in a situation where they have to make decisions very quickly based on the best available science. That's scary because scientists like myself haven't had the opportunity to work on this," Culpepper said.
"I only knew about this about three years ago, and that's probably before most people did. My team is working very aggressively with Fish and Wildlife, we're working with EPA, and we're trying to get them the information. Once they get the right information, the right decision will happen, but it's like we don't have enough time to generate the information that they need. It's a mighty challenge," Culpepper said.
Still, Culpepper is optimistic, and progress is being made. "The challenges are mighty, the potential impact and the positive outcomes are even mightier as long as we can work together," he said.
Culpepper said the issue must be taken out of the court system or "we're guaranteed to lose. We'd rather have the debate with the U.S. EPA and the U.S. Fish and Wildlife than we would with the court system. We need time to get the science they need before we are in a regulatory situation where we can't use a tool in a practical matter. We'd rather fix the problem proactively. We want to get it right before we get going."
Communication, flexibility key
Mann raises corn and soybeans with her husband, Dave, her children, Shelby and Chris, and son-in-law Ethan, near Jackson Center, Ohio. She highlighted the production practices her family uses to ensure environmental stewardship.
"The way we approach it on our farm is seed is always the first thing we choose, and usually that happens even before harvest, actually in August of the year. And we do that because a lot of the more popular varieties are sometimes in short supply," Mann explained.
"Typically, after that, the winter following, we'll select a chemical program that will be compatible with the seed traits that we have chosen, and then we keep in mind the safety of the crop, the neighbors' crop, and the environment. Also making sure that the pesticide mixes that we choose are compatible with each other, and then of course cost considerations are all important. We need to use the correct application at a critical growth state of the crop to effectively control the weeds without injury, but of course for cost reasons, we don't want to over apply."
Mann stressed that flexibility will be key to the success of implementing the Endangered Species Act regulations and that ongoing dialogue between farmers and the EPA is critical.
Burd emphasized the importance of EPA officials and other parties understanding and crediting farmers for what they are already doing when it comes to conservation measures. He said it is critical that farmers, industry, EPA, Extension, and local Fish and Wildlife officials are all involved in the process.
Burd also said flexibility is key to make sure mitigations work in each part of the country, since endangered species vary by area, region and even specific parts of a state, with differences in smaller areas like counties and cities. "Therefore, you have the flexibility to make sure you have mitigations that will work across all different areas."
Subscribe to receive top agriculture news
Be informed daily with these free e-newsletters
You May Also Like
---