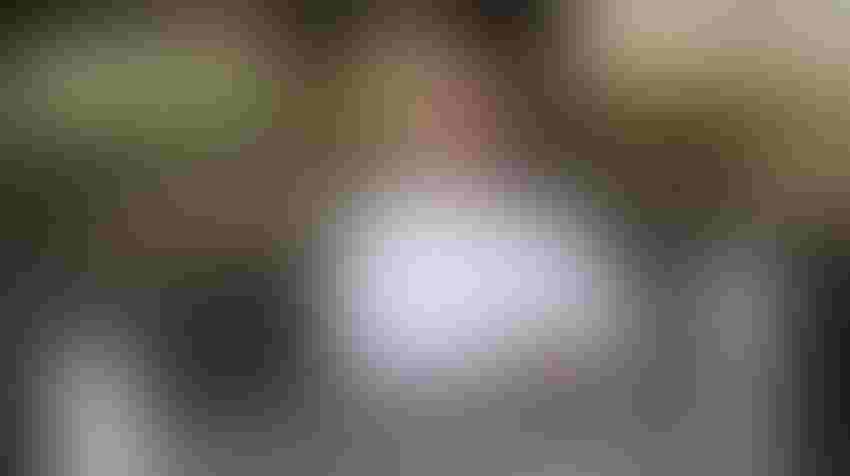 Steve Knell, general manager of Oakdale Irrigation District in California, is retiring next year.
Todd Fitchette
There are no shortages of critical issues facing Oakdale Irrigation District in central California. As the state looks to take 40% of the district's springtime river flows, district directors are searching for their next water champion.
Next year's retirement of General Manager Steve Knell means more than a board action to hire his replacement. For a district with water rights to the Stanislaus River dating back to the mid-19th Century, the new skipper to take the helm will surely be part of a charge to protect the district's sustainable access to its rights to 300,000 acre-feet of river water.
Aside from maintaining hundreds of miles of canals, pipelines, and tunnels, and serving 2,800 agricultural customers, the new manager will need to oversee intense legal battles to prevent California agencies from stripping them of their senior water rights.
Knell is a champion of pre-1914 water rights. For two decades his work to protect OID's access to the Stanislaus River, and oversee upgrades to the district's delivery system, has played its role in sustaining Stanislaus County's multi-billion-dollar ag economy. He will have been with OID 20 years when he retires in July 2022. He spent 16 years prior to that working for Imperial Irrigation District, another of California's districts that enjoy senior water rights – in this case from the over drafted Colorado River System.
Voluntary agreements
Even with its 19th-Century rights to Stanislaus River water, Knell says the district cannot let up. California continues to target his and neighboring districts because of their access to water.
In October the State of California informed OID and five other water districts, including the City and County of San Francisco, that it would no longer negotiate over stream flow agreements commonly known as "voluntary agreements." Under these coerced negotiations, the state seeks to take 40% of river flows, starting with three rivers that feed the San Joaquin River – the Tuolumne, Stanislaus, and Merced rivers. The state's intent is to send 40% of the river flows from February to June through the Delta and out to sea.
California's stated purpose is environmental restoration. Critics charge that the state continues to allow cities in the bay to dump poorly treated effluent into the estuary. Their answer, according to Knell, is to force California farmers to give up their water to fix problems state officials won't address themselves.
Knell asserts that the flow plan does not include habitat restoration.
"There are no improvements to the system. They are just looking at the volume of water," he said.
"The state wants these restoration flows to make the system even better than it was before," he continued. "They're trying to mimic natural history or flows by saying that 40% of the flows coming down the river has to go straight out to sea."
By walking away from voluntary agreement negotiations with six water agencies – Turlock Irrigation District, South San Joaquin Irrigation District, Modesto Irrigation District, Merced Irrigation District, the San Francisco Public Utilities Commission, and OID – California will turn its voluntary agreement attention to Sacramento Valley water agencies while moving forward with Phase 1 of its 2018 Bay-Delta Plan to mandate the 40% unimpaired flows from the Stanislaus, Tuolumne, and Merced rivers.
According to Knell, this move assumes agreeable discussions between the state and northern California water districts, which he says may not be the case as these districts are waiting to see what comes out of a temporary operating plan between the state and federal water projects in California. Knell admits the entire process is "convoluted," and perhaps the northern California agencies simply want some clarity to the state's plans before moving forward with their own voluntary agreements.
Meanwhile, Knell suggests that lawsuits over existing challenges to how the California Environmental Quality Act was applied to the state's Bay-Delta Plan must move their way through court. Once the state implements its water quality control plans for the various rivers, Knell says a new round of lawsuits should follow as water districts will then be able to challenge specific damages resulting from state decisions.
Water rights are property rights
The pre-1914 appropriative property rights enjoyed by OID, and neighboring districts are a vested property right, Knell says. Defending them is a civil matter "and that's what the court system is for."
When people staked their claim to water before 1914, California's landmark water law set up the first-in-time idea for water diversions. Though these sources are technically waters of the state, California has no legal authority over pre-1914 rights because of the law, he said. After the law was passed, California got what was left of the water others had previously staked their claims to.
Knell says a recent discussion in the California Senate suggests the state wants to do away with the state's water rights system altogether.
"There are people in California who say that the water rights system doesn't work – that the priority system does not work," he said. "It actually works very well if the state would let it work."
To assert the district's five individual rights to the Stanislaus River, it has a pass-through agreement with the Bureau of Reclamation, which owns New Melones Dam. The reservoir backed up by that dam can store 2.4 million acre-feet of water at capacity and is part of the federally managed water system in California. Storage in the reservoir at the end of October was just over 800,000 acre-feet, due largely to drought conditions in the region.
Water is the lifeblood of the district. What it does not deliver within the district can be sold out of the district, with the proceeds of those sales helping to defray internal costs to improve infrastructure.
The district's well-established adjudicated water rights work to assure a sustainable supply of Stanislaus River water. Even as the water year that began Oct. 1 started with about 800,000 acre-feet in New Melones Reservoir, Knell says the district "is still in pretty good shape for next year, despite the fact they drained a good chunk of it to meet Oroville and Folsom needs."
Questions remain about the reservoir's ability to capture enough runoff in future years if drought conditions linger.
Subscribe to receive top agriculture news
Be informed daily with these free e-newsletters
You May Also Like
---