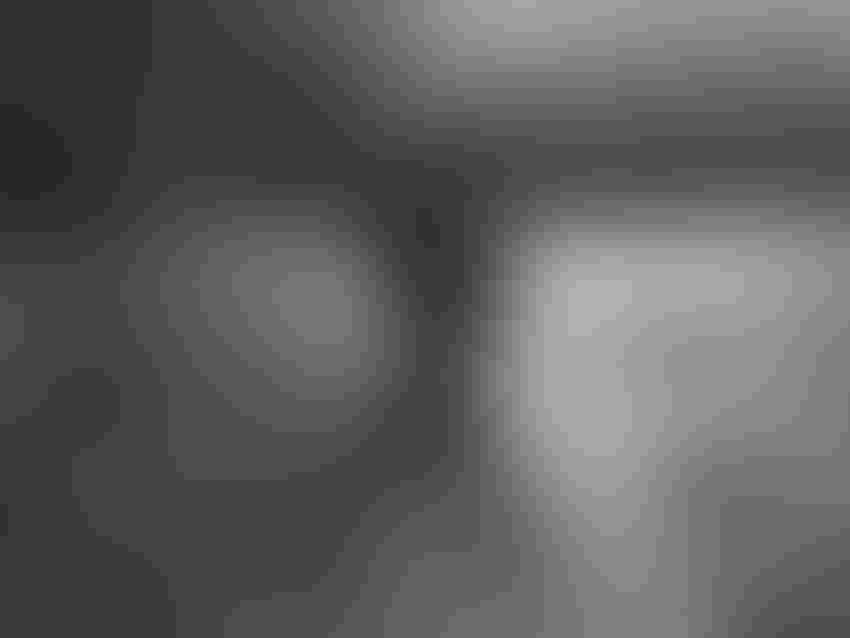 University of California Cooperative Extension livestock and natural resources advisor Tracy Schohr tests water quality in a stream below Paradise, Calif., after the Camp Fire.
Ryan Schohr
Winter rains quickly flushed contaminants from last year's Carr and Camp fires into Lake Oroville and other Northern California waterways, causing elevated levels of heavy metals such as aluminum and cadmium and raising hydrocarbon levels above the human health threshold, preliminary research has found.
But the good news for agriculture -- at least so far -- is that very little of the contaminants appear to have ended up in rangeland plants or soil as a result of runoff, says Tracy Schohr, a University of California Cooperative Extension livestock and natural resources advisor based in Quincy.
"I was getting calls from producers wondering what would happen when the rain brought that water down to the range and into streams," Schohr told about 100 attendees at a symposium June 4 at the California State University-Chico farm.
Schohr and fellow extension advisor Betsy Karle took water samples at four locations in the watershed that includes Paradise, Calif., in the weeks and months following the deadly Camp Fire. They found metals such as copper and manganese at levels below those in some supplemental feed, Schohr says, and nitrate and nitrite readings were well below limits for livestock.
They also tested 26 pastures, 20 hay stacks and 15 corn silage piles and found manganese, iron, zinc and copper at levels no higher than might occur naturally, Karle says. Copper levels were even safe for sheep, which have a lower tolerance of the element than cattle, she says. There were no heavy metals detected.
"There's lots of stuff in the environment, and it isn't all bad," Karle says.
Some rangeland burned
About 35,000 acres of rangeland were burned in November's Camp Fire, which swept through 153,336 acres, destroyed 18,804 buildings and killed at least 85 people. Fortunately for ranchers, most cattle were still on their higher-elevation summer ranges when the fire started, Schohr says.
However, as the skies filled with ash and smoke, livestock producers began wondering if there would be ramifications for their forage crops, the advisors say. And as the fire raged at the top of the Butte Creek watershed, they wondered if it would be safe for their cattle to drink the water flowing downstream, they said.
Among them was Steve Lambert, whose ranch in southern Butte County was affected.
"Our concern is what's going to happen with that water up on the ridge," says Lambert, who chairs the Butte County Board of Supervisors.
Schohr and Karle were able to get initial lab tests back and into the hands of ranchers "before they loaded their trucks to move their cattle," Schohr says. So far, testing has shown that "the concern that was there wasn't founded," she says.
Produce that was growing amid smoky conditions is also apparently safe. A separate study that sought to determine whether produce safety was affected by smoke and ash from fires in 2017 found no significant impacts in the short term, reports Rob Bennaton, a UCCE researcher in Alameda County. Cumulative analysis suggests that signifciant exposure doesn't occur from a single urban wildfire event, although more testing is needed, he says.
Wildfire impacts discussed
Bennaton and the other scientists were among numerous speakers at the all-day seminar on wildfire impacts on water quality, co-hosted by the UCCE and Chico State's College of Agriculture.
Sessions included talks on the Central Valley Regional Water Quality Control Board's initial and long-term water quality monitoring in the Butte Creek watershed and an overview of future investigations related to wildfires' environmental fallout.
"In a region rich in natural resources and agriculture production, there has been significant interest in the topic of urban fire implications and researchers have been working hard to find answers," says Kasey DeAtley, a Chico State agriculture professor who helped organize the symposium.
For resources related to the symposium, visit https://ucanr.edu/sites/Rangelands.
Subscribe to receive top agriculture news
Be informed daily with these free e-newsletters
You May Also Like
---