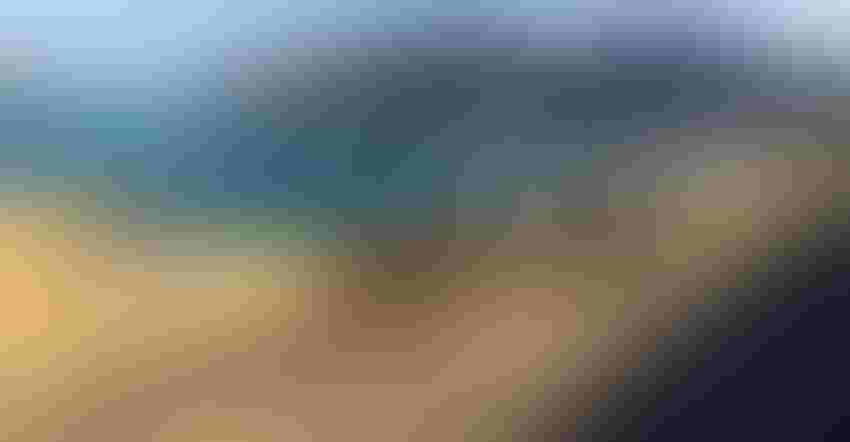 Shasta Lake will likely fall below levels seen here later this summer as drought conditions persist in the West. A "Shasta Critical" designation was declared by the Bureau of Reclamation, setting the stage for limited deliveries to federal water users in the state.
Todd Fitchette
Early projections of a short water year for Central Valley Project (CVP) contractors seem to have not caught agricultural users by surprise by the tone of their response to the early allocation announcement.
Sacramento Valley and San Joaquin Valley water users can expect 5% of their contracted supply of CVP water amid a "Shasta Critical" designation by the Bureau of Reclamation, the federal agency tasked with managing federal water supplies in California.
That designation is a legal one, which sets the stage for Reclamation to allocate 75% of their contractual obligations to senior water rights holders under the Sacramento River Settlement Contract and San Joaquin River Exchange Contract. Under both contracts, Reclamation cannot reduce water deliveries to senior rights holders below the 75% threshold spelled out in their contracts. Absent a Shasta Critical year, senior rights holders receive full contract allocations.
Similarly, wildlife refuges are allocated 75% of their contract supplies. Municipal and industrial water users were initially promised 55% allocations. Central San Joaquin Water Conservation District and Stockton East Water District were each promised full allocations.
The Shasta Critical decision is predicated on inflow projected to reach Shasta Lake. When that projection falls below 3.2-million-acre feet in any one water year, the Bureau of Reclamation will reduce its allocation of water promised under the federal contracts. Shasta Lake is the cornerstone reservoir in the Central Valley Project and can store over 4.5-million-acre feet behind Shasta Dam. Total storage in the dam as of mid-February was just over two-million-acre feet, or well under half of its designed capacity.
In a prepared statement, Federico Barajas, executive director of the San Luis & Delta-Mendota Water Authority indicated his understanding of why such a low allocation was made.
"The San Luis & Delta-Mendota Water Authority understands that dry hydrology is the main driver in the low initial allocations for our member agencies and the communities they serve," he said in his statement.
Productive farmland affected
The allocation to Barajas' agency alone affects nearly 1.2 million acres of highly productive farmland and three million people in central California. This includes the highly populated Silicon Valley and sparsely populated regions that include economically poor communities along the west side of the San Joaquin Valley.
"The Authority wishes that the initial allocation was higher but understands that existing conditions have prohibited Reclamation from making a higher initial allocation," the statement says.
The state's rice industry will likely be impacted, but just how much so remains to be seen. California rice farmers can plant about 500,000 acres to rice in California – much of this in the Sacramento Valley between Chico and Sacramento. Tim Johnson, president, and chief executive officer of the California Rice Commission said he will not know acreage estimates until late April or early May.
Though significant to rice farmers, the CVP is not the only source of irrigation water to the state's rice industry. Still, it is the only source of irrigation water for some rice farmers.
Friant Water Authority predicted the poor allocation will mean more groundwater pumping this summer, a common move among growers when surface irrigation supplies are lacking. This has led to ground subsidence, a phenomenon that has significantly strangled Friant's ability to deliver surface irrigation supplies along its 153-mile canal system.
Friant receives its water from Millerton Lake above Fresno, Calif. The first 800,000 acre-feet of available water is considered "Class 1" water. Districts with Class 1 contracts were told to expect 20% of their contracted supply. Additional water referred to as "Class 2" supply will not be available.
Because Millerton also feeds the San Joaquin River, some of that water is earmarked for the San Joaquin River Restoration Program. Under current hydrologic conditions, over 170,000 acre feet of Millerton Storage will go to those programs.
In its written statement following the USBR announcement, Friant Water Authority said: "We anticipate that many growers throughout the south San Joaquin Valley and on the Eastside will need to rely heavily on groundwater supplies, just as they did in 2020. This is likely to further exacerbate the type of regional land elevation subsidence that has so dramatically reduced the capacity of the Friant-Kern Canal and other valley canals. This makes our efforts to increase the availability of surface supplies to the San Joaquin Valley and to fix the Friant-Kern Canal's capacity limitations even more critical and underscores the need for resolving the valley's long-term water imbalance."
Subscribe to receive top agriculture news
Be informed daily with these free e-newsletters
You May Also Like
---