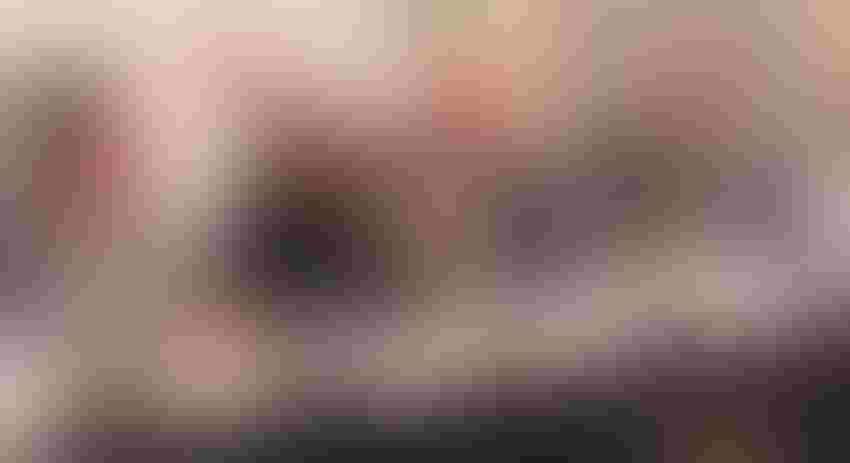 California Department of Food and Agriculture secretary Karen Ross, center, speaks during a Board of Food and Agriculture meeting in Tulare, Calif., in early 2020.
Tim Hearden
California's state agriculture board will resume meeting in person April 5 after two years of meeting virtually because of pandemic-related restrictions on public gatherings, and their topic of discussion will be another crisis -- drought.
The Board of Food and Agriculture's 10 a.m. meeting at the University of California, Merced will feature water experts, water district officials, U.S. Bureau of Reclamation leaders and others. Public comment on the drought will begin at about 2 p.m. The meeting in Room 306 of the university's administration building can also be viewed online.
"This will be a difficult summer for many rural communities in California," said Karen Ross, secretary of the state Department of Food and Agriculture. "Drought endangers safe drinking water supplies in many communities, jobs for farm workers and livelihoods of farm families. All of us are in this together. We must conserve this precious resource to protect communities, support the environment and assist farmers and ranchers in growing healthy and sustainable food."
Related: Calif. plan would idle 35,000 acres of rice ground
Invited speakers include Regional Director Ernest Conant, U.S. Bureau of Reclamation, California-Great Basin; Josue Medellin-Azuara and Joshua Viers, University of California Merced; Jarrett Martin, Central California Irrigation District; Michelle Reimers, Turlock Irrigation District; Eric Swenson, Merquin County Water District; and Merced County Supervisor Scott Silveira.
"Droughts have become harder to manage for California's farmers and ranchers," food and ag board President Don Cameron said. "Less water is available than in years past and flexibilities within the system are constrained. The result is that farmers have fewer options. This cycle must be fixed and California agriculture is willing to help lead the way."
Water shortages
The meeting comes as California has endured the driest first three months of a year on record and reservoir conditions below historic averages. California's snowpack has fallen to 39% of its April 1 average after October and December storms produced about twice the normal snowpack as of New Year's Day, and the state's reservoir storage is about 70% of average, according to the state Department of Water Resources.
The agency on March 18 reduced planned State Water Project deliveries from 15% to 5% of normal supplies, with a final allocation expected to be set in May or June. In a letter to the State Water Contractors in early March, DWR Director Karla Nemeth stressed the need for proactive conservation measures now to prepare for ongoing extreme dry conditions.
"While we had hoped for more rain and snow, DWR has been preparing for a third consecutive year of drought since October," Nemeth said. "We are continuing with a series of actions to balance the needs of endangered species, water supply conservation, and water deliveries for millions of Californians."
Related: Drought in '21 cost California ag $1.1 billion
DWR will preserve as much storage as possible in Lake Oroville, the SWP's largest reservoir. Water releases from Lake Oroville will be prioritized to maintain Delta water quality, protect endangered species, and meet senior water right needs, state officials said. The agency and Bureau of Reclamation have also submitted a revised application for a Temporary Urgency Change Petition (TUCP) for operations from April 1 to June 30.
The petition will seek flexibility for the State Water Project and the Central Valley Project to release less water into the Sacramento-San Joaquin River Delta through June to conserve limited stored water in Shasta, Oroville and Folsom reservoirs. The agencies submitted one to the State Water Resources Control Board last fall but rescinded it after December's storms.
Reclamation in February announced a zero allocation to most Central Valley Project contractors.
Subscribe to receive top agriculture news
Be informed daily with these free e-newsletters
You May Also Like
---