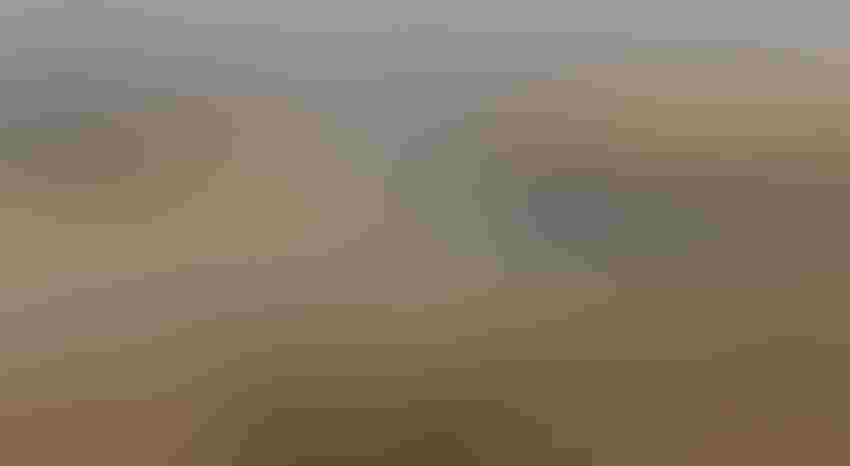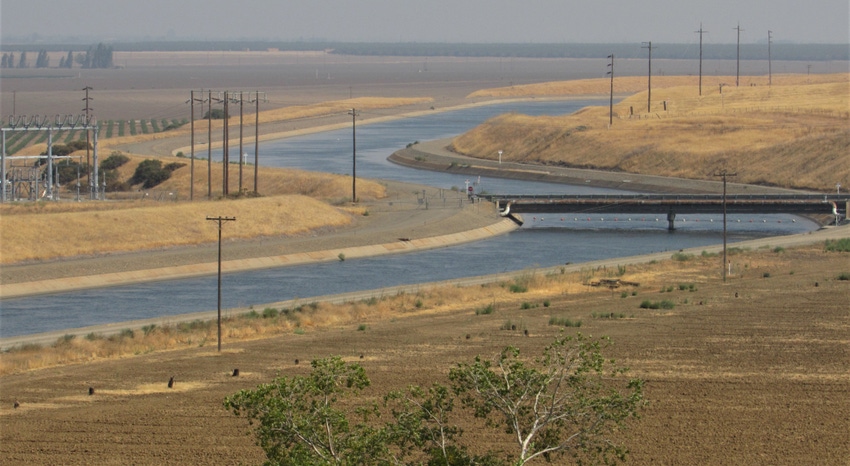 The California Aqueduct delivers water to San Joaquin Valley farms in 2018.
Tim Hearden
As anticipated by many in agriculture amid the bone-dry start of 2022, the U.S. Bureau of Reclamation has announced a zero-water allocation for most of its Central Valley Project irrigators throughout California, and the agency will only deliver a trickle of water within the Friant Division in the eastern San Joaquin Valley.
The zero allocation applies to areas both north and south of the Sacramento-San Joaquin River Delta, and it marks the fourth time in the last decade that south-of-Delta water has been zeroed out.
After a historically wet autumn, CVP reservoir storage is below average for this time of year and runoff forecasts predict that overall storage will be limited if substantial spring precipitation does not materialize, Reclamation officials say.
The California Department of Water Resources' forecast update from Feb. 1 to Feb. 15 shows a total decrease in projected annual inflow to Shasta, Oroville, Folsom, and New Melones reservoirs of 1.2 million acre-feet, the bureau notes. Without more rain and snow, these water levels will continue to drop.
Related: Snowpack back to average after dry January
"We began the 2022 water year with low CVP reservoir storage and some weather whiplash, starting with a record day of Sacramento rainfall in October and snow-packed December storms to a very dry January and February, which are on pace to be the driest on record," said Ernest Conant, the BOR's Mid-Pacific Region director.
"Further, the December storms disproportionately played out this year in the headwaters—heavy in the American River Basin and unfortunately light in the upper Sacramento River Basin, which feeds into Shasta Reservoir, the cornerstone of the CVP," he said.
Westlands Water District officials said in a statement they are "disappointed with allocation but is aware that hydrologic conditions ... prevent Reclamation from making water available under the district's contract." They added that drought conditions in 2021 resulted in the fallowing of over 200,000 acres within the district and "countless" lost jobs.
"The circumstances in 2021 and those facing us in 2022 demonstrate the need to invest in infrastructure to better manage the State's water resources, which includes increased capacity to capture water when its available for transport and use in times of drought," the district stated. "California needs new storage, both surface and groundwater, and improved conveyance facilities."
Friant Division
The Friant Division, which irrigates over 1 million acres of farmland from the Chowchilla area to the Tehachapi Mountains, will get 15% of Class 1 water and 0% of Class 2 water. Friant contractors' water is delivered from Millerton Reservoir on the upper San Joaquin River via the Madera and Friant-Kern canals. The first 800,000 acre-feet of available water supply is considered Class 1; Class 2 is considered the next amount of available water supply up to 1.4 million acre-feet.
Friant officials say despite the dry conditions, snowpack levels in the southern Sierra Nevada would have warranted a higher allocation. Southern Sierra snowpack levels on Feb. 24 were 65% of normal for the date and 53% of their April 1 average, according to the state DWR.
"Even if the remainder of the year is extremely dry, Friant Water Authority estimates that approximately 240,000 acre-feet of additional unallocated water supply exists in the upper San Joaquin watershed," the authority claimed in a statement to the Courthouse News Service. "Not allocating water that is clearly available will only exacerbate an unnecessary rush to pump groundwater, causing additional overdraft."
California Farm Bureau President Jamie Johansson agreed with Westlands officials about the need for new storage.
"We are disappointed, but not surprised, by the Bureau of Reclamation's Central Valley Project water allocation announcement," he said. "This demonstrates the overdue need for new water storage. In 2014, California voters were promised $2.7 billion as a down payment on building new water storage after they overwhelmingly approved Proposition 1, a $7.1 billion water bond initiative. Construction has yet to begin.
"We can no longer afford to neglect our aging water infrastructure, which was once the envy of the world. If we are serious about water resilience and addressing climate change, we must invest in water storage and delivery infrastructure to capture precipitation in wet periods to sustain us amid our new norm—longer, harsher periods of drought."
Western drought persists
The federal allocation comes as big December storms pushed snowpack levels to over 200%, but a dry spell since New Year's has depleted California's statewide snow-water equivalent to 66% of normal for Feb. 24 and 55% of the April 1 average.
Similar conditions persist throughout the West, as high pressure ridge near the western U.S. coast has largely diverted precipitation away from the states of California, Nevada, Oregon, Washington, and Idaho over the past six weeks and impeded drought recovery, explains the National Integrated Drought Information System.
A new UCLA-led study in the journal Nature Climate Change asserts the West is stuck in a "megadrought" that has enveloped southwestern North America for the past 22 years. This megadrought—defined as a drought lasting two decades or longer—is found to be the worst since at least the year 800, according to NIDIS. Drought is expected to persist throughout the West over the next three months, according to the U.S. Seasonal Drought Outlook.
Subscribe to receive top agriculture news
Be informed daily with these free e-newsletters
You May Also Like
---