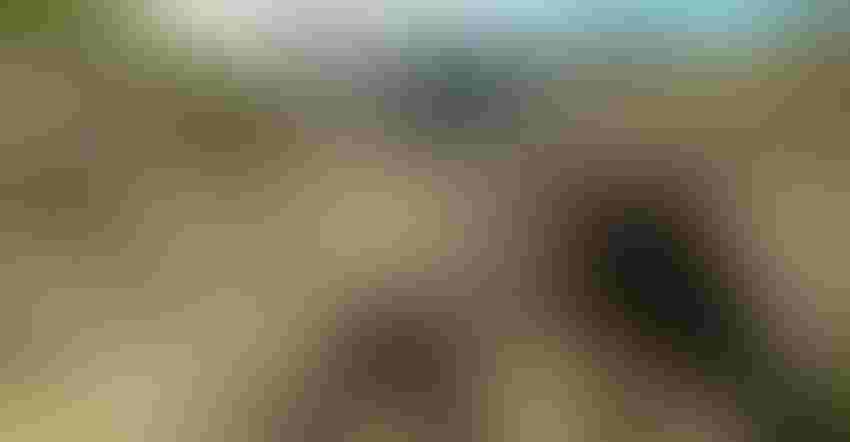 The New Melones Reservoir in Central California, which holds 2.4 million acre-feet of water, got down to 530,000 acre-feet of storage during the last drought in 2015. It is expected to fall below 1 million acre-feet this weekend.
Todd Fitchette
Some water and agriculture industry representatives are criticizing California and U.S. regulators for what they say is poor planning for this summer's extreme drought as about 5,000 of the state's senior water right holders are about to be told to stop diverting.
The State Water Resources Control Board on Aug. 3 voted unanimously to impose curtailments throughout the Sacramento-San Joaquin River Delta watershed after issuing similar orders in June to about 4,300 junior rights holders in the Delta.
The California Farm Water Coalition, which represents farmers, notes that the decision comes two years after most reservoirs in the state were largely full, and the group blasts state and federal water agencies for not capturing more water during wet years for use when conditions are dry.
Pat Minturn, chief engineer for the Shasta County Water Agency, agrees. He suggests the state was caught flat-footed by the sudden severity of the drought even though it's in its second year. And he shudders to think what will happen next year if the West has another dry winter.
Related: Calif. board votes to curtail senior water rights
"I'm really disappointed there hasn't been more action at the state level to address this," said Minturn, who is also the county's public works director. "This is a drastic step late in the process. This drought is here now. This should have been discussed six months ago. Everybody hoped for the best and got the worst.
"Now we're down to the impending collision," he told Farm Press. "If you think of all the things that lead up to a car crash, we have reached the point where we're skidding across the pavement."
Water board spokeswoman Ailene Voisin countered that the panel has been alerting the public about possible limited supplies since March and has been developing methods to evaluate water availability since the spring.
"Since that time, the board has been identifying that regulations may be needed if conditions continued to degrade," she told Farm Press in an email. "Due to the unprecedented and unintended degradation of hydrologic conditions, the board had the need to also consider a more rapid process for developing curtailment regulations."
Other diversions halted
The Delta watershed curtailment came a day after the board halted water diversions in the Upper Russian River because of depletion of Lake Mendocino. The panel expanded curtailments in the Scott and Shasta river watersheds in far Northern California in mid-July.
Out of the 6,600 water right holders and 17,000 unique rights in the Delta watershed, about 5,000 right holders could be ordered to stop diverting in August, affecting more than 10,000 unique rights, Voisin said. This includes all diverters in the San Joaquin River watershed and landowners whose rights date back to the 1880s in the Sacramento River watershed, she said.
"These numbers for August could change before curtailments are issued and would also change in September and later months based on supplies and demands for those months," Voisin said, noting that final approval of the order will occur around mid-August.
State regulators say they have authority to issue fines for noncompliance, and the state is hiring 15 people to help with enforcement, Erik Ekdahl, the water rights division's deputy director, told The Associated Press. The state will mostly enforce the regulation by responding to complaints, he told the wire service.
Some water agency leaders, including Friant Water Authority Chief Executive Officer Jason Phillips, say they support the board's decision because it will prevent people from illegally taking water from rivers and streams. But the San Joaquin Tributaries Authority opposes the rule, saying it is "overly broad" and asks water users to trust the government to manage their systems, the AP reported.
Growers resigned
Many growers and ag industry representatives appeared resigned to the curtailments due to the reality of water supply. For example, New Melones Reservoir on the Stanislaus River is expected to fall below 1 million acre-feet of total storage by Aug. 7. Other reservoirs are falling fast as well.
Growers are taking solace in the fact that curtailment orders wouldn't implicate water already set aside  in stock ponds and other reservoirs. Hughson, Calif., almond grower Donny Hicks, who gets his surface water from Turlock Irrigation District, expects to receive the balance of his 34-inch allotment by October, just in time to flood irrigate his post-harvest almond trees.
"That's why I saved my water for post-harvest," he said. "I want to hit those trees when they're not taking up as much water and I have the added benefit of recharging my aquifer."
But water availability for the remainder of the summer will depend largely on where you live and farm. For instance, Oakdale Irrigation District (OID) has long been one of the more fortunate ones, with high priority rights and access to Stanislaus River water allowing it to sell water to other districts while maintaining service to its customers. A current sale of about 100,000 acre feet to another San Joaquin Valley district is being challenged by the federal government, according to OID Board Chairman Tom Orvis.
Shasta Lake, the centerpiece of the federal Central Valley Project, is holding water back for endangered fish, Minturn said. But the bureau must still provide water to Sacramento River settlement contractors under their original appropriative water right, and "how the bureau gets that water is the bureau's problem," he said.
"The scary part is we're not getting any specifics at this point as to how that will play out," he said.
Bureau spokeswoman Mary Lee Knecht told Farm Press that Reclamation "will continue to prioritize water deliveries to senior right holders, environmental obligations, and to meet minimum health and safety before allocating to water service contractors." There are no plans to change the level of water allocated to fish in the 2021 water year, she said.
Plan for next year
The concern among farmers and water managers is not over this year's supply, but what happens next year if rain and snow fail to appear. Minturn notes that during the drought of 1987-92, then-Gov. Pete Wilson created a water bank for which growers were paid to leave some land follow. Farm water allocations during the period never fell below 25%, the Farm Water Coalition adds.
But there was no such water banking this time, and only 20% of the runoff expected from January's snowpack made it into reservoirs. If the reservoirs can't be refilled this winter, the results will be catastrophic for the state.
"We need a well-above-average year, hopefully early on so there's no question," Minturn said. "If we stumble in with a little below-normal precipitation … we'll be in a very precarious situation. But again, what we need to do is plan for next year."
Subscribe to receive top agriculture news
Be informed daily with these free e-newsletters
You May Also Like
---