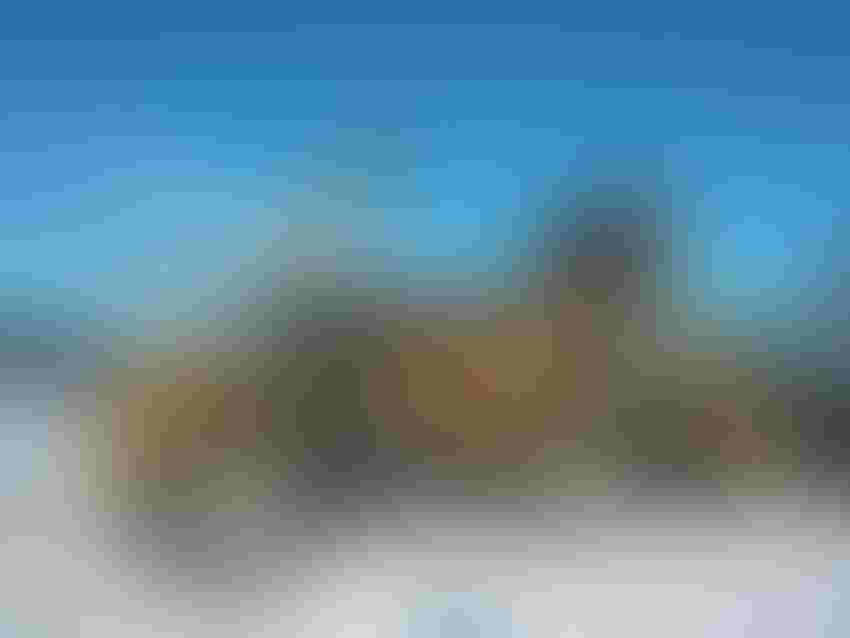 Stackhouse is handling sprayer prep on his Rogator this winter.
Kyle Stackhouse
It seems to happen like this every year. It's already February before we are able to get back in the shop and get a serious start on winter maintenance. This year is no different and there are plenty of items on the to do list.
After a little organizing, we started with the Rogator, our self-propelled sprayer applicator. When I was spreading cover crop last fall one of the chains in the dry box broke. The machine was parked and that was the end of cover crops for 2022-23 season. This week, I was finally able to dive into that project and make some evaluations. After making a list and checking prices, we decided to switch gears, and go to a liquid system that will be dedicated to Y-drop applications. We found and purchased a used liquid system nearby. We hope that it will be a plug-and-play application but don't know for sure. We will find out soon.
In the meantime, we split the dry box from the frame and plan to have the frame sandblasted and repainted. This has been on the list for a couple of years, but we never got to it. Removing the box wasn't as easy as it was supposed to be and took a full day of pulling hoses and cables that had been routed between other hoses and cables. We were supposed to be able to pull the hydraulic pump and hoses in one bundle. However, at the end of the day we were successful.
Last night, my plan was to brave the weather and spend a few minutes pressure washing the frame outside today. I need to see what we're dealing with and get some pictures sent off to sand blasting guys. I also need to make of list of other items that we should address while the machine is bare. Wish me luck, forecast is for a high of 21F. I guess Phil the Groundhog says we've got six more weeks, so I might as well do it today!
Subscribe to receive top agriculture news
Be informed daily with these free e-newsletters
You May Also Like
---