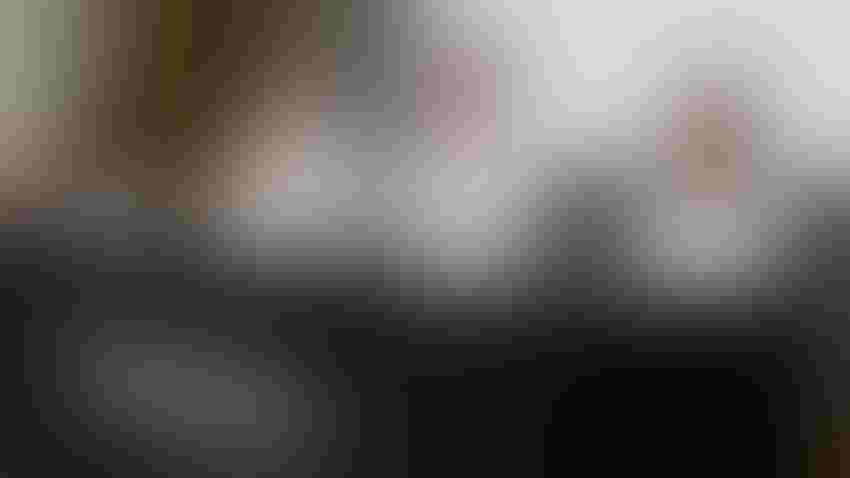 A farm bill listening session took place Aug. 1 at the Wiregrass Research and Extension Center in Headland, Ala. It was conducted by U.S. Senator Tommy Tuberville, center, and Rick Pate, far left, Alabama's commissioner of agriculture. Emma Johnston of Tuberville's staff is seated far right.
Brad Haire
During a farm bill listening session in Alabama this summer, some participants gave frank and honest exchanges about securing a financial opportunity for their young farmers. 
The session took place Aug. 1 in Headland. Alabama's U.S. Senator Tommy Tuberville conducted the session, along with Rick Pate, Alabama commissioner of agriculture. Emma Johnston from Tuberville's staff was also there. Many topics were discussed, from labor to conservation, to needed updates to reference prices to deflect aggressive increases in production costs.
One good discourse took over the room longer than any. USDA FSA guaranteed young farmer loans sparked it. And it's best said by the people who said it. 
Johnston said, "One thing we are looking to address in this upcoming farm bill for young and beginning and small farmers is increasing FSA guaranteed loan limits. Increase access to capital for farmers. Currently it's very hard if you don't inherit land or equipment or property to get into the farming industry. And we know that. The current caps for guaranteed loan limits are $1.75 million. Depending on the kind of industry that you're in, that's not enough money. We want to increase that to at least $2 million, ideally $3 million for guaranteed loan limits." 
A gentleman up front said, "One issue our lending agencies run into is the amount of paperwork it requires and the amount of time it takes to get those approved. These young people are impatient a little bit, like all the rest of us, and it's just too drawn out. On our lending, we run into six to 12 months for approval." 
Johnston said they are working to streamline that lending process.  
A lady in the audience continued, "On part of the paperwork, I know sometimes you must have so many years of experience in farming. Well, a young farmer, or a young person coming into farming, may not have that. Can they limit that restriction?" 
Johnston said, "We've been having discussions with several offices. I can't remember if the figure is seven or 10 years prior experience, which is difficult if you don't have that experience. We're working to change that and hopefully decrease it." 
Another gentleman standing said, "My son was raised on the farm, drove tractors ever since he was seven or eight. They say that doesn't comply because he wasn't in charge. Well, again, how do you get a teenager that they're really in charge? Hopefully, they are working under somebody else and that should be just as valuable as them running it themselves, you know?" 
Another gentleman cut to the point. He said, "My oldest is 20, my youngest is 16. They both lived on the farm their whole life. Even with guaranteed loans, and it's no different than the men sitting in this room that's been doing it 50 years, if they can't go out there and make money off a crop, it won't matter if they have a loan, if they can't pay it back." 
Subscribe to receive top agriculture news
Be informed daily with these free e-newsletters
You May Also Like
---