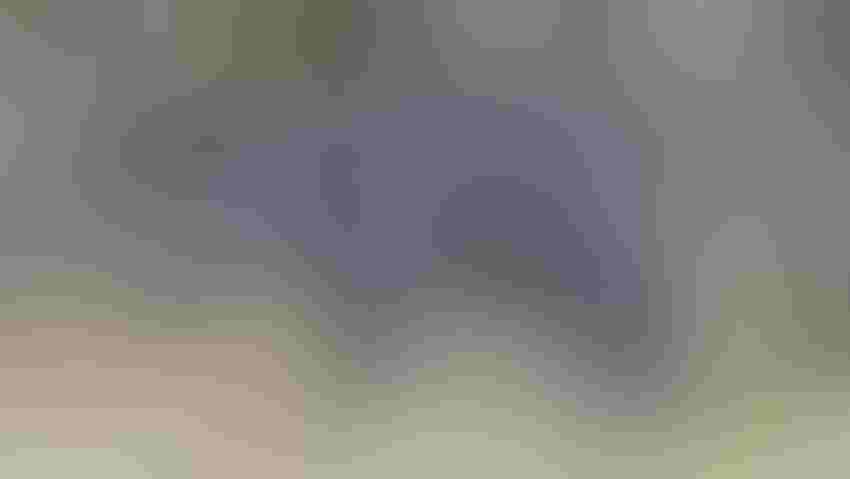 YHELFMAN / ISTOCK / GETTY IMAGES PLUS
At a Glance
A sow can have a litter of six or more piglets at a time, and she can do that twice a year.  

Within three hours of eating the sodium nitrite bait, the hogs get sleepy and die
We knew years ago that we'd never trap or shoot our way out of the growing wild hog (or deer) problems we have, or that'd we put much of a dent in the annual damage done to crops. But now, toxic baits are gaining steam and that might be a gamechanger. 
If you live anywhere in the South, you see them. If you don't see them, you see the damage they do to soybeans, cotton, peanuts or just about any crop growing in the field. The problem is the constant supply of new hogs. They multiply like, well, hogs. We know a sow can have a litter of six or more piglets at a time, and she can do that twice a year.  
This summer, a patent was issued for a bait developed by scientists with the LSU AgCenter and LSU Department of Chemistry. The bait uses sodium nitrite, which is lethal to hogs. According to the scientists, the bait doesn't hurt 'nontarget species.' It's a gummy-like thing shaped like a golf ball. It tastes fishy because it contains dehydrated fish and glows under blacklight.  
According to the scientists, within three hours of eating the sodium nitrite bait, the hogs get sleepy and die. The bait eventually breaks down into compounds not harmful to other species, and the bait poses no environmental concerns.  
With the patent in hand, scientists are now working on the best way to deliver the bait. Two possible ideas are burying it so hogs root it up or release it from a feeder using a cellphone.   
This summer, Texas A&M scientists concluded a two-year study testing a warfarin-based bait. The bait was placed in special dispensers that kept non-target species, or non-swine species, out. 
In their study, wild hogs were conditioned to access the bait before the product was applied. Once the product was applied, the hogs consumed lethal doses within five days of consistent access to the bait. 
Landowners in the study managed the bait and dispensers themselves. The ones who kept the feeder mechanically sound and replaced bait consistently reported dramatic declines in hog numbers. The landowners who didn't maintain consistency or follow sound instructions for the feeders and bait, well, didn't see a big drop in hog numbers.  
Whether these baits make it to mass acceptance or expand to other regions is yet to be seen, but it's a good step in the right direction. 
Hogs are always bad, but deer are also always ready to thin out your soybean and cotton stands. But this year deer ramped up their appetite for peanuts in our part of the world.  
I asked a peanut farmer earlier this season if he'd consider using a spray drone or use such a service if available for his operation. He said, yes, he would use a spray drone, especially if it was fitted with night vision and a machine gun. He was tired of feeding deer and hogs.
Subscribe to receive top agriculture news
Be informed daily with these free e-newsletters
You May Also Like
---