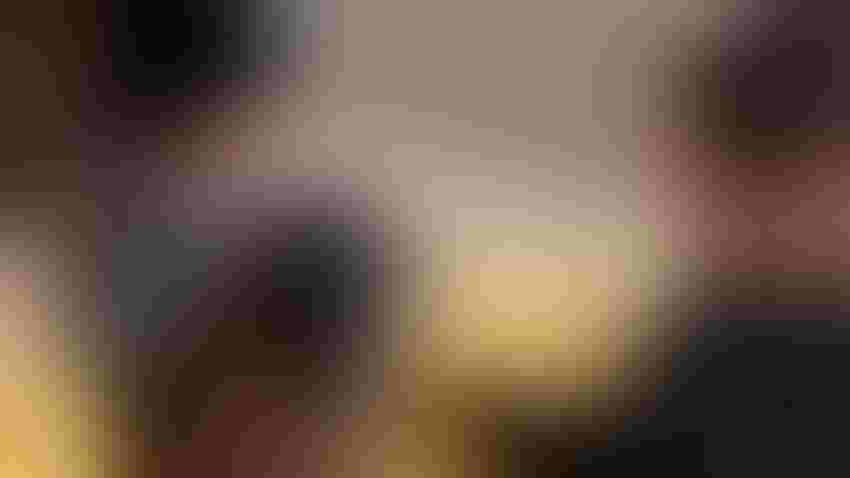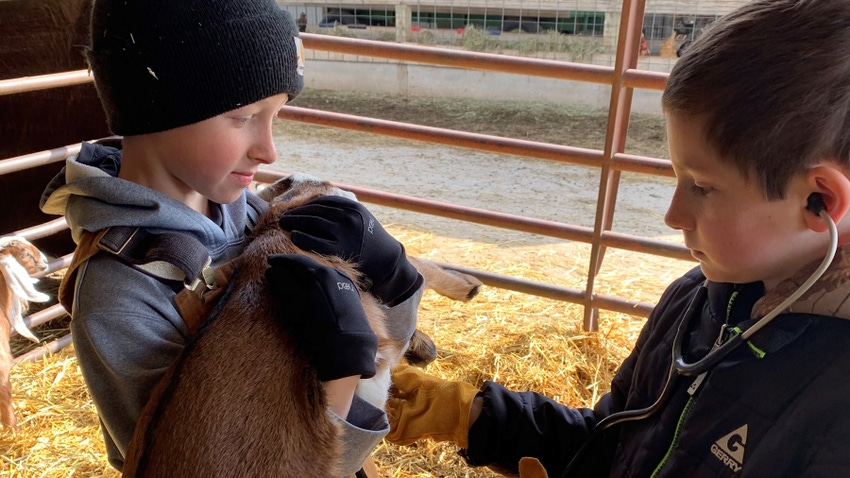 MEETING THE GOAT: These two young Farmhand 101 participants meet a goat up close and personal. Jeff Trotter holds the goat while Cameron Johnson waits his turn.
Joy McClain
Editor's note: This is a follow-up to a previous column, Open the barn, train kids in agriculture. Joy McClain welcomes kids from the community into her Farmhand 101 curriculum on her farm.
Raised on a farm, I believed I was the luckiest girl ever. When our grandkids flourished in the same setting, I imagined the potential. What if other children could experience some of the joys, labors and challenges involved with agriculture?
Last year, my baby — a dream wrapped in a million prayers — became a reality. It's best described like this: If Bible school, 4-H and a farm got together, Farmhand 101 would be the offspring.
Exposure to where food comes from, work involved in caring for livestock, science of dietary needs, realities of income vs. expenditures and value of being a good steward of whatever is in one's hands is especially priceless these days. So is practicing critical thinking, confidently scaling a fence, mastering milking a cow or goat, caring for a newborn lamb, breaking an animal to lead, and knowing green and white eggs have the same nutritional value as brown eggs.
Veteran participants have literally turned into capable farmhands and mentors. In addition to completing instruction and chores, they spend an hour each week mentoring children new to the program. Watching observation and communication skills increase and seeing how they serve one another can trigger tears of gratitude.
More than gardening
Last year, we used our household garden to learn about seeds, harvesting and preserving. This year, the kids have their own plot, overseen by a couple of moms. Gloriously, mentoring has spread across generations.
We practice entrepreneurship. In June, we will host the second annual Farmhand Fair. Vendors are creative kiddos crafting everything from cookies and homemade slime and jewelry to carved wooden figures and a build-your-own sundae stand.
Certain days are set aside to host varied demographics within the community for special needs, autistic and foster families. Our farmhands learn to spread as much compassion as manure.
Recently, we spent a couple of hours cleaning up tornado debris in a field adjoining the farm. It was "being a good neighbor" practice. You see a need. You try your best to fill it. Even when you're only 8 years old and you don't have very big hands, you try. It might take a lot of extra trips, but eventually the job is accomplished.
You're happy because your best effort was spent for the sake of others without expecting anything in return. Someone snapped a picture of the kids in the field and shared it with the man who farms the ground. He knocked the socks right out of those kids' boots when he showed up with pizza the next time we met.
My back hurts. I'm dog tired. After those Farmhand mornings, an overflowing heart is what coaxes my achy body back to the house. Moms tell me it is their kid's favorite day of the week. Thanking me for the opportunity, they feel "so fortunate."
They don't have to convince me. I see it on the faces — a reflection of my own past. I get to share a passion-turned-vision-turned-reality with kids who are thriving in an agricultural setting. I think I am still the luckiest girl around.
McClain writes from Greenwood, Ind.
Subscribe to receive top agriculture news
Be informed daily with these free e-newsletters
You May Also Like
---