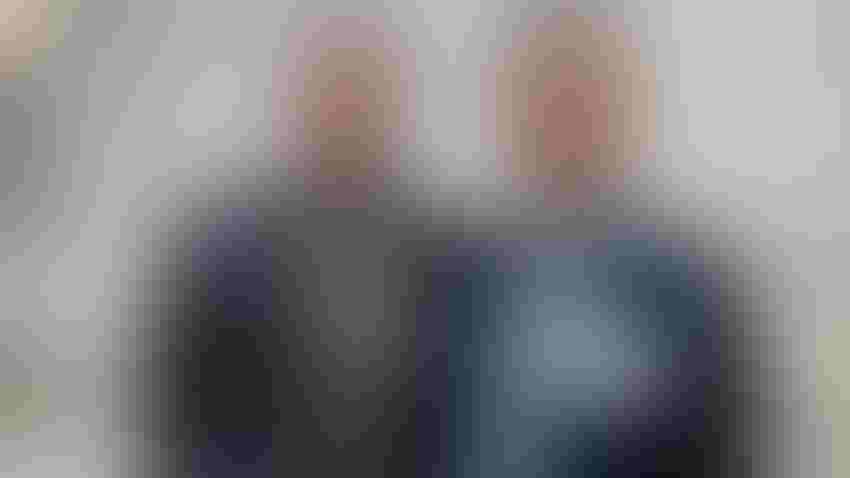 WSSA President Stanley Culpepper and Jake Li, EPA deputy assistant administrator for pesticide programs, at the WSSA annual meeting Jan. 30 in Arlington.
Brad Haire
It's here. It's real. And it's not going away. That is how Jake Li described the EPA's new relationship with the Endangered Species Act and how the agency moving forward will adhere to the conservation law's requirements when registering and reregistering pesticides.
Li is the EPA deputy assistant administrator for pesticide programs. He was the keynote speaker at the Weed Science Society of America (WSSA) annual meeting held in Arlington earlier this year.
The Endangered Species Act was created 50 years ago and sets the legal framework to conserve and protect endangered and threatened species and their habitats.
Well-heeled environmental groups go after the EPA on many fronts. That's nothing new. But recent court decisions and political shifts have given these groups more momentum to go harder after the agency, particularly how the agency reviews and determines how a pesticide may affect a federally endangered species.
The argument is the agency has not maintained the spirit of Section 7 of the ESA. Language in the "Interagency Cooperation" section requires that any actions a federal agency takes, including any group the agency funds or authorizes, must not jeopardize any listed endangered species.
It's been decades since Congress amended the ESA, and there are no political wind shifts or public sentiment to push Congress to adjust the law now.
Funding and staffing shortages challenge the EPA, Li said. But appellate courts have been clear in recent decision and have told the EPA just because the agency doesn't have enough money, staff or process to efficiently work through ESA requirements, that's not an excuse. Registered pesticides that fail to comply with the Endangered Species Act can be and will be vacated.
He said that until the EPA gets a handle on ESA, the pesticides famers rely on will remain legally vulnerable to lawsuits and court rulings. The agency is working to comply. Last November, the EPA introduced a proposed working plan to address how ESA will play into the agency's past, present and future registration reviews.
The multi-day WSSA meeting included many presentations on all things weeds, including nearly 500 paper and poster presentations on new research and weed control strategies. But much attention was given to ESA. An afternoon was dedicated to an ESA workshop. High-ranking EPA officials sat alongside leading weed scientists from public institutions and major companies from across North America and globe.
They hashed out ways WSSA members can work closer and more constructively with regulators as EPA works its way through the ESA consulting process, finding ways to protect endangered species while still providing clear paths for practical uses of the pesticides essential for environmental and economical sustainability for farmers.
Subscribe to receive top agriculture news
Be informed daily with these free e-newsletters
You May Also Like
---