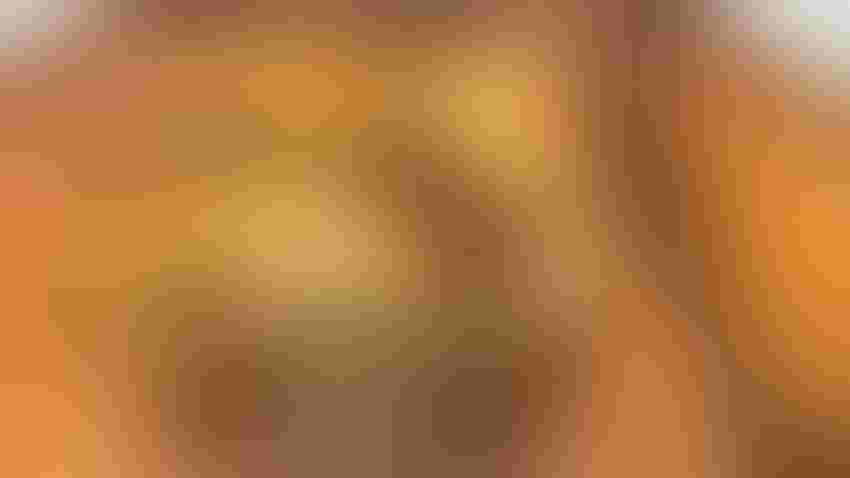 SNACK: My favorite way to use a too-ripe banana? Try this Chocolate Chip Banana Snacking Cake. It's different from banana bread because it has a lighter texture — perfect with a cup of coffee or tea.
Charlyn Fargo Ware
I admit, I'm often amazed at how quickly bananas on my counter turn from the perfect eating banana to bananas with spots. I'm a huge fan of slightly green bananas. Once they're ripe, they languish on the counter. I don't want to discard them — but one can only make so much banana bread.
I went on a mission to find non-banana-bread ways to use ripe bananas, because when it comes to baking and sweets, the banana might just be an unsung hero. It can go subtle for breakfast as a smoothie or be a supporting flavor to chocolate or caramel in a cookie. A banana can also take center stage in pudding and pie. You can use it raw or cooked, whole, sliced or smashed, served hot or cold.
So, if you are looking at a lovely bunch of ripe bananas on your countertop (like me) and wondering how to help them be the best versions of themselves, I have some ideas.
But first, a little history: Bananas are believed to have been the world's first cultivated fruit — around 8000 to 5000 B.C. in Southeast Asia. Explorers brought bananas to the New World in the 1600s. By the late 1880s, their popularity soared when bananas started being mass produced.
In the United States today, bananas are only grown commercially in Hawaii. Most bananas that Americans eat come from Latin America and South America.
Are bananas healthy? (I get asked this often by my patients, especially those facing diabetes). Bananas are, in fact, healthy, and shouldn't be avoided.
One medium ripe banana provides about 110 calories, 0 grams fat, 1 gram protein, 28 grams carbohydrate, 15 grams sugar (naturally occurring), 3 grams fiber and 450 milligrams potassium. 
Bananas are high in potassium, which is crucial for sending nerve signals around the body. We lose potassium when we sweat, and this is what can lead to us seizing up and cramping. Potassium also helps lower blood pressure. Bananas are a great source of fiber and are very high in vitamin C. 
Here are a few ways to incorporate over-ripe bananas into your meals:
Smoothies. Try a peanut butter banana smoothie. Bananas are a natural at breakfast, a healthy way to start the day. Bananas bring sweetness, thickness and vitamins; peanut butter brings the filling protein. A smoothie calls for two bananas broken into chunks, two cups of milk, ½ cup of peanut butter, 2 tablespoons of honey and 2 cups of ice cubes. You can use regular peanut butter or powdered peanut butter (easier to mix and less sugar with higher protein).
Pancakes. Banana pancakes are another good breakfast item. Simply mix one banana, two eggs, ⅛ teaspoon of baking powder, a pinch of cinnamon and enough butter or oil to cook them in a skillet.
Ice cream. You can make ice cream out of bananas. Peel, chop and freeze two medium bananas. Place into a blender or food processor and add a few tablespoons of liquid (water or milk). Blend until smooth. For a different flavor, add 1 to 2 tablespoons of unsweetened cocoa powder or nut/seed butter, a splash of vanilla extract and cinnamon, or ½ cup of frozen berries.
Here's a recipe for cake.
Chocolate Chip Banana Snacking Cake
⅓ cup butter, at room temperature¾ cup granulated white sugar
1 large egg
1 cup mashed ripe banana
½ cup milk
1½ cups all-purpose flour
¾ teaspoon baking powder
¾ teaspoon baking soda
¼ teaspoon salt
¾ cup miniature chocolate chips, divided
Preheat the oven to 350 degrees F. Spray an 8-by-8-inch pan with nonstick spray. In a large bowl, use an electric mixer to beat together the butter and sugar until light and fluffy — about two minutes. Beat in the egg. Add in the banana and milk and continue to mix until combined.
In a separate bowl, whisk together the flour, baking powder, baking soda and salt. Stir in the dry ingredients just until combined. Stir in ½ cup chocolate chips. Scrape the batter into the prepared pan and smooth the top to even it out. Sprinkle ¼ cup of chocolate chips on top of the batter. Bake 30 to 35 minutes, or until a toothpick tests clean when inserted into the cake. Let the cake cool completely before cutting. Serves eight.
Fargo Ware is a registered dietitian with Southern Illinois University Medical School in Springfield, Ill. Email recipe ideas to her at [email protected].
Subscribe to receive top agriculture news
Be informed daily with these free e-newsletters
You May Also Like
---