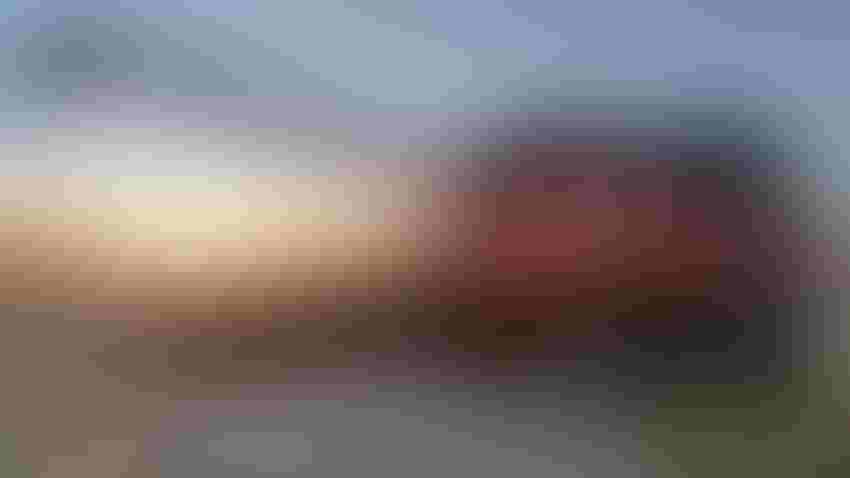 It isn't too often you can see the sunrise while harvesting soybeans, but Tuesday was one of those days!
Down a draper head, following another rainy end of a week, combined with a wetter forecast, we made the decision Saturday that we would dry soybeans if necessary. We picked corn earlier in the day, but Monday evening that soybean window opened. The wind was up and the sun was out throughout the day.
The forecast called for a gentle breeze to persist overnight. We started harvest around 5-6 p.m., and field conditions were okay, but not ideal, as the beans were around 16%. We ran until the trucks and grain cart were full, around just before 11 p.m. The neighbors were still running when I left the field.
We started dumping trucks at 6 a.m. in the morning Tuesday, and were back to cutting beans by 7a.m. Despite the wind, moisture creeped up a tick overnight, but the beans were going in the combine -- so we pressed on.
A rough growing season
The 180-acre field we were harvesting had a rough season. First, parts of the field required replanting because a hard rain fell just as we finished planting. Then a month later hail hit, bruising many of the young plants. The adjuster came out and deferred the claim to wait and see how the plants managed over the summer. The fear was delayed damage from the bruising might not be captured in his assessment if branches or stalks broke later in the season.
He returned shortly before harvest and determined 15% damage. He may have been right, he might have been a bit low. Instead of being pulled across the cutter bar with the reel, some plants just broke off about 6 inches above the ground and then bent over, sliding under the cutter. We had to drive slowly, and I still feel like we didn't do the best job harvesting what was grown.
We ran the entire day and finished the field around 5 p.m. Our next substantial field was 20 miles away, so we just cleaned up a few small patches and called it a day around dusk. By 3 or 4 p.m., the moisture had fallen to 13% (the desired moisture for storage).
Being willing to dry the soybeans, in essence, 'stole' a harvest day. I'm glad we got that field done as it tends to stay a little bit wet. Rain began Wednesday and continues to be in the 10-day forecast every day except next Wednesday when it says 'flurries'!
Subscribe to receive top agriculture news
Be informed daily with these free e-newsletters
You May Also Like
---