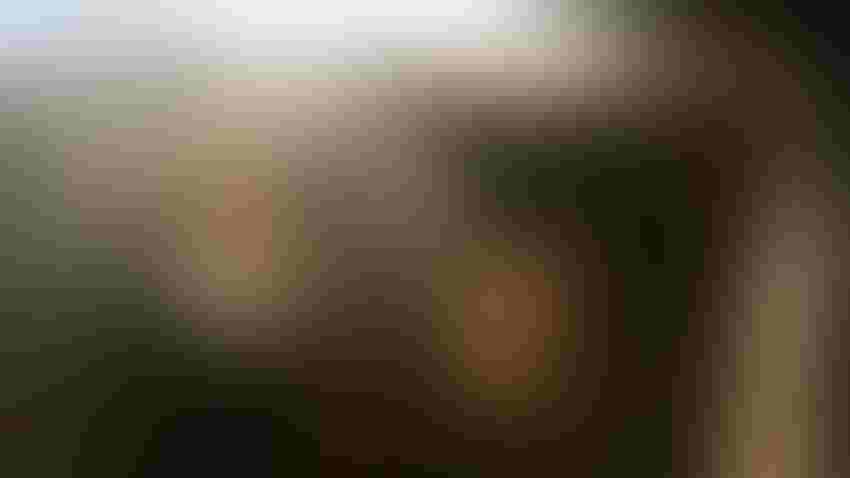 FEEDING STRATEGY: "When feeding cattle, it's not just about what they're being fed, but how they're being fed. The actual application of what we're going to put in front of those cattle makes a huge difference," says Dusty Abney, a cow-calf nutritionist for Cargill Animal Nutrition.
Betty Haynes
The difference between making and losing money in the cattle business is what Dusty Abney calls "the hundred-dollar difference."
"It's not just one thing — it's several different things, like management, focus, discipline and having a plan that all play into profit," says Abney, a cow-calf nutritionist for Cargill Animal Nutrition. "I'm talking about incremental improvement and places we can pick up dollars lying on the ground."
Developing a nutrition plan is the first step to improvement for a cattle producer.
"If you look at the people that are really successful, they have a nutrition plan," Abney says. "A plan that at least is an outline, a foundation, so you've got directions and options, and it's before changes happen."
However, nutrition plans are never perfect and always subject to change — sometimes from conditions out producers' control such as ingredient availability, weather, feed cost or fuel prices of a geographic location.
Real costs for cow-cow producers
Abney says cow-calf producers are the "most optimistic group of pessimists he's ever met." Today's market conditions prove it.
"We're going to have good calf prices this year," he says. "But our operating costs are way up, and that's just a reality."
It's important to think about how any extra income could be used and reinvested into the herd.
"When I ask people to change and do something that I think will improve their herd or help their gains in the feedyard, money's always the No. 1 objection," Abney explains.
Regardless of if the cattle price is good or bad, Abney says to do the math and run the numbers to find out if a management change will have a financial impact.
"Do we have more control over getting better prices for our product or managing input costs?" Abney asks, explaining that managing costs is more important. "Stop thinking about how to save, because saving money is the path to cheapening yourself out of the cattle business. Instead, think about where to get the best response for dollars spent."
According to Abney, a missed breeding opportunity is an $84 expense because:
A cow comes into heat every 21 days for 12 hours at a time.

If the calf gains 2 pounds per day, the calf would weigh 42 pounds.

If the calf is worth $2 per pound, the missed breeding opportunity costs $84.
"That's $84 that just escaped from your pocket," Abney says. "A majority of producers wouldn't even know they missed it because of how they keep records and how they operate."
Real costs for feedlots
The most profitable tool for a feedyard is predictability by knowing cattle intake and performance.
Abney says good bunk management — or managing feed deliveries, rations, bunk spacing, etc. — is worth over $40 per head for cattle to have reliable access to feed.
You can also optimize gain with better technology such as ionophores, implants, dewormers, vaccinations and fly control.
"I don't think of fly control as optional anymore. Horn flies cost us as much as bovine respiratory disease in all three segments of the business," Abney says. "If we don't take care of that animal and feed it to its genetic potential, then why did we spend all that money on genetics?"
According to Abney, the following costs could be changed to improve feedlot profitability:
input costs, economy of scale

better deals with buyers via alliances or purchasing agreements

feeding the right feed, the right way

understanding soils and forages
Proper management is what sets cattle feeders apart. "When you look at 'the hundred-dollar difference,' probably 80% of it comes down to management," he says.
Real costs from feed shrinkage
Every segment of the cattle business is subject to feed shrink — or feed waste via wind, poor aim, spillage, wildlife or spoiling. The quickest and easiest way to reduce feed costs is to manage shrinkage.
"On a well-run operation, shrink will easily equate to 5% to 10%." Abney explains. "Most of you have got a long way to go to pick up the dollars lying on the ground from shrink."
For example, if the feed ingredient costs $300 per ton, 15% shrink means that ingredient costs the cattle feeder $352.94 per ton.
"We've got a little bit of a persecution complex; no matter what segment of the beef industry we're in, we're pretty sure everybody's out to get us," Abney says. "But we did this to ourselves through poor management, through poor training, etc."
Often, poor feed handling can be attributed to hired workers who haven't been properly trained.
"If you're not training these folks on what they need to do, why they need to do it and what your expectations are, that's on you," he says. "Labor's expensive and hard to find. You can't afford to pay someone if your feed costs increase $50 because they're lazy and sloppy."
All segments of the cattle industry are subject to hay, silage and baleage waste.
"What's the most expensive part of a feedlot rational on a cost-to-gain basis?" Abney asks. "It's the roughage. Hay is a huge contributor to cost in the feedyard."
Abney says forages can suffer a 25% loss of dry matter via:
handling, such as matter blowing off a trailer during transport

poor storage from storing bales outdoors in weather

feeding waste from using a hay ring

ensiled forage loss due to poor fermentation or air exposure
"What we're trying to do with preservation technologies is make that curve of how soon it gets worse a little flatter," he says. "Ensiled forages are a really great way to go."
At the end of the day, nutrient management is important for both financial and environmental reasons. Abney advocates for getting feedstuffs tested for nutrient value, explaining, "If you don't know what it is, you don't know if it fits in your program."
Applying the 'hundred-dollar difference' means identifying problems in management, making a nutrition plan and executing new measures for increased profitability.
"Making the plan is the easy part," Abney says. "The execution is where it gets really difficult."
Subscribe to receive top agriculture news
Be informed daily with these free e-newsletters
You May Also Like
---