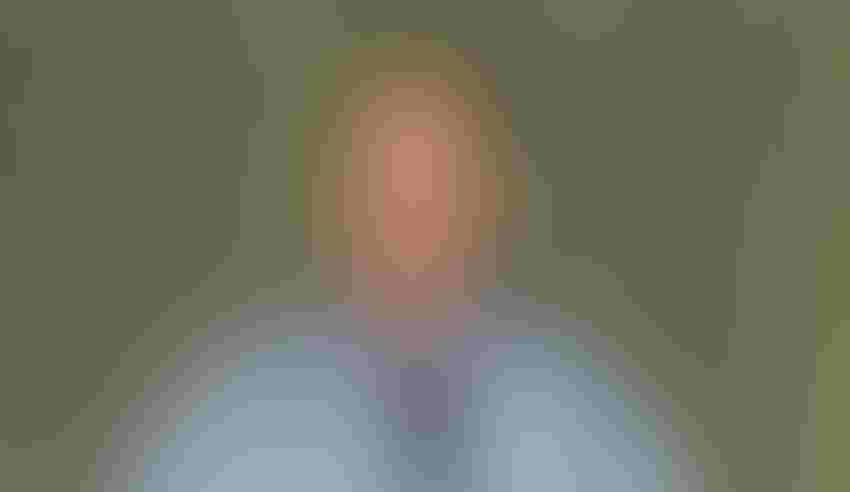 California Farm Bureau Federation President Jamie Johansson pledged sustained advocacy for agriculture during the organization's 101st annual meeting in Monterey.
Tim Hearden
Thousands of California farmers have flocked to two major conferences this week, beginning Sunday as the California Farm Bureau Federation's 101st annual meeting got underway in Monterey.
The 47th Almond Conference was beginning today at the California Exposition and State Fair grounds in Sacramento.
In his annual address to delegates Monday mornning, CFBF President Jamie Johansson said the organization would continue to advocate on behalf of science, improved state and federal policies, and unity in agriculture.
Noting the recent 75th anniversary of the D-Day invasion that led to the end of World War II, Johansson pointed to the crucial role farmers and ranchers had played in the immediate aftermath of the war.
"When it came time to rebuild the world, re-establish stability, agriculture was where they turned," he said, adding that scientific and technological advancements had made that possible.
"We have succeeded because agriculture has defended the change science has brought, and adopted it and adapted to it, in the last 75 years," he said. "The challenge before Farm Bureau now is defending the science on our farms."
Johansson noted Gov. Gavin Newsom's veto this year of Senate Bill 1, which sought to preserve state environmental and labor standards from federal changes initiated by the Trump administration.
"We're not going to freeze the science," he said. "We're going to move our science forward."
Johansson expressed optimism about a planned House of Representatives vote this week on the Farm Workforce Modernization Act, which would address short- and long-term shortages of agricultural employees, and urged the House to vote before the end of the year on the U.S.-Mexico-Canada Agreement on trade.
He counseled farm groups to work together in assuring production of nutritious food products.
"It's not about whether you eat an organic carrot or a conventional carrot. It's about eating the carrot and not the Cheeto," he said.
Johansson said Farm Bureau would maintain the active advocacy that drew farmers and ranchers to the organization.
"At the core of what makes a California Farm Bureau member is not an individual who accepts the current politics of our state and nation, but an individual who wants to change the politics and the direction of our state and our country," he said.
In other business in Monterey:
Discussion meet
In discussing how to integrate food technology into agricultural production, a contestant from Sacramento County earned top honors in the Young Farmers and Ranchers Discussion Meet, held at the 101st California Farm Bureau Federation Annual Meeting in Monterey.
Josh Dowell of Sacramento emerged as the winner after addressing the topic of the development of cell-based foods in a rapidly changing food system. He and fellow contestants discussed how food technology can be beneficially integrated into agriculture without hampering the success of traditional products and the farmers and ranchers who grow them.
Dowell said people in agriculture have learned that "the diversification of our operations can really improve the bottom line for everyone."
"I think that cell-based foods really are going to be more of a luxury item and that there is a niche market that exists that's not being addressed that it will fulfill," he said.
Alex Schimke of Tuolumne County was named first runner-up in the contest. The other finalists were Daniel Bays of Stanislaus County and Alysha Stehly of San Diego County.
Dowell, who works as a sales representative for Phytech, a company that monitors for stress in trees and vines, will represent California at the American Farm Bureau Federation Open Discussion Meet, to be held next month at the AFBF Annual Convention in Austin, Texas.
As the winner of the Discussion Meet, Dowell earned $5,000 courtesy of sponsors Farm Credit, Kubota, K·Coe Isom, AT&T and Bayer. The first runner-up received $1,000, and the other two finalists each earned $500.
Leadership Farm Bureau
An intensive, months-long training program concluded Monday for nine Farm Bureau members from California who participated in the Leadership Farm Bureau program. The LFB Class of 2019 graduated during the 101st California Farm Bureau Federation Annual Meeting in Monterey.
The class acquired enhanced background in communication, teambuilding, advocacy and the Farm Bureau organization during more than 250 hours of instruction in seven sessions. Participants advocated on behalf of Farm Bureau in Sacramento and Washington, D.C., took field-studies trips to Northern California and the Pacific Northwest, and participated in training on agricultural issues, governmental policy and personal development.
Graduates of the 2019 Leadership Farm Bureau class included:
Jocelyn Anderson of Willows, who works on the family farm growing almonds, walnuts, alfalfa and corn, and who serves on the Glenn County Farm Bureau board and the Young Farmers and Ranchers State Committee;

Shane Bickner of Lemoore, crop manager for Woolf Enterprises who grows pistachios, winegrapes and cotton, and serves on the Kings County Farm Bureau board of directors;

Cody Dodson of Tulelake, who farms his own property, custom-farms for others and serves on the Modoc County Farm Bureau board of directors;

Alana Fowler of Penn Valley, a Nevada County Farm Bureau member who with her husband owns a contract-grazing business and a pasture-raised meat business;

Anna Genasci of Oakdale, Farm News editor for the Stanislaus County Farm Bureau and a member of its board, and safety and compliance coordinator for Stanislaus Farm Supply;

Brian Greathouse of Sutter, who grows walnuts and raises cattle, works as grower service manager for Sacramento Valley Walnut Growers and serves on the Yuba-Sutter Farm Bureau board of directors;

Amber McDowell of Walnut Grove, whose family farms pears and alfalfa and runs a pheasant-hunting preserve, and who works as program assistant for the San Joaquin Farm Bureau Federation;

Brian Medeiros of Hanford, who operates a diversified farming operation and serves as vice president of the Kings County Farm Bureau;

Ian Vietti of Visalia, staff agronomist for Innovative Ag Services and past chair of the Tulare County Young Farmers and Ranchers Committee.
The class represented the 20th group to graduate from the LFB program since its inception in 2000.
Applications for the 2020 Leadership Farm Bureau class will be accepted through Dec. 20. For information and the application form, see www.cfbf.com/leadership-farm-bureau/.
YF&R Awards
A dairy farming couple from Tehama County and a husband and wife involved in the Napa County grape and wine business have earned awards for achievement and excellence among young farmers and ranchers in California. 
Seth and Alexandra Duivenvoorden of Cottonwood received the Young Farmers and Ranchers Achievement Award, which recognizes accomplishments in production agriculture and leadership activity.
Johnnie and Kendall White of Saint Helena received the Excellence in Agriculture Award, presented to young agricultural professionals who contribute through involvement in agriculture, leadership activities and Farm Bureau.
Seth Duivenvoorden, a third-generation farmer, said he "wears every hat" at the family's Duivenvoorden Farms, which operates a dairy and a raw milk facility. He also works as swine manager for a nearby farming operation. Ali Duivenvoorden handles the social media and internet activities for the dairy farm and works in its office.
A member of the Tehama County Farm Bureau Board of Directors, Seth Duivenvoorden said he strives to "bring creative thinking to repairing the reputation of farmers and agricultural enterprises." His farm has opened itself to school field trips, personal tours and an annual Milk and Cookies Day that attracts some 1,500 people.
Sixth-generation farmer Johnnie White works as operations manager for a vineyard management firm owned by his father and two partners. He manages all farming operations for six client vineyards and serves as president of the Napa County Farm Bureau. He also serves as a volunteer firefighter and auctioneer. Kendall White works for a farming and winemaking company, selling value-added agricultural products.
Asked to discuss three important issues facing agriculture, the Whites cited immigration and labor policies, the need for financial products that allow young farmers to purchase land, and the ongoing need to engage with policy makers and the public "to create and implement sound local, state and federal policies."
As winners of their respective awards, the Duivenvoordens and Whites each earned a $4,000 cash prize sponsored by Farm Credit, Kubota and K·Coe Isom. The Duivenvoordens also earned 250 hours' use of a Kubota tractor, furnished by Kubota Tractor Corp.
The winners will represent California in national competitions to be held next month at the American Farm Bureau Federation Annual Convention in Austin, Texas.
Almond Conference
Nearly 4,000 farmers, processors and others were gathered at the annual Almond Conference, which kicks off today with the "State of the Industry" presentation at Cal Expo, the gathering's temporary home while the downtown Sacramento Convention Center is in the midst of a $120 million upgrade.
This year's conference will again include a track of trade-related sessions as well as talks on sustainable farming, technology, food safety, the Sustainable Groundwater Management Act and other topics. The "State of the Industry" program at 10:15 a.m. Dec. 10 will be led by Almond Board president Richard Waycott and chairwoman Holly King and include an Almond Achievement Award presentation.
The conference will run through Thursday.
Subscribe to receive top agriculture news
Be informed daily with these free e-newsletters
You May Also Like
---