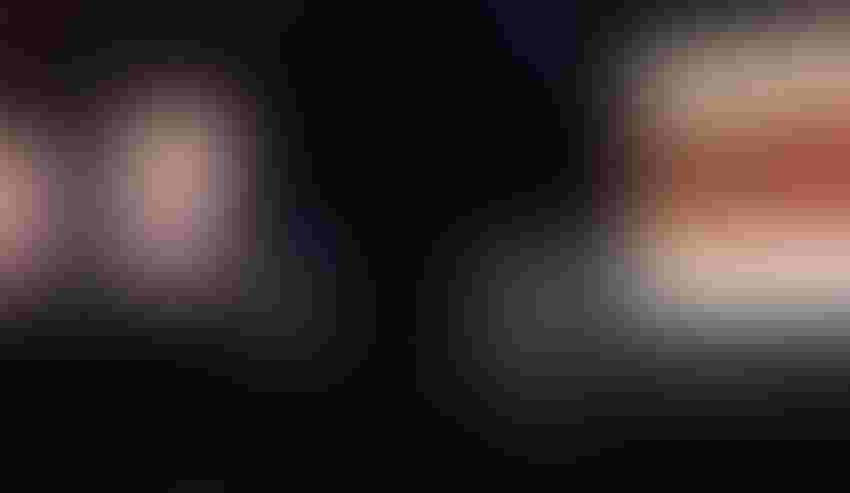 Almond Board of California president Richard Waycott and chairwoman Holly King give a "State of the Industry" presentation at the 2018 Almond Conference in Sacramento.
Tim Hearden
With a temporary change of venue this year, the 47th annual Almond Conference in Sacramento will feature a fair-like atmosphere.
With a major remodeling and expansion of the Sacramento Convention Center underway, this year's conference Dec. 10-12 will be held at the California Exposition and State Fair, or Cal Expo.
With the theme "Best of Show," the conference will kick off with the "State of the Industry" presentation in the fairgrounds' Building C, which is enclosed. Nearby, a large, enclosed livestock pavilion will serve as the main exhibit hall, and high-quality enclosed tents will house conference sessions.
"Not only are exhibitors coming back, but they're coming back wanting bigger booths," said Jenny Nicolau, the Almond Board of California's senior manager of industry relations and communications. The extra space will allow the board to expand its booth to a lounge, where visitors can sample almond beer, she said.
"We're playing off the Cal Expo state fair theme," Nicolau said. "We're doing competitions for all the exhibitors," with winning booths granted free entry in 2020, she said.
RENOVATION ONGOING
The conference was sent scrambling for a new venue amid a renovation that will add about 20,000 square feet to the 137,000-square-foot facility at a cost of about $120 million, according to the Sacramento Bee.
Related:Almond board sets sustainability goals
Of the seven alternative venues considered, most were either too small or too expensive; setting up in San Francisco would have tripled existing rental costs, organizers say. So conference leaders settled on the large fairgrounds about five miles from the shuttered convention center.
The Unified Wine and Grape Symposium will also move from the center to Cal Expo for its 2020 gathering, set for Feb. 4-6.
"It's definitely a different conference and a different venue," Nicolau said. "There's a cost to it but there are also different savings. At the end of the day, there will be no additional cost to attendees."
Nearly 4,000 farmers, processors and others gather at the annual Almond Conference, which is free to attend but requires tickets for certain special events. Past luncheon speakers have included media magnate and former presidential candidate Steve Forbes, who appeared in 2017.
TRADE TRACK
This year's conference will again include a track of trade-related sessions as well as talks on sustainable farming, technology, food safety, the Sustainable Groundwater Management Act and other topics. The "State of the Industry" program at 10:15 a.m. Dec. 10 will be led by Almond Board president Richard Waycott and chairwoman Holly King and include an Almond Achievement Award presentation.
Related:Experts: Tariffs aren't the only trade challenges
In 2018, Waycott and King announced details of an initiative called Orchard Goals 2025, pledging as an industry to cut water use by an additional 20 percent, increase use of environmentally friendly pest management tools by 25 percent, eliminate orchard waste by making better use of byproducts and halve the amount of dust kicked up during harvest.
Industry leaders will provide an update on the Orchard Goals 2025 effort in a 9:15 a.m. session Dec. 10.
In keeping with the fair theme, an opening reception that evening will feature mini-corn dogs and other "fun food," Nicolau said. Food trucks will provide conference-goers with lunch options, and the conference will also have an FFA photo contest, with the top three entries receiving scholarships, she said.
Attendees can park on-site or take a shuttle from downtown hotels, she said. Cal Expo also offers RV rental space on site.
BACK IN 2020
But while organizers are trying to make the most of their temporary home at the fairgrounds, they're looking forward to moving back downtown in 2020, Nicolau said.
"We're ecstatic about going back to the convention center," she said. "We're already looking at floor plans. We're excited to be at Cal Expo, but it really is a unique, one-off situation."
For more information and to register, visit almondconference.com.
About the Author(s)
Subscribe to receive top agriculture news
Be informed daily with these free e-newsletters
You May Also Like
---