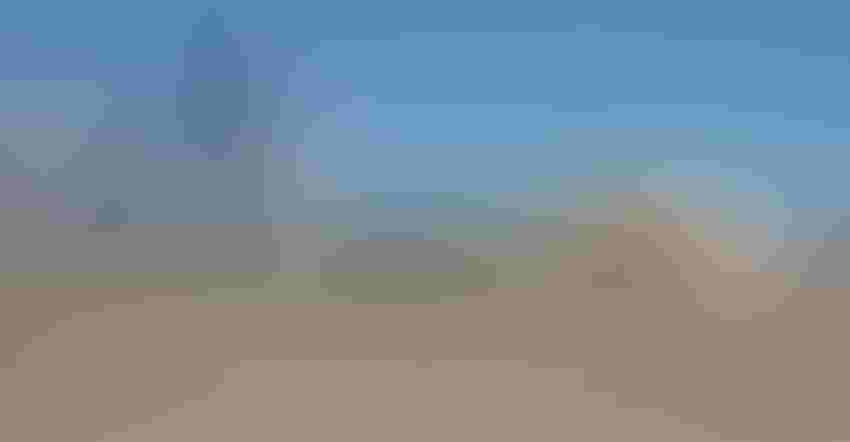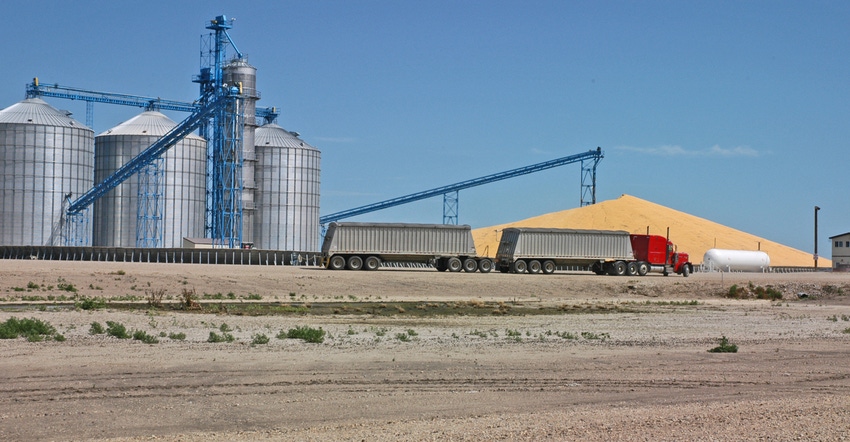 STORAGE: Corn is stored at a Wheat Growers facility near Aberdeen, S.D. Four new staff members have been hired to leadership positions in the cooperative.
Wheat Growers has hired four new team members who will help lead the co-op in serving its 5,100 member-owners.
John Husk joins Wheat Growers as senior vice president of operations. Prior to Wheat Growers, Husk most recently was general manager for Southern States Cooperative, Richmond, Va. His career has spanned both the grain and agronomy supply side of the agriculture industry. He has held leadership positions with Huntting Elevator Co., FREMAR Farmers Cooperative and Elburn Cooperative, where he was president and CEO for 12 years. Husk attended Austin Community College, Austin, Minn., and Iowa State University, Ames, in agriculture and agriculture business. For Wheat Growers, Husk will oversee country operations as well as the organization's maintenance and construction divisions.
Will Griffin joins Wheat Growers as manager of crop protection to replace Carl Moberg, the retiring ag chemical manager. Griffin comes to Wheat Growers from SNF Holding Co., Riceboro, Ga., where he served as agriculture business manager. Prior to working with SNF, Griffin held positions at Agriliance, Terra Industries and Gold Kist Cooperative. Griffin also has held numerous industry leadership positions and currently serves as vice chairman of the government affairs committee for the Irrigation Association, the leading membership organization for irrigation companies and professionals.
Adam Butcher has joined Wheat Growers as an agronomy sales manager and will oversee the Wheat Growers south region. Butcher holds a bachelor's degree in plant and soil science from Southern Illinois University and a master's in crop science from the University of Illinois. He also holds certified crop adviser and certified crop specialist certifications. Butcher has worked as a field agronomist working with growers in scouting, consulting and precision mapping. Prior to joining Wheat Growers, Butcher spent nine years with agriculture cooperatives in Indiana and Illinois where he served as a key account manager and regional sales agronomist, providing scouting, consulting and precision mapping services.
Greg Smith has joined Wheat Growers as director of marketing and communications to replace retiring Senior Vice President Stephen Briggs. Most recently with Molded Fiber Glass Co. in Aberdeen, Smith brings to Wheat Growers a wealth of experience in communications, marketing and industry relations. As vice president for Padilla Speer Beardsley in Minneapolis (now Padilla CRT), Smith launched and directed the agency's agribusiness practice. Smith's career experience includes marketing and public relations initiatives with BASF (crop protection, turf and ornamentals, pest control and vegetation management), Syngenta (crop protection and turf and ornamentals) Global Ethanol, Agri-Business Solutions, VBV Biofuels, the Starbar and Vet-Kem brands of Zoecon (now part of Central Lifesciences) and Rehbein Environmental Solutions.
About Wheat Growers
Wheat Growers is a grain and agronomy cooperative with more than 5,100 active member-owners in eastern North and South Dakota. With 40 locations throughout the region, Wheat Growers annually markets more than 170 million bushels of corn, soybeans, wheat and other crops. Founded in 1923, Wheat Growers is governed by a board of active producers elected to represent five districts, and backed by 45 delegates who serve as the liaison with the general members. Cooperative headquarters is located in Aberdeen, S.D.
Source: Wheat Growers
About the Author(s)
Subscribe to receive top agriculture news
Be informed daily with these free e-newsletters
You May Also Like
---