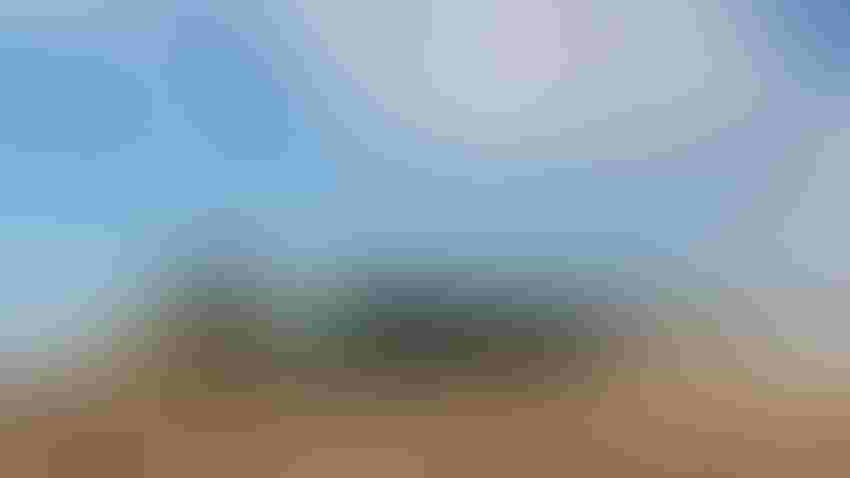 The ideal wheat planting window for grain is from October through November. Fall grazing wheat should planted four to six weeks prior.
Shelley E. Huguley
Ideal planting dates for Texas wheat typically run from early October into November for grain production, and about four to six weeks or so earlier for fall grazing.
But weather, harvest delays, and unanticipated events might alter plans.
Texas AgriLife Extension Agronomist Calvin Trostle says October 1 is a good planting target for irrigated grain not to be grazed up in the Panhandle, above the Canadian River. "In the northwest, around Muleshoe and Herford, plant around October 7 to 10. In Lubbock County, I've long said that if I could pick a day to plant my irrigated wheat, give me October 20."
Wheat for grazing could go in "up to four to six weeks sooner to get a better chance of getting full grazing."
Trostle says numerous factors could affect planting date and yield potential. Delaying until Nov. 15 in the Lubbock area could be okay, Trostle says, but with a probability that yields some years will be reduced. "That's especially true as we get into a December planting. Wheat may not be able to tiller as much.
"We would increase the seeding density considerably with late planting, maybe by 50% if we delay from October 20 to early December."
Planting dates for wheat for hay or silage would match wheat for grain. "And for dual-purpose wheat, the cattle would need to come off when wheat goes into the reproductive growth stage. When they first see a few joints, the growing point has switched from producing another leaf to developing the head.
"Once those joints come along, wheat starts to move from prostrate growth to erect or vertical growth. The growing point will be up off the ground. If it's grazed off, yield potential of that particular stem goes to zero."
Cover crop
Growers planting just for a winter cover do not need to plant too early because "they're probably using moisture they would like to have for the crop next year. Wheat planted in September uses a lot of moisture when it really doesn't benefit yield that much."
Cover crops usually aren't planted until November, possibly December. Seeding rates for a cover crop tend to be one-third to one-half of an economic grain crop.
Planting when moisture is available is a factor, Trostle says. "In dryland wheat, your ideal planting date might be October 20th, but if it's been dry and if a good rain falls September 25, a farmer might consider planting early, the last of September or early October.
"Would I go ahead and drill? Yes, I would because any farmer will grimace when you ask if he or she has ever gone six weeks or more without a rain after October 1. Of course, they have! If they pass up that moisture opportunity, they may not have planting moisture until well into the fall."
Trostle says wheat doesn't require a lot of management in the fall. "Variety selection is a big part of a farmers' decision process. The seeding rate can be too high or too low. Check for insects and for disease in the spring.
"But timing topdress nitrogen application is one of the most important management considerations. Showing farmers why it is important is a big topic for Extension. When wheat is jointing, with the small developing head, is when yield potential is being set. Nitrogen topdress application a week or more later is less effective in advancing  yield potential."
For more information on wheat planting dates and management see: 07-30-17WinterWheatMgmtCalendar-ESC-048.pdf (tamu.edu)
Subscribe to receive top agriculture news
Be informed daily with these free e-newsletters
You May Also Like
---