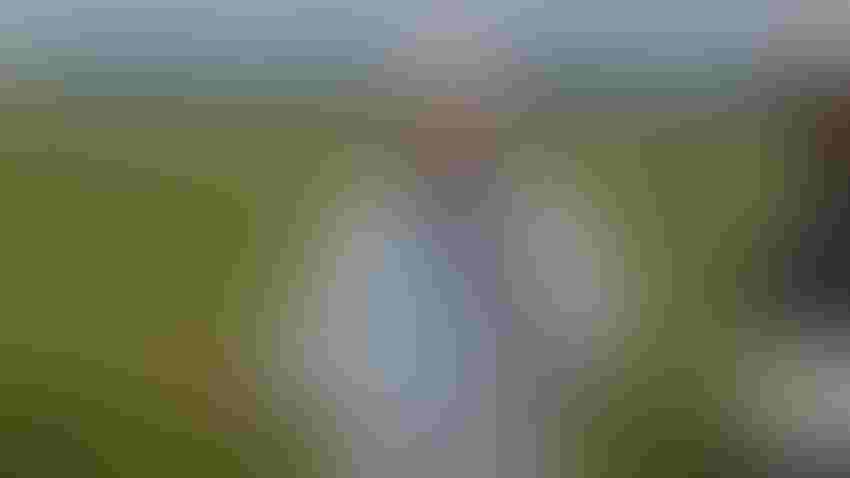 Chris Mundt, at a Hyslop Farm Field Day in Corvallis, Ore., frequently provided growers updates on his research at field days and other settings during his 38-year career at Oregon State University.
Mitch Lies
In 1985, when Chris Mundt started as cereals pathologist at Oregon State University, Stephens, a soft white wheat with a remarkably long run, was by far the dominant variety produced in Oregon. And stripe rust was not an issue.
Today, Stephens is grown on only a smattering of acres in Oregon. And stripe rust is probably the biggest single disease concern in Oregon wheat.
As Mundt prepares to retire at the end of 2023, he took the time recently to reflect back on the many varietal changes and the many plant diseases he encountered during his 38-year career.
Like many wheat varieties that have come and gone, some more rapidly than others, it was disease susceptibility that contributed to the demise of Stephens.
In 1985, Stephens was planted on roughly 80 percent of the wheat acres in Oregon, Mundt said. It held up against the stripe rust present at the time, it had good standing against other diseases, and it yielded well compared to the other varieties of that time.
In the early 2000s, however, a new, more virulent strain of the rust pathogen hit the Pacific Northwest, and Stephens and other varieties grown in Oregon at the time were suddenly susceptible.
Prior to the introduction of the new strain, Mundt had some experience working on stripe rust, having studied it as a student and having worked with it in the club wheats during the 1990s, which, at the time, was the only class of wheat produced in Oregon that was susceptible to stripe rust. In fact, Mundt said, he remembers almost feeling guilty about working on rust in the club wheats, given their relatively minor role in Northwest wheat production.
"In the soft, white winter wheats," he said, "the breeders essentially had it solved."
New strain
That all changed almost overnight.
"In the early 2000s, there was a new population of the pathogen that moved around the world in about three years. And this pathogen was not only more aggressive, but it also held up much better against temperature extremes," Mundt said.
"It used to be that in the Willamette Valley, I would see stripe rust coming in around April," Mundt said. "When these new populations came along, you can sometimes see it as early as late January. And in late January or early February, you have neither adult plants nor high temperatures (two factors that were needed to confer resistance to stripe rust in the soft white wheat varieties being grown in the 1990s), and so that resistance we had didn't work," he said. "And then you produce all kinds of inoculum and it just kind of overwhelms the system.
"So, basically, breeders were back to square one on stripe rust resistance," he said.
The new strain was so virulent that by 2011, a wet, cool year in Oregon, Mundt noted if it weren't for aggressive fungicide treatments, he believes growers would have lost 60 percent of the state's wheat crop.
"We had younger growers who had never even seen the disease before, and the next thing you know, they're out spraying for it," Mundt said. "So, (retired OSU wheat breeder) Bob Zemetra did a major cleaning out of his material, and I'm sure other breeders did the same thing, and now you look at it and we're in pretty good shape.
"We have varieties that have been holding up pretty well," he said. "But you have to constantly keep on top of it, because we know that the pathogen could change."
Worked with breeders
Through the years, Mundt has worked closely with the OSU wheat breeding program on selecting for disease resistance in experimental varieties, work that eventually proved the solution to the stripe rust outbreak. The work involves countless hours in the field growing different varieties from seed, infecting them with inoculum and documenting their disease susceptibility as they mature.
"It's good old-fashioned technology, but it still works," Mundt said.
This work has proved invaluable for growers and breeders, according to Zemetra, who has worked with Mundt since 2011.
"One of the main reasons I moved from Idaho to Oregon State was so that I could work with Chris," said Zemetra, who spent 26 years as the University of Idaho wheat breeder before coming to OSU. "With Chris, I could get screening for diseases that you can't be dependent on the environment to cause naturally.
"That really separates Chris from other cereals pathologist. The other thing that separates Chris from others is besides screening the material, he would go through and rate my fields for stripe rust and give me additional information, and that was extremely valuable," Zemetra said.
"What he's been able to do is give me extreme confidence that when I release a variety, I can actually say it's foot rot resistant or stripe rust resistant," Zemetra said. "That is what Chris provides."
Field research
Mundt said he made a conscious decision early on to focus more on field research than on laboratory research, and he believes the decision has paid off.
"Earlier in my career, I could see the potential power of molecular biology and using these tools to follow genes and understanding genes. And I had to decide whether to focus on my lab or to collaborate with other people to do the molecular biology, and I chose to collaborate," he said.
"So, when it comes to looking at resistance genes and things like that, I'll set up the field experiments, take field data, and then usually it would be a graduate student out of Bob Zemetra's or (OSU barley breeder) Pat Hayes' program who will do the molecular biology part of it."
Mundt has also worked extensively over the years with former Texas A&M biologist Bruce McDonald, considered perhaps the best population biologist in the world studying plant pathogens, who now is working out of Switzerland.
"I know a lot of people who have a fabulous field program and also a strong lab program, but I just chose to do it a different way, and I think it was a good decision for me," Mundt said. "Certainly, we use these tools directly in breeding programs at times and to try to better understand the underlying genetics of these pathogens. But I think that still the biggest contribution to this research is just going out to the field."
Another big part of Mundt's career has been working with growers, something he said he enjoys and gains from.
"Even though I don't have an extension appointment, I probably spend 20 percent of my time doing extension activities," Mundt said. "And that has been absolutely critical because every time I think I understand something, you talk to a grower, and you realize there's something I missed.
"And so, this really is a partnership," he said. "We're learning from each other, and that's the only way we really make progress."
"What he does for farmers is another other thing that sets Chris apart," Zemetra said. "Where there is some type of disease issue, Chris will go out and check on it for the growers. And this includes going out to Eastern Oregon."
Looking back, Mundt, who hails from upstate New York and comes out of Cornell University, said he has enjoyed his work and believes it has been well received by the industry.
"It's very satisfying when I run into growers who say, 'You know, this really helped me,'" he said. "And I think the Oregon Wheat Commission has been very pleased with what I've been doing with the whole program, especially with my interactions with the breeding program."
Still work to do
Mundt said he won't be leaving OSU anytime soon. He expects to be around on a part-time basis probably for the next five years, noting he just recently was awarded two grants. The first, with Posy Busby and other collaborators, is to look at how researchers can use the genetics of plants to induce disease resistance through a plant's microbiome.
The second funds a project he started recently that involves research into how pathogens and diseases spread over large distances, which includes looking at similarities among livestock, plant and human pathogens. "And believe it or not, there are some shocking similarities there that we weren't expecting," he said.
Also, with Margaret Krause, formerly with Utah State University, coming to Corvallis in November to lead the OSU wheat and barley breeding programs, he plans to continue to help there.
And, he said, if growers have questions they would like him to address, he is available. "While I'm around, growers are always welcome to call me," he said.
As for Mundt's position, it appears to be on solid footing, in part because the College of Agricultural Sciences has identified it as an important position, and also because the Oregon Wheat Commission recently announced it is putting $250,000 toward an endowment to fund a cereal pathology position at OSU.
Subscribe to receive top agriculture news
Be informed daily with these free e-newsletters
You May Also Like
---