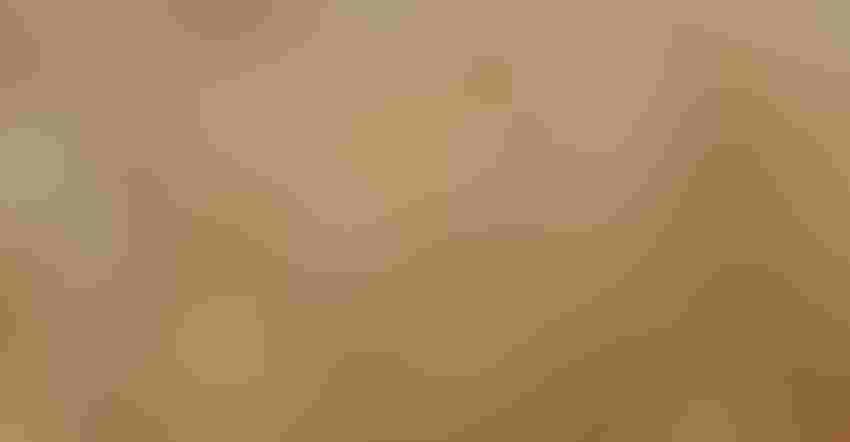 WINNER, WINNER: Tim Kumpf of Hemingford, Neb., took first place in the 2021 NWF irrigated winter wheat division for Nebraska with a yield of 145.4011 bushels per acre, planting West Bred WB4303.
Curt Arens
In spite of a dry winter wheat growing season — even for Nebraska's Panhandle — Tim Kumpf of Hemingford, Neb., was still able to garner decent wheat yields this past year on dryland.
But his yield of 145.4011 bushels per acre on irrigated wheat in Box Butte County was good enough to win the irrigated winter wheat division in Nebraska for the 2021 National Wheat Foundation yield contest. Tim's son, Kyle, took third place in the same division with a yield of 141.64 bushels.
Farming with limited moisture and water limitations on the irrigation side takes a little extra planning and a lot more management, Kumpf says. Normal annual precipitation for Kumpf's part of the Panhandle is usually about 14 inches, but this year was particularly dry.
The only real moisture they received from Mother Nature was a huge storm July 8 that not only dumped rain, but also pounded many of the family's crop fields with softball-sized hail. The storm flattened cornfields with 80-mph straight-line winds. It's just another "normal" growing season for crop farmers in the Panhandle, Kumpf says.
Limited water
Kumpf farms in Box Butte and Dawes counties as part of a big family operation — Specht Farms —that includes his father-in-law, Charles Specht; brother-in-law, Brian Specht; Tim's wife, Deb; and son, Kyle; and Kyle's wife, Kaitlyn.
He says that because of irrigation, the family usually raises good crops when it is dry. "That's why I need winter wheat in my rotation," Kumpf explains. "In our natural resources district, we are limited on the amount of irrigation water we use over a six-year period, so we plant a lot of wheat, oats and triticale to stay within our irrigation allotment."
With 1,500 acres in sugarbeets, that is the family's largest crop. On irrigated ground, winter wheat is seeded after beet harvest. Because Kumpf sells wheat seed, the beet fields offer advantages. They are normally free of weed seed, and there are no worries about volunteer beets the following year, so subsequent wheat fields are extremely clean, he says.
"Seeding wheat in the fall also helps prevent wind erosion following the beet crop," Kumpf notes.

Sugarbeets are in a three- to four-year rotation normally, where he will plant beets, followed by wheat, then corn, and back to beets again. "We are just trying to save irrigation water," Kumpf explains. "That's why we need small grain in our rotation."
Corn might use up to 15-18 inches of irrigated water, while wheat uses only 5-6 inches in a wetter year, or 7-8 inches in a dry year such as 2021. Other Panhandle crops like potatoes might use up to 20 inches.
Wheat yields over the past five years have gone up considerably, with much of the credit going to intense management and improved genetics, no matter which seed brand farmers are planting, Kumpf says.
Five years ago, his yield goal for irrigated wheat would be 80-100 bushels per acre, and an average dryland wheat crop would yield 40 bushels per acre. "Now, my irrigated yield goal is over 100 bushels per acre, and I've had several dryland crops that yielded 50 bushels or more," Kumpf adds.
The winning irrigated wheat field was planted into sandy loam soils — some of the best on the farm — after edible bean harvest in the fall of 2020, so that field was planted a little earlier than the rest of his wheat this past season.
"You really need to get a good stand to start out," Kumpf explains. "Having that good stand is our greatest challenge here. For wheat I've planted this fall, I still watered into late November to keep the stand going. I'm not afraid to water my wheat."
The wheat stand also helps hold the soil into place from wind erosion through the fall, winter and early-spring months.
Planting after sugarbeets leaves very little fertility left in the soil, so Kumpf has to rebuild the soil for his wheat crop. He typically takes tissue samples during the growing season to monitor in-season fertility needs.
Manage for success
The July storm that pounded the region just skirted that high-yield wheat field, preserving the crop. Kumpf usually sprays for weeds early in the spring with his high-clearance machine and adds fungicide to take down potential diseases in the wheat.
"When it is hot and dry, there just isn't as much disease pressure," he says. "Sawfly is one of our bigger concerns. We're not seeing as much of it farther south, but it is around."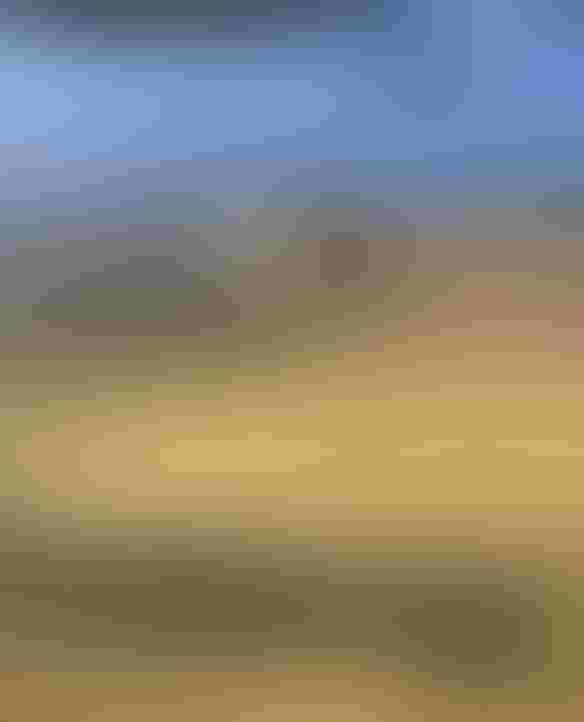 Input costs in the upcoming growing season are another major concern. Kumpf says that he contracts much of his wheat crop ahead when the market offers good prices. He expects more wheat acres this upcoming growing season, with producers still considering whether to plant additional acres to winter wheat into late November.
Selling wheat straw for Kumpf is nearly as lucrative as the grain itself. Much of his straw goes to Front Range dairies or into Oklahoma. He says that he has also been blessed with good help over the years, with his daughter, Kaitlyn, working as his top grain cart driver until recently when she graduated from college and took a teaching job in South Dakota. Many of his harvest helpers have been working for the family for 20 to 30 years.
While there are always challenges, Kumpf says he is hopeful for additional moisture in the winter and spring to set the table for another good wheat crop next summer.
State winners
In addition to Tim and Kyle Kumpf, Brock Terrell in Sheridan County took second place in the National Wheat Foundation irrigated winter wheat division yield contest in Nebraska.
In the dryland winter wheat division, Travis Freeburg won first place in Nebraska with his yield of 108.29 bushels per acre in a field in Kimball County. Freeburg also took the "percentage increase" division over the county average on the national level, with his yield coming in at 257% of the county average. Aaron Keiser in Dundy County won second place in the state, and Doug Moffat in Deuel County took third.
Learn about all of the NWF yield winners at wheatfoundation.org.
Subscribe to receive top agriculture news
Be informed daily with these free e-newsletters
You May Also Like
---