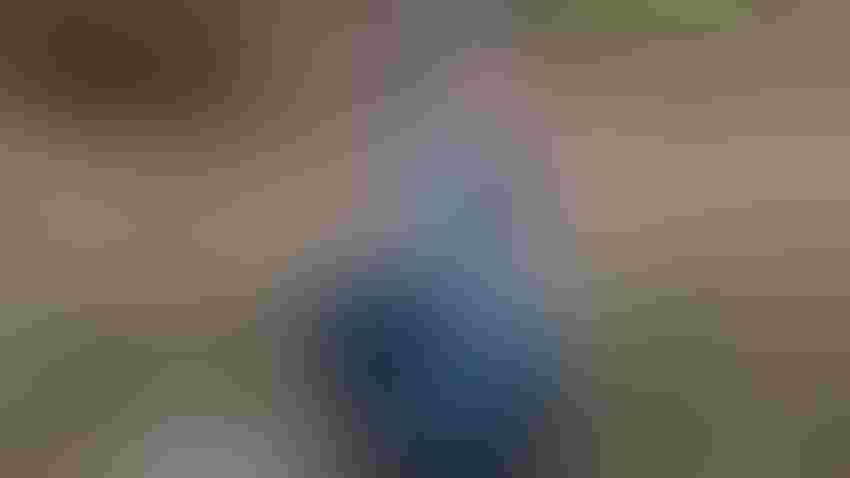 BETTER SOIL HEALTH: Amanda Kautz demonstrates how healthy soil allows water to move into the soil instead of running off.
Tom J. Bechman
by Amanda Kautz
The Russia-Ukraine conflict continues to drive uncertainty in the wheat market. The recent halting of the Black Sea Grain Initiative that allowed Ukraine to export wheat from three key ports sent market prices up, only to have them fall with increased Russian exports. The market could shift quickly again if exports from Russia and Ukraine are further impacted by new developments.
While the wheat market may seem like a roller coaster right now, prices are generally higher than the 10-year historic average. That provides an economically sound reason to consider bringing wheat back into your rotation. It's also an opportunity to capture increased soil health benefits. 
A 2021 study shows that including wheat once every four years in rotations with corn and soybeans can have many benefits. The research, by Adityarup "Rup" Chakravorty with the American Society of Agronomy, was published in Agronomy Journal. Researchers grew winter wheat once every three or four years with corn and soybeans. They found that longer-term corn-soybean rotations that contain winter wheat can be more profitable. 
"Corn and soybean yields were higher when crop rotations included wheat," wrote Ken Janovicek, lead author of the new study. "The greatest yield increases occurred in rotations that included winter wheat once in four years … the increase in corn and soybean yields when these crops are grown in rotation with wheat more than offset the lower sale returns associated with winter wheat."
This data was gathered before the increased wheat prices of the last several years. Now there may be more potential for increased returns during wheat years. 
Improved soil health
Besides increased yields, the study found that crop rotations with small grains help improve soil health, which has a variety of benefits. Adding a small grain to the rotation can help improve soil structure, leading to better water infiltration and reduced erosion risk. Soil organic matter may also increase if wheat residue is left in the field to break down instead of harvested for straw.
Wheat opens a larger window for seeding cover crops. Cover crops can be planted earlier in the season than after corn and beans, opening the possibility for warm-season species to add additional diversity to your crop rotation. Due to increased growth time, if you have livestock, it also opens the possibility for fall grazing of cover crops.
Wheat provides other practical benefits. With wheat being harvested in midsummer, it leaves a window for other activities to take place in the field that wouldn't be possible otherwise. If tile needs to be installed, a ditch cleaned or a grassed waterway built, this summer window would be perfect to get these activities completed.
Wheat acres provide a space to spread manure during summer when other acres are covered with growing crops. Be sure to include cover crops if manure is applied in the summer. Wheat acres can also provide additional economic opportunities such as the ability to bale and sell straw or to grow double-crop soybeans. 
Even if you don't reach record-high wheat prices again, wheat is worth considering for your rotation. You might be surprised with the benefits you will see from this simple crop rotation change.
Kautz is the state soil health specialist with the Natural Resources Conservation Service in Indiana. She writes on behalf of the Indiana Conservation Partnership.
Subscribe to receive top agriculture news
Be informed daily with these free e-newsletters
You May Also Like
---