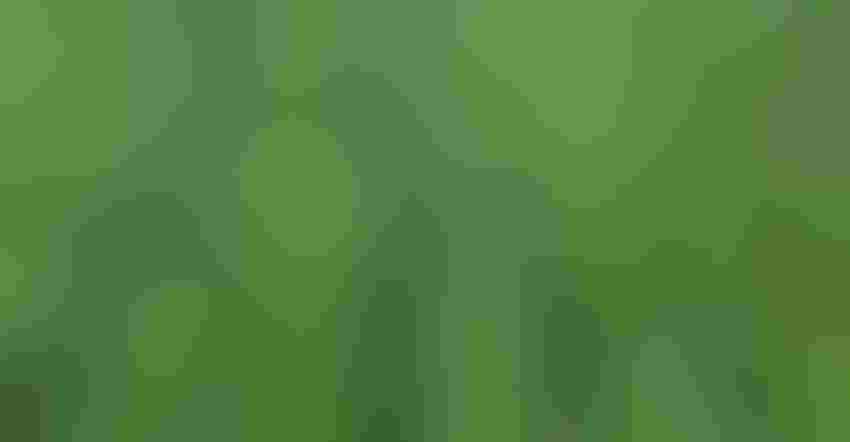 SCOUT AND SEE: Agronomist Steve Gauck suggests scouting soybean fields now to see if there are weed escapes and to judge weed height if you're planning a postemergence application.
Tom J. Bechman
Perhaps you sprayed a burndown and residual herbicides near planting if you no-tilled soybeans. If you tilled, you likely applied residual herbicides. Even if you don't have a postemergence application planned, Steve Gauck recommends scouting for weeds now.
"It's a good time to assess what kind of control you achieved with early-season applications," says Gauck, regional agronomy manager for Beck's, based near Greensburg, Ind. "Plus, if you planned on making a post application trip, check weed size. Most products are more effective on smaller weeds, especially on the tougher weeds." Beck's sponsors Soybean Watch '20.
Labels for some post herbicides recommend spraying specific weeds at 4 inches tall or less. That often includes tall waterhemp and Palmer amaranth. Refer to the Purdue University Corn & Soybean Field Guide for help identifying these weeds. The 2020 edition is available from the Education Store. It includes color pictures of many of the toughest weeds.
Timing matters to weed control
Catching weeds at the right height and knowing which weeds you have in the field are important for effective weed control, Gauck says. Some herbicides are more effective against certain weeds than others.
A good reason for scouting now is that if you're counting on using a dicamba-based herbicide to go after weeds postemergence in dicamba-tolerant soybeans, the window for application may be closing, if it hasn't already. The deadline for applying these herbicides in both Indiana and Illinois in 2020 is June 20. In Illinois, there is also a restriction that doesn't allow application of dicamba herbicides at temperatures above 85 degrees F. If you live in other areas, check with your local chemical supplier to make sure you can still make on-label applications with these products.
Related:Late planting a concern for soybeans again
If you're making a post application of any postemergence product to control weeds that either escaped control early or that you intended to control now, consider adding another round of residual herbicides to the application. Gauck says a second shot of residual herbicides is a good strategy to help extend the time herbicides are active in the soil to combat weeds that may attempt to germinate later.
This is particularly important for weeds that can germinate and emerge later in the season, he emphasizes. Both tall waterhemp and Palmer amaranth are on that list. If these species germinate and emerge even now or later, they can easily produce mature plants before the end of the growing season.
They're often the ones you see sticking out of the canopy near the end of the season, he adds. Part of the reason these weeds can spread quickly is because each plant can produce thousands or even hundreds of thousands of seeds. Even a later-emerging weed can be a prolific seed producer.
"You may not even think you have waterhemp in the field, but you want to look closely while you're scouting now," Gauck says. "It may be present, and you don't know it. The secret is to control it before the problem becomes severe."
About the Author(s)
Subscribe to receive top agriculture news
Be informed daily with these free e-newsletters
You May Also Like
---