Virginia Tech Extension Weed Specialist Dr. Michael Flessner, holding a Palmer amaranth weed, says spray timing is critical for controlling palmer Amaranth. The weed must be less than four inches tall.
Since herbicide resistance is a never-ending problem, Virginia Tech researchers are looking to production practices as another way to battle weeds.
Virginia Tech weed scientists are examining cover crops, planting timing and a management practice called "harvest weed seed control" that comes out of Australia and removes or kills weed seeds that are retained on weed plants at the time of harvest.
At a weed control field day June 19 at the Southern Piedmont Agricultural Research and Extension Center in Blackstone, Shawn Beam, a weed science graduate assistant at Virginia Tech, noted that cover crops can help with some weed suppression and are better suited for controlling small-seeded annual weeds such as Palmer amaranth and common ragweed.
"Your larger seeded weeds like morning glories, cocklebur and perennial weeds aren't really suppressed by cover crops at all," Beam said.
In its cover crop research this year, Virginia Tech is looking at cereal rye and winter wheat.
"You can use mixtures of cereals and legumes or legumes alone. You need enough biomass to actually suppress weeds. By incorporating legumes, you can get increased biomass as well as some other benefits beyond weed suppression such as soil health benefits," Beam said.
Weed seed
One of the more intriguing weed control management practices is harvest weed seed control. Virginia Tech Extension Weed Specialist Dr. Michael Flessner emphasized that Virginia Tech is examining harvest weed seed control and is not ready to recommend the practice to Virginia farmers. He did say he is looking for cooperators who are willing to give the practice a try on their farms.
Virginia Tech is examining harvest weed seed control in collaboration with North Carolina State University and USDA's Agricultural Research Service.
"The technology came out of Australian wheat production where farmers were battling an 11-way resistant rigid ryegrass and there were no herbicide options. They lost them all to either resistance or tolerance," Flessner said.
Harvest weed seed control physically kills the weed seed and removes them from the field as part of the harvest operation. Flessner notes that about 40 percent of wheat producers in western Australia now use some form of harvest weed seed control, which demonstrates that the practice must work and is economically feasible.
"Their operations are generally a lot bigger and wide open as compared to Virginia, where we have smaller fields that are broken up by a lot of woods," Flessner said. Still, Flessner believes the practice could be adopted in Virginia as one more way to address herbicide resistance.
"The crux of harvest weed seed control is that seed has to be attached to that mother plant at the time of harvest," Flessner said. If the seed shatter and is on the ground and then enters the seed bank, the practice won't work.
"The seeds have to be on the plant. We need a timely harvest, which we want for the crop as well," Flessner said.
"If we can get a timely harvest what we've seen so far is over 90 percent of Palmer amaranth seed are retained on that plant at our typical soybean harvest time. For common ragweed, it's about the same. One thing we've noticed is that for barnyard grass and some of the other grass species we are only seeing about 50 percent of those seeds are retained at harvest," he said.
Various methods
There are various methods to achieve harvest weed seed control. Virginia Tech is examining two methods: 1) narrow windrow burning and 2) a chaff fraction system, where chaff is removed via a grain cart.
In the chaff fraction system, the chaff portion of the residue comes out of the combine and goes into a cage mill that either physically crushes the weed seeds or destroys the seed and renders them non-viable.
"The chaff is then spread back over the field so you get an even nutrient return back to the field and you're not spreading any seed. It's going to help us with any volunteer seed that comes out of the back of the combine as well. It comes with a little bit more expensive price tag," Flessner said.
Proper combine adjustment is critical. Flessner said farmers in Australia found that about 50 percent of the seed can exit the straw fraction, making the practice ineffective. "If we're going to go to the trouble of doing this, we don't want to spill half the seed out on the field and not get the efficacy we need," he stressed.
Resistance management
In the meantime, Flessner emphasized that resistance management is still vital for effective weed control. He pointed to dicamba as an effective tool that works, but he stressed that dicamba is not a replacement for good sound weed management practices.
"I don't want to go back to the Roundup Ready days where we start spraying dicamba to get us out of trouble. We still need to use preemergent and residual herbicides. There are lot of very effective options out there especially for Palmer amaranth," he said.
Because Palmer amaranth weed seed can germinate all season long, Flessner said it is important to get a head start on control with preemergent herbicides. Dicamba alone won't work; residuals are also needed for effective control, even with dicamba in the program.
"Spray timing is important with dicamba. We still want to target four-inch weeds," he stressed.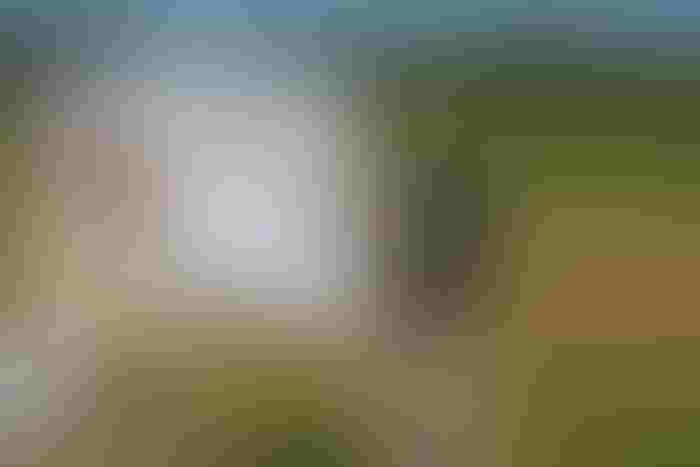 Virginia Tech Extension Weed Specialist Dr. Michael Flessner explains harvest weed seed control, a weed management practice where weed seeds are killed at the time of harvest.
Subscribe to receive top agriculture news
Be informed daily with these free e-newsletters
You May Also Like
---