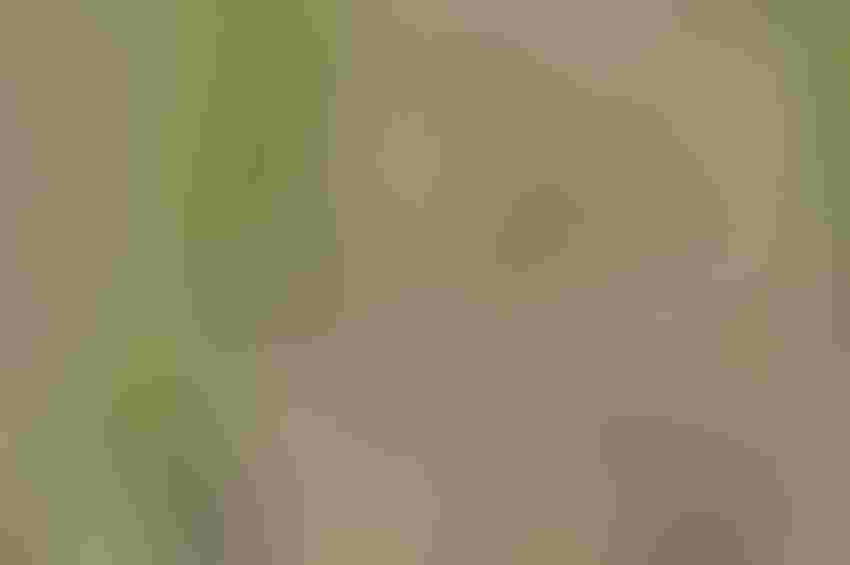 Waterhemp: King of Resistance. Metabolism-based resistance could result in it becoming resistant to all herbicides. ISU's Hartzler says it's going to be critical to minimize the number of seeds in the weed seed bank.
Lynn Betts
Weed resistance to herbicides isn't new, but the rate of appearance of new herbicide-resistant biotypes is increasing, and that concerns Iowa State University Professor and Extension Weed Scientist Dr. Bob Hartzler.
In late November, Hartzler told a group of farmers and crop advisers at ISU's 2018 Integrated Crop Management Conference that everyone involved in crop production needs to reconsider how weed management is viewed. "Both attitudes and approaches to weed management need to change," Hartzler said. "Weed management can no longer be viewed as a short-term endeavor intended to protect crop yields. The objective needs to shift towards minimizing the number of weed seeds in the weed seed bank, by setting a goal of zero weed escapes."
Hartzler said he realizes at the scale of today's production systems it's unrealistic to achieve perfect weed control, but said tolerating low to moderate densities of weeds because they don't affect yield or slow harvest down isn't acceptable any more.
Herbicide resistance the driving force
Hartzler noted that Missouri researchers identified a waterhemp biotype that is resistant to six different herbicide groups (Groups 2, 4, 5, 9, 14 and 27), and said five-way resistance is common in waterhemp in Iowa. He suspects waterhemp resistance to 2,4-D is present somewhere in Iowa, since it's been found in Illinois, Missouri and Nebraska. The Missouri field with resistance to 2,4-D was one that had been in continuous soybean production, where 2,4-D was used for burndown for a number of years.
"As Mike Owen (now retired ISU weed scientist) liked to say, 'We aren't going to spray our way out of this problem," Hartzler said. "The efficient use of herbicides will still be the foundation of weed management, but the spread of herbicide resistance continues to increase in Iowa and surrounding states."
Efficient use of herbicides includes using multiple, effective sites of action. Several steps are required to ensure the herbicides used are effective against the weeds of concern in a field: determine what resistant biotypes are likely to occur in a particular field by reviewing both herbicide use history and recent herbicide performance; make sure full rates of individual products are used, especially when using premixes;  utilize optimum application timing; and properly set up the sprayer (nozzle type, spray volume, etc).
Concern over metabolism-based resistance
Hartzler is particularly concerned about metabolism-based resistance, which can provide resistance to more than one herbicide group. "Weeds with metabolism-based resistance often evolve resistance to additional herbicides more rapidly than weeds with other resistance mechanisms," Hartzler said. "This resistance has been identified in waterhemp for both Group 5 (triazine) and 27 (HPPD inhibitors) herbicides."
 The first triazine-resistant waterhemp biotypes had an altered target site as the resistance mechanism. This trait is maternally inherited, which results in the resistance only being spread by seed, not by pollen. But more recently, triazine-resistant waterhemp with metabolism-based resistance has been identified in eastern Nebraska, where 31% of waterhemp populations were resistant to 3X rates of atrazine applied either PRE or POST. In the four populations looked at more closely, all had metabolism-based resistance. Hartzler said the presence of waterhemp with metabolism-based resistance is likely to increase the rate that resistance evolves to herbicides currently being used to manage waterhemp, such as groups 4, 10 and 15 herbicides.
"Waterhemp is our king of resistance," Hartzler said. "Metabolism-based resistance could change the game for all of us in the future. If we continue down the same pathway, waterhemp could become resistant to all herbicides, even resistant to herbicides not yet discovered."
Some good news on Palmer amaranth
Hartzler said Palmer amaranth was found in two more counties in Iowa in 2018, bringing the total known counties to 55 since the weed was first found in Iowa five years ago. He figures there are more. The majority of introductions to Iowa were due to planting of native seed mixes contaminated with Palmer amaranth seed.
"The good news is, there's no evidence of a rapid spread," Hartzler said. "It doesn't appear that the majority of those introductions resulted in permanent infestations. Palmer amaranth has a reputation as the beast of weeds, but I'm not convinced it's well adapted to Iowa. The worst infestation I saw, 60 acres in Harrison County, is being driven down with good management. It's not eradicated there yet, but they're showing promise."
Hartzler said it's encouraging to see that Palmer amaranth can be managed on the one hand, but on the other, he's also seen infestations where people don't take the weed seriously enough. "We'll still need continued vigilance to detect any new infestations early and take measures to prevent Palmer amaranth from becoming a widespread problem," he said.
Two new weeds in Iowa
New weeds don't show up often in Iowa, but Hartzler said two were found this past year. Mile-a-minute weed, which has been a problem on the East Coast for more than 50 years but hadn't moved west of Kentucky and Ohio, was found in Marion County. "It shouldn't pose a threat to crop fields, but we recommend keeping an eye out for it or any other unusual plants," Hartzler said.
Asiatic copperleaf, a weed that had previously been found only in a few infestations in New York City, was first found in Iowa in a seed corn field near Waterloo in 2016. This fall another infestation of a seed corn field (different seed corn company than the first occurrence) was found near Humboldt. "This plant appears to be released following seed corn harvest," Hartzler said. "It's unclear how it got to Iowa, or how big a threat it poses to Iowa crops."
Subscribe to receive top agriculture news
Be informed daily with these free e-newsletters
You May Also Like
---