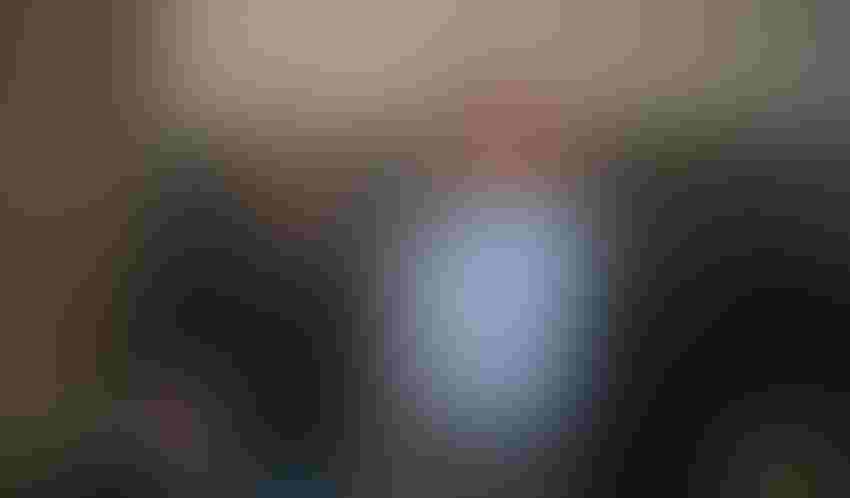 On hand for the Pest Management Road Show at Granny Branch Farm in Aurora, N.C. were Dr. Wes Everman, North Carolina State University Extension weeds specialist, and Dr. Anders Huseth, Extension entomologist at North Carolina State.
John Hart
Resistance management was topic one at this winter's pest management road shows held across eastern North Carolina in January and February.
Herbicide-resistant Palmer amaranth continues to be a problem across much of the state while herbicide-resistant sicklepod is being seen in parts of the state. Herbicide-resistant water hemp is also showing up in locations in northeastern North Carolina.
North Carolina State University Extension Weed Specialist Dr. Wes Everman is urging farmers to take a proactive approach to weed control by using multiple modes of action, rotating chemistries and using both PREs and residual herbicides. Timeliness is critical, he says.
"We've killed sicklepod for 20 years with Roundup, and now it is creeping back. In conventional and Roundup Ready soybeans, you want a strong PRE. Valor or metribuzin will do okay, although in a tough patch, Scepter is our best PRE option," Everman said at the pest management road show at Granny Branch Farms in Aurora, N.C.
"Classic and First Rate are our only conventional herbicides that have post-emergence activity on sicklepod. You have to treat them when they are small, one leaf or smaller. You have to be timely," Everman added.
Everman said Classic and First Rate are weak on pigweed. Both Classic and Scepter are ALS inhibitors. "Most of our Palmer is ALS resistant, so you have to pick and choose wisely. Where sicklepod is a problem, it usually seems to choke out Palmer," Everman said.
Most of North Carolina has pigweed that is resistant to glyphosate, ALS or both.
"We have widespread resistance. "We first found PPO resistance starting in 2016-17 and it has spread in a lot of areas in the Coastal Plain. It's not sky is falling issue, but we are finding it in pockets throughout the Coastal Plain. We're pretty sure we have PPO resistant Palmer up in in the northeast. It seems to be spreading; it seems to be a growing issue," Everman said.
Resistant water hemp is also showing up in North Carolina and was first found in 2016 northeast of Elizabeth City. Everman says it survived treatments of Synchrony, Roundup and Flexstar at the first spray and then Synchrony, Roundup and Cobra the second spray.
"It's resistant to about everything you'd want to spray over beans. It came in on a combine that was bought in southern Ill.," Everman said.
Everman said this illustrates the importance of making sure you clean equipment that was bought out of state before using it in North Carolina to avoid the spread of weeds. Water hemp is now more widespread, with more populations being found farther west of Elizabeth City.
Ragweed that is resistant to ALS, PPO and glyphosate has also been found near Elizabeth City. Group 15 herbicides such as Zidua and Warrant suppress ragweed but won't kill it. Like water hemp, ragweed is not widespread across North Carolina, but Everman said it is popping up.  
Even though North Carolina continues to see PPO resistance, Everman said Group 14 herbicides still should be used to offer some residual control post emergence.
Subscribe to receive top agriculture news
Be informed daily with these free e-newsletters
You May Also Like
---