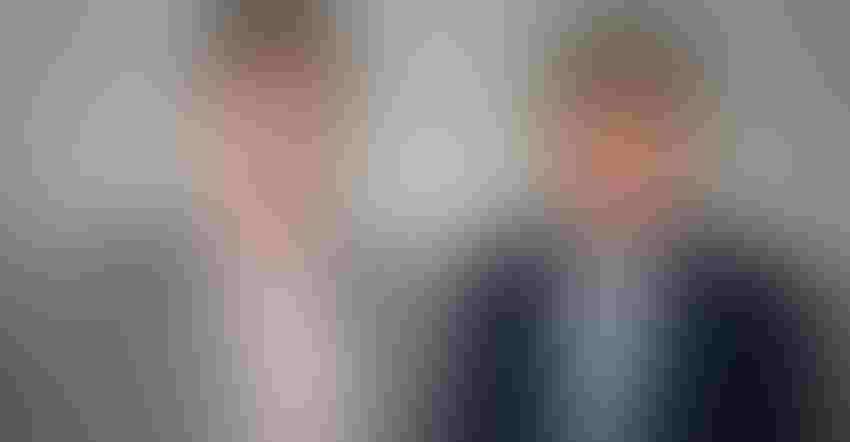 Tyler Hydrick, left, and Jason Bond, right, gave two separate talks on herbicide drift on rice at the 2020 National Conservation Systems Cotton and Rice Conference in Memphis, Tenn.
Alaina Dismukes
Paraquat drift may result in significant damage to rice, said Jason Bond, Mississippi State University Extension and research weed scientist.
Bond discussed paraquat drift on Mississippi-grown rice at the National Conservation Systems Cotton and Rice Conference in late January in Memphis, Tenn. He described several different ways to perform research on paraquat drift, including studies performed over several years with different researchers and students.
Research methods and data
"One thing we picked up doing this work is we noticed our methods are not completely consistent with what is observed in commercial cases," Bond said. "Our technique for doing our research has been to use a constant water volume. For example, in our late-season work, we applied 1.6 ounces of paraquat as Gramoxone SL, but it was applied in 15 gallons of water. We know we need to bring the water volume down, and we've taken steps to address that in the research.
"As of 2018, our average annual increase in rice yield over the last 50 years was around 1.8 bushels per year. Over the last 7 to 8 years, our average rice yields have plateaued. There is no way to attribute cause and effect, but paraquat damage has increased in the time since rice yields have plateaued."
Pigweeds and ryegrass are the biggest weed problems in Mississippi.
"We have counties with pretty big tracts where clethodim is ineffective on ryegrass," he said. "We have promoted fall-applied residual herbicides to target this species, but it's not always the best thing for whole-farm management. It's great for weed control, but it's not necessarily great considering bed integrity and things like that.
"Now that we have clethodim resistance, we're down to a residual herbicide or paraquat, so a lot of people have been moving toward paraquat."
Paraquat use
It's not uncommon in Mississippi to use paraquat twice early to control ryegrass, and depending on the crop and planting date, it might be applied again for pigweeds.
"Paraquat is important for our weed management programs in the spring, but unfortunately we have drifted a lot of paraquat," Bond said.
In the first example he showed, paraquat applied by air drifted across a large tract of corn.
"For corn response to paraquat, the number generated was a half bushel a day lost for every day after emergence that corn was exposed to paraquat at the rate utilized in the research," he said.
Although paraquat drift can be problematic for corn, rice is even more sensitive.
"Paraquat drift can at worst completely ruin a rice field, and at best, introduce severe complications into crop management plans," he said.
"We rarely apply paraquat by itself. We may, but that's the exception rather than the rule; it almost always has another herbicide with it."
One aspect of the research the team wanted to incorporate was spraying enough combinations of treatments to be able to recognize the treatment being used with paraquat.
"Whatever is used with paraquat dictates whether you can replant the crop," Bond said. "Paraquat alone does not hinder a replant, but treatments such as s-metolachlor cause problems when added to paraquat."
Further research
In Ben Lawrence's dissertation research, he used 0.3 pint, so 10% of the paraquat rate utilized for preplant burndown.
"The rice ranged from spiking to one-leaf all the way to panicle differentiation when the treatments were applied, and we observed 50% to 60% injury regardless of timing," Bond said.
"Our yield was 165 bushels per acre in the nontreated control and went down from there, 2.59 bushels per day for every day after emergence that paraquat exposure occurred. In contrast, the rate we used in corn studies was two and a half times this rate, 25% of the preplant burndown rate for paraquat. This shows that rice is much more sensitive to paraquat drift than corn."
In Mississippi, blocks of rice fields are usually smaller than in some states, usually with different crops nearby.
"Desiccant application to neighboring fields causes us trouble too," he said. "In Justin McCoy's research with late-season rice exposure to paraquat, rice was most sensitive approximately one week after 50% heading.
"Remember, after you get to the two-leaf stage with these higher drift rates, you cannot recover, and from there all the way to 21 days after 50% heading, your crop is susceptible to damage from paraquat."
Subscribe to receive top agriculture news
Be informed daily with these free e-newsletters
You May Also Like
---