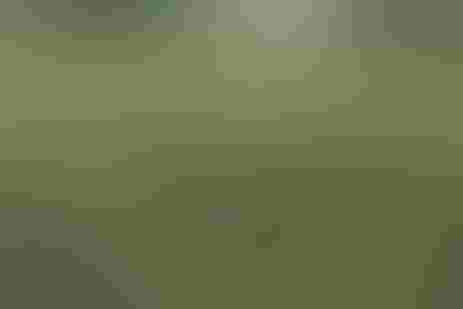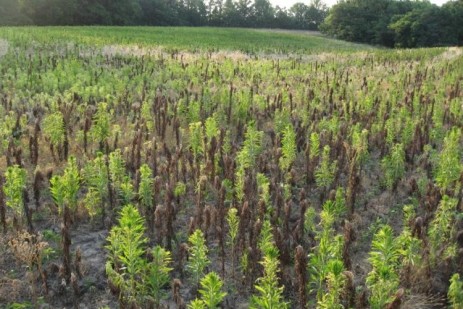 Source: Penn State University
By Bryan Young, Weed scientist at Purdue University
Herbicide resistance in major agronomic crops such as soybean is currently the greatest weed management challenge facing farmers. More specifically, weeds such as horseweed (aka marestail), waterhemp, and Palmer amaranth. Yet, most growers are planning on herbicides continuing to serve as the primary method they implement to control weeds over the next ten years, even though we are in the midst of a 20-year drought for new herbicide modes of action being commercialized with nothing new over the horizon. If herbicides will indeed play the major role in achieving weed management success in the future, we need to start using these herbicides more wisely.
Herbicide resistance today is largely comprised of weed biotypes that are resistant to foliar (postemergence) herbicide applications with resistance mechanisms that allow for low- to high-level resistance to specific herbicides within an herbicide site of action group. We have allowed low-level resistance mechanisms to evolve and thrive by applying low concentrations of herbicides on large weeds (e.g. cut rates, weeds too big at application, poor application methods, etc.). If we move to the opposite end of the spectrum and provide relatively higher herbicide concentrations on the smaller weeds, we can reduce the risk of selecting for these low-level resistance mechanisms. The best example is using a soil residual herbicide shortly after application will result in a relatively high concentration of the herbicide on the smallest size weed possible, the germinating seedling. This helps explain why we have fewer resistance problems, though certainly not immune, with soil residual herbicides than postemergence herbicides. We see this in fields today with waterhemp and Palmer amaranth that are resistant to foliar applications of PPO-inhibiting herbicides, but some reasonable level of control remains when these herbicides are applied at preemergence. In fact, there are other documented cases where soil applications of HPPD-, ALS-, and photosystem II-inhibiting herbicides are much less impacted by the low-level resistance mechanism that have rendered foliar applications of the same herbicides ineffective.
When it comes to battling weed resistance to herbicides, it makes sense to try and eliminate the proliferation of any low-level resistance on your farm. This means using full herbicide use rates and, preferably, soil residual herbicides to get a high dose on a small germinating seedling. This practice alone is not sufficient to thwart herbicide resistance, but should be used as part of an integrated approach that includes a rotation of diverse, effective herbicide site of action groups, cultural practices such as narrow row spacing or cover crops, or mechanical forms of weed control. Without any truly novel herbicides coming to market in the near future, we must adopt better weed management strategies as our current methods will lead us further down the path of weeds with multiple herbicide resistance, ineffective weed control, and significantly greater costs for weed management that diminishes our sustainability.
Best practices
With the exception of Roundup Ready crops in their prime, we can all relate to seeing a few weed escapes at the end of the year and not think much about any seed production. The weed grew from a single seed in your field that likely contains more than a trillion of the very same weed seeds. So how could a little more seed production from a weed really cause any major problems? That mentality has to stop! The prominence and spread of weed biotypes with resistance to multiple herbicide site of action groups such as horseweed, waterhemp, and Palmer amaranth requires us to move away from this lackadaisical approach. That single plant producing seed on your farm may not just force you to alter one herbicide in your overall management program, it may require you to completely rethink your strategy on how you manage weeds.
Take for instance Palmer amaranth (aka Palmer pigweed), if you have never had this weed on your farm you have no reason to believe that the single plant out in your field that looks like a regular pigweed is anything special. Research has shown that within three years of letting that Palmer amaranth plant go to seed that you could have a complete crop failure as the weed problem escalates in your field. That plant isn't just a new weed, but also carries resistance to important herbicides such as glyphosate and multiple other herbicide sites of action. Weed resistance doesn't have to evolve in each field to infest millions of acres. The only requirement is the seed needs to spread through various natural or human activities and you let that weed survive your herbicide program and set seed. This scenario should emphasize the need to keep an active eye on your weed management to understand and manage weed escapes. In almost all cases, the best approach to weed management is to never let the weeds get a head start, which translates to early season management with effective soil residual herbicides.
Another area that we have taken for granted is our ability to perform herbicide applications, especially foliar burndown and postemergence, in a manner that optimizes herbicide efficacy. Glyphosate (Roundup) was the most forgiving herbicide we've ever used for control of emerged weeds. No other herbicide option will perform as well as glyphosate under varied environmental or field conditions. Thus, we need to make each herbicide application work the first time if we are relying on that herbicide to control weeds that glyphosate won't. Using the best herbicide rate, carrier volume, droplet size, and adjuvant on a relatively small weed is a must for achieving consistent weed control on problematic weeds today, especially when a single herbicide may be your only chance of controlling the weed due to prevalent herbicide resistance. That means reading the herbicide label(s) to determine the best application parameters and using adjuvants that are consistent with those recommendations. Demand research data on adjuvant performance because we can't afford a failed herbicide application and there are plenty of adjuvants in the marketplace that are sold on sensational claims not backed by science.
Best management practices for weed control includes an integrated approach of chemical and non-chemical methods. Performing herbicide applications that optimize herbicide activity and scouting fields to monitor weeds that have escaped management or that may have been recently introduced to your field are critical components of these BMPs. If you wait for weed control failure to start implementing better management, you may be forced to live with a weed infestation mess that you'll regret for the foreseeable future.
Originally posted by Penn State University. 
Subscribe to receive top agriculture news
Be informed daily with these free e-newsletters
You May Also Like
---