Herbicide resistant weeds top consultants' concerns
Herbicide resistant weeds top consultants' concerns
Cotton crop consultants say farmers across the Belt can't afford to underestimate the devastation they face from herbicide resistant weeds.Farmers in south Texas are looking at new varieties of Pima cotton.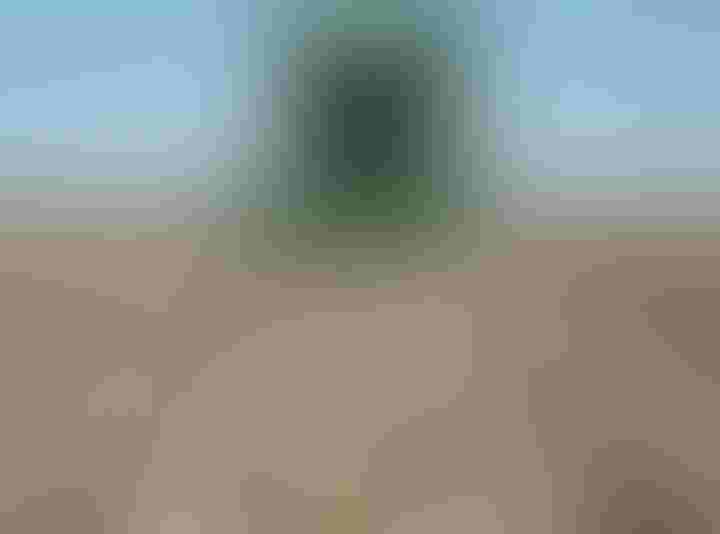 Cotton crop consultants say farmers across the Belt can't afford to underestimate the devastation they face from herbicide resistant weeds.
"We have to take it seriously," said Paul Pilsner, who works the Upper Texas Coast area for Coastal Crop Consulting. "We began to see waterhemp escapes about six years ago," Pilsner said Tuesday during the Cotton Consultant's Conference, part of early activities at the 2011 Beltwide Cotton Conferences in Atlanta.
"High rates of glyphosate would not control waterhemp," he said. Pilsner recommended that cotton farmers use residual herbicides to augment over-the-top applications. "We need to use a full residual package. Resistant weeds will spread from two or three fields to two to three counties. And we need to be concerned about resistant weed seed production."
Pilsner said growers also should watch for resistant Johnsongrass.
Brant Baugh, Texas AgriLife Extension integrated pest management specialist in Lubbock, says Palmer amaranth is the area's top weed problem, followed by marestail. He said resistance has not been identified in either of those weeds yet.
"Our farmers are still using pre-emergence herbicides and some are still deep-breaking land every four to five years. Also, some growers north of Lubbock practice crop rotation."
Baugh said climate also may help delay resistance. "We have a shorter growing season in the High Plains so we have fewer generations of Palmer amaranth."
David Hydricks, Hydricks Crop Consulting in Jonesboro, Ark., said farmers are pulling out hooded sprayers to treat herbicide resistant pigweeds. "And we are chopping weed escapes," he said.
LibertyLink cotton adds another tool to weed resistant management, he said.
Palmer amaranth No. 1 problem
Palmer amaranth is the No. 1 resistant weed problem for North Carolina cotton, said Billy McLawhorn, McLawhorn Crop Service. Marestail is No. 2.
"We can't overstate how bad resistance can be," McLawhorn said. "And it continues to spread. ALS herbicide resistance is coming in as well. Most farmers are using pre-emergence herbicides and we are getting more aggressive."
He said using hooded sprayers and keeping residuals "overlapped on the ground" to prevent pigweed from getting established are important options.
"A few growers are taking drastic measures to control pigweed. Some are resorting to using moldboard plows on land that's been in conservation tillage. And they really don't want to do that. They're also using other herbicides and chopping weeds."
He said harvest machinery moving from a field infested with resistant weeds into a clean field spreads the seed and the problem.
Consultants and the farmers they work for face other challenges.
Pilsner said 2010 was a tough year for pest management in South Texas. "We had the highest number of fleahoppers I've seen since I've been checking cotton," he said. A warm, wet winter may have aided survival rate.
After the fleahoppers, farmers had to deal with Creontiades in larger than usual numbers. "Fortunately, they are not hard to kill."
Stink bugs and plant bug also posed some problems and he and other consultants expressed concern over potential pest resistance to Bollgard II cotton.
Pilsner said one of the most damaging factors for south Texas crops the past few years has been a feral hog infestation. "They are wearing out milo and corn," he said. "Feral hogs can wipe out a corn field."
Some corn acreage may revert to cotton this year because of hog damage, he said.
Pima cotton considered in south Texas
"Farmers in south Texas are also looking at Pima cotton. Some new varieties look really good."
Baugh said climate remains the number one yield limiting factor for High Plains cotton producers. "If we get one to 2 inches of rain in July and August, we usually make high yields," he said.
Variety selection is the second most important factor, Baugh said. "We have new ones coming, but farmers tend to base variety decisions on too little information, especially regarding nematode and Verticillium wilt tolerance. Losing Temik will be a factor," he said.
He cautioned farmers to keep track of nematode infestations.
Baugh said farmers too often base fertility decisions on the price of fertilizer. "It should be based on field need. Dryland fields last year that had been fertilized for the first time in five years made two bales per acre."
He also recommended growers take deeper samples, 18 inches to 24 inches. "We can sustain yields with deep nitrogen."
He said fertilizer application timing also makes a difference, especially in an area where rainfall can leach away nutrients applied early. "Apply one-third of the recommended amount in March or April and the rest before full bloom."
Baugh said zinc levels fell last year following heavy summer rains and recent samples "have still been low."
Baugh said High Plains cotton farmers spend more money on thrips control than on any other insect. "Again, losing Temik hurts. We get 14 to 18 days control with seed treatments."
He said bollworm resistance in Bt cotton is "a concern for High Plains cotton farmers."
Hydrick said variable rate fertilizer application is a practice than can make money "for the grower, the consultant and the dealer. We can reduce cost and increase yield."
He said 2010 cotton yields in Arkansas were "well above average. ST5458 and DPL 0912 were the top producers. We also had a rain free harvest and no bollrot."
"We have a lot of questions for 2011."
McLawhorn said the 2010 cotton crop in North Carolina was "better than average with good grades. The very late varieties did well."
Temik continues to play an important role in insect control, especially for thrips, he said. "It's been a lot more profitable to use than seed treatments."
Worm pressure was also "higher than ever," he said.
McLawhorn anticipates precision agriculture will play an increasingly important role in crop production. "Advantages include accurate delivery and accurate rate," he said. "It is an excellent tool if used thoughtfully.
"Downside includes problems associated with poor sampling and interpolation which can cause uniformity problems. Potassium deficiency or over or under liming are also concerns. We also need a better understanding of variable rate nitrogen application.
"We need to see more widespread use of yield monitors," he said.
McLawhorn said farmers need "more proven varieties for the Ignite system and more data on varieties before widespread use."
Subscribe to receive top agriculture news
Be informed daily with these free e-newsletters
You May Also Like
---