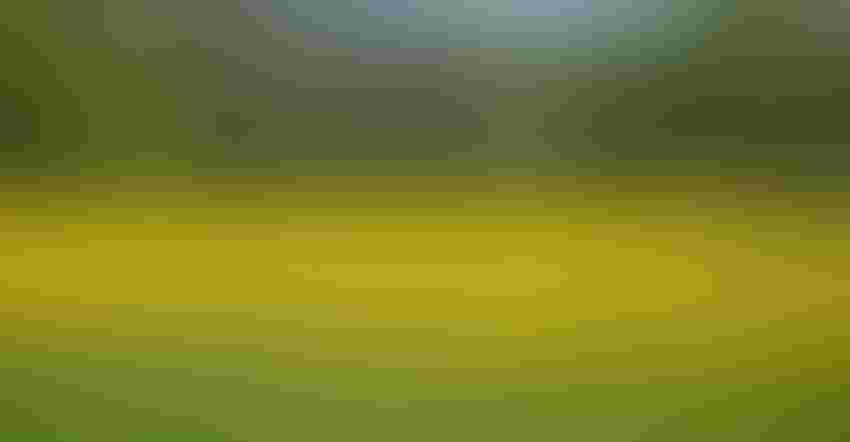 TOUGH SPRING FOR WEED CONTROL: If you still have a field that looks like this, Dow AgroSciences' Dave Hillger recommends doing what it takes to remove the weeds so you can get a clean start.
You had a plan coming out of winter about how you were going to control tough weeds like marestail, tall waterhemp, giant ragweed and more this year. However, those plans likely didn't account for 6 to 8 inches or more of rain in late April and early May. One weed industry specialist says that rainfall may affect how you approach weed control for the rest of the season.
"There are all kinds of situations out there now," says Dave Hillger, an Enlist field specialist in the eastern Corn Belt for Dow AgroSciences. He's based in Indiana.
Some fields were planted, yet many weren't when torrential rains hit in late April, extending into early May, he notes. Your options for weed control may depend upon your individual situation at that point in time when the planting season was interrupted. Whatever your situation, there are likely challenges with weed control that you might not have anticipated earlier in the year, before these big rain events occurred.
Hillger explains how he would approach weed control now, in an interview with Indiana Prairie Farmer.
What can farmers do now, as far as weed control? If you haven't planted, the big thing is starting off with a clean field. Use an effective burndown program, or do whatever is necessary so that you control as many weeds as possible before you plant. Controlling big weeds later is tough.
What is the key with a weed like marestail? Getting it small is the key. Once they are 6 to 8 inches tall, they are tough to control. The smaller, the better when you're after a weed like marestail.
What would you tell someone who had hoped to save on costs by cutting back on herbicide rates heading into this season? This is certainly not the year to cut back on rates. Stick to your herbicide program as much as you can. You definitely want to apply full labeled rates of herbicides. If you are trying to control weeds that are up, you definitely need the full rate of a herbicide if you want to take those weeds down.
Suppose you planted and have marestail escapes in soybeans. What can you do? Your options are limited. It partly depends on what type of soybeans you have in the field, and what your marestail are resistant to. If you plant Liberty-tolerant soybeans, then coming back with Liberty may be an option. If you planted Xtend soybeans, you have the option of using one of the approved dicamba products for Xtend soybeans. However, be sure to follow the label explicitly. If the label says you can't spray beyond the R1 stage, that's what it means. The R1 stage comes up rather quickly as soybeans begin developing.
After that point you may be down to PPO-inhibitor products such as FlexStar or Cobra. Again, if you know what your weeds are resistant to, it may affect what you decide to spray on the field. If they're resistant to glyphosate, for example, applying glyphosate alone won't do much for you.
When will Enlist herbicides become a player to help on tough weeds? Enlist Duo herbicide is registered in 34 states and can be used in a burndown application for corn and soybeans. We're waiting on import approvals of Enlist corn and Enlist soybeans. We are growing plenty of seed beans. Our hope is that we will be able to launch Enlist corn and Enlist soybeans for 2018. It will give farmers another option to go after tough weeds in these types of situations.
Subscribe to receive top agriculture news
Be informed daily with these free e-newsletters
You May Also Like
---