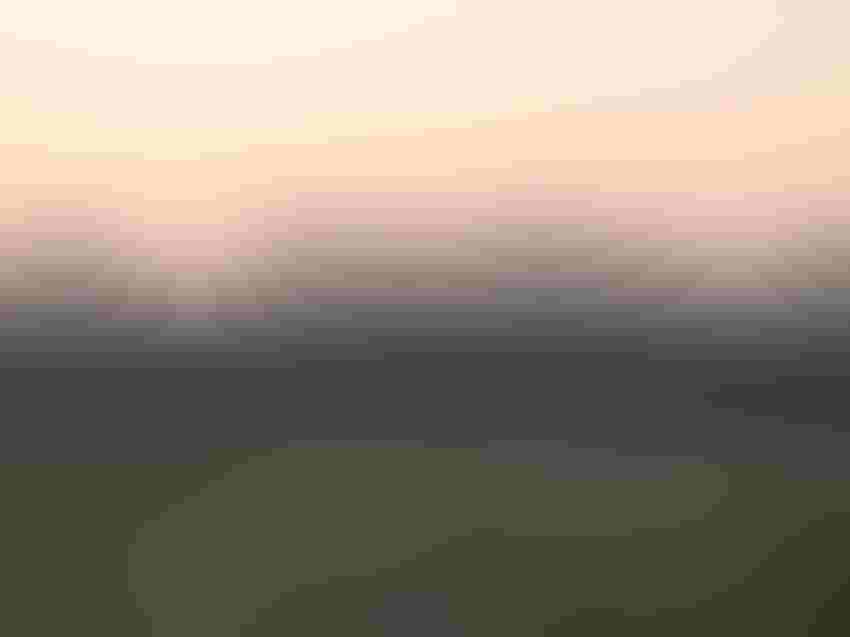 A temperature inversion on the University of Georgia Ponder Research Farm near Ty Ty, Ga.
Dr. Eric Prostko
My colleague, some seasoned county Extension agents and I recently completed our blitzkrieg of Using Pesticide Wisely (UPW) trainings around Georgia.  Hopefully, you learned something useful at one of these meetings or the multitude of trainings offered in other states. 
I will be the first to admit that the information presented at these auxin trainings is much to digest.  With that in mind, I thought that I might give you one more chance to hear a few of the chapters of the off-target movement gospel right before things get even crazier on the farm.
One of the most important things to remember about the off-target movement of pesticides is the potential sensitivity of other crops near the site of application. Crops that are extremely sensitive to dicamba at low rates include grapes, lima bean, snap bean, Southern pea, soybean, sweet potato, and tobacco. 
Crops extremely sensitive to low rates of 2,4-D include cotton, grapes, lima bean, snap bean, Southern pea, sweet potato, and tobacco.  Pepper, tomato, and watermelon are slightly less sensitive than the above-mentioned crops but are still very sensitive to both herbicides. If you off-target a specialty crop with 2,4-D or dicamba be prepared to pay some big bucks because they are not cheap!!
Nozzle technologies have come a long way since I first started spraying herbicide research plots way back in 1987.  Quite simply, there is no excuse not to get the correct nozzle when applying 2,4-D or dicamba on tolerant cotton/soybean especially when 2 of the 3 herbicide suppliers will provide those nozzles for FREE, FREE, FREE!   Not sure which nozzle to get?  Check out the following web-sites:
http://agro.basf.us/campaigns/engenia/tankmixselector/
http://www.xtendimaxapplicationrequirements.com/Pages/nozzles.aspx
With the rapid adoption of Starship Enterprise-like sprayers and the need to get over as many acres as fast as possible, the tendency for some growers is to drive faster than a speeding bullet.  But, speed is not a friend when it comes to off-target movement of pesticides.  Slower ground speeds will result in less small droplet movement away from the boom and help minimize what I call "boom bouncing".  
Although it is not a new phenomenon, there has been lots of talk about temperature inversions over the last few years.  Although temperature inversions seem to occur less frequently in Georgia than in other states, they can and do happen.  The best way to avoid temperature inversion and wind related effects on off-target auxin herbicide movement is to apply these herbicides one hour after sunrise and two hours before sunset and when weeds speeds are between 3 to 10 MPH. 
The science is very clear at this point that the new formulations of dicamba and 2,4-D that are now labeled for use on tolerant soybeans and cotton are way less volatile than the older formulations.  Again no excuse here to use any formulations but the new ones!  But, please, please, please remember that these new formulations are not 100% volatile free.   Herbicide volatility is a complex process influenced by many factors including temperature, humidity, formulation, tank-mixtures, and surface treated (soil or plant)
Be mindful that non-agriculturists around the county are watching.  U.S. cotton and soybean farmers caught a big break when the EPA decided to renew the dicamba registrations for an additional two years.   I think it would be very safe to say that if growers around the country do not do a better job of managing off-target movement over the next two years that the EPA might not once again be so grower friendly  Thus, it is very important for all that apply auxin herbicides to tolerant crops (and everywhere else) to do the best that they can to minimize potential off-target problems. 
As always, good weed hunting.         
Subscribe to receive top agriculture news
Be informed daily with these free e-newsletters
You May Also Like
---