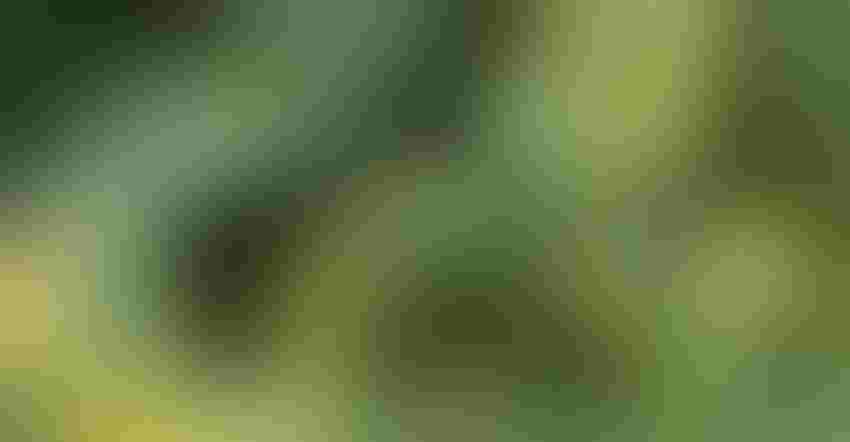 CAREFUL: Weed scientists at three universities have issued new recommendations to augment U.S. EPA's recent dicamba label renewal, including a recommendation not to spray when the temperature is above 80 degrees F.
Following the U.S. EPA's label renewal for dicamba products on Oct. 31, Extension weed scientists at three universities have come together to offer their own suggestions to help further reduce off-target movement.
Aaron Hager, University of Illinois; Mark Loux, Ohio State University; and Bill Johnson and Joe Ikley, Purdue University, are the weed scientists who collaborated on this new specific set of recommendations to reduce dicamba movement.
1. Wind speed. Don't spray when the forecast indicates wind gusts over 10 miles per hour. And yes — they note it's impossible to predict when a gust like that will occur or how long it will last.
2. Boom height. Reducing boom height from 48 inches to 24 inches will reduce the distance drift particles can travel by 50%. To keep the boom from running into the ground, reduce sprayer travel speed; remember that EPA labels limit travel speed to 15 miles per hour, and field edge application is limited to 5 miles per hour.
3. Temperature. Avoid application when temperatures are above 80 degrees F. Volatility risk increases with temperature.
4. Application timing. Consider applying dicamba only preplant, preemergence, or very early postemergence. More than 90% of off-site movement complaints came during postemergence applications. Early applications will cause fewer problems because there's less vegetation to injure, and temperatures are likely lower, thus reducing volatility.
5. Surrounding areas. Talk to neighbors and find out what's planted around Xtend soybean fields, including non-Xtend beans and other sensitive plants.
Further dicamba thoughts
The weed scientists note several other recommendations from the new label, as well:
• Use only approved dicamba products in-season: XtendiMax, FeXapan and Engenia. Other dicamba products can be used at least 14 days preplant.
• In both 2017 and '18, specific distance to a sensitive crop was not specified and sensitive areas were not well defined. Common sense says not to apply if a sensitive crop is within a half-mile of the target field. If wind is blowing toward sensitive crops (like non-Xtend soybeans), don't spray until the wind is blowing away from the sensitive crop and won't blow in that direction for two to three days after application.
• Gusts matter more than average wind speed. In 2017 and '18, applications were made when the average wind speed at boom height was less than 10 miles per hour — but gusts were in excess of 10 miles an hour. Don't apply if gusts exceed 10 miles per hour, even when sustained wind speeds are under 10 miles an hour. In some years, it will be very difficult to find a window with those lower wind speeds.
• Time-of-day restrictions are important. The new label says applications can be made between one hour after sunrise and two hours before sunset, to avoid temperature inversions. If that restriction had been in place in 2018, west-central Indiana would have had only 39 hours in June when dicamba could've been legally applied.
• Use an app like Spray Smart to determine whether a temperature inversion exists.
• Buffers matter. In 2018, many applicators assumed if the wind was blowing away from a sensitive crop, they could spray dicamba up next to the sensitive crop. For 2019, there's a 57-foot in-field buffer around the perimeter of fields if an endangered species is present in your county.
 • Why buffers matter: University research shows new formulations of dicamba can volatilize and move for up to three days after application. If wind direction changes in those three days, it will send particles in other directions — potentially toward sensitive crops.
• Check company websites for nozzles and approved additives. The list of approved additives changes frequently, and adding anything not on the list is a label violation. Here are the websites:
xtendimaxapplicationrequirements.com
fexapanapplicationrequirements.dupont.com
• Don't add ammonium sulfate, because it produces a more volatile form of dicamba. You can use approved non-ammonium sulfate-based water conditions to reduce hard-water-antagonizing glyphosate.
• You may need a pH buffer to keep spray solution pH above 5; pH below 5 can increase volatility in dicamba products. 
The weed scientists say it's entirely possible to follow the label and do everything right, and still have off-site movement. Why? Even the new dicamba formulations can volatilize and move; particles can remain suspended in inversions; and dicamba can move with runoff water after a big rain.
Subscribe to receive top agriculture news
Be informed daily with these free e-newsletters
You May Also Like
---