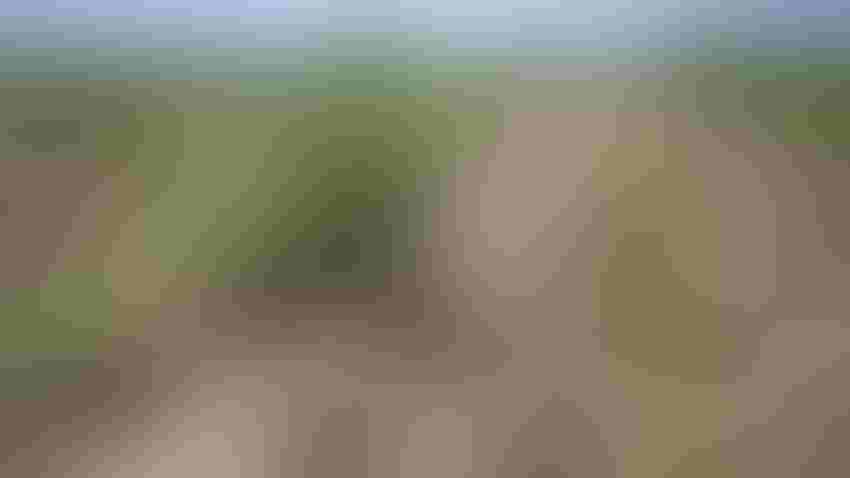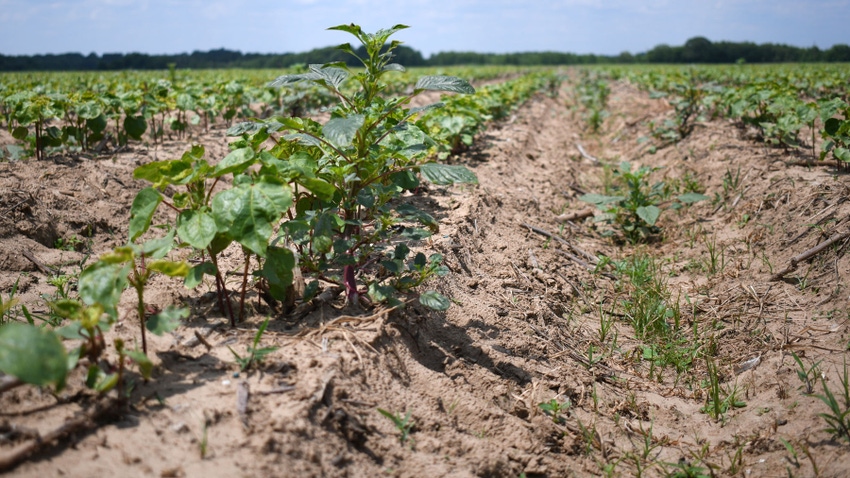 By mid-June, cotton farmers have a good idea of the weed pressure they are up against for the season. They also know which pre-emergence herbicides worked and which ones did not make the cut.
Whitney Haigwood
Pigweed is a persistent problem in cotton fields across the Delta, and farmers are beginning to see more pressure from barnyard grass and jungle rice that is hard to control with typical herbicide programs. Now that we are in mid-June, farmers have an idea of the weed pressure they are up against. They also know which pre-emergence herbicides worked, and which did not.  
So, what is a cotton farmer to do when weeds breakthrough early in the season? Cade Hayden, technical service representative at BASF who covers Arkansas and the Missouri Bootheel, recommends multiple modes of action to stay ahead of these yield robbers. Now is a great time to think about overlaying residuals, and he offers three tips as farmers prepare for layby applications. 
He said, "Scouting is critical. Top of mind this year is to monitor dicamba resistance and glufosinate resistance to get a picture of what is really happening in the fields." 
1. Know the field history.
Herbicide-resistant pigweed is all too common across the Delta. Hayden said it is safe to say that most of our pigweed populations are glyphosate resistant. In addition, there are cases of dicamba-resistant pigweed in Missouri and Tennessee along with glufosinate resistance in Arkansas. 
"Be aware of the field history. If you have been in continuous soybeans or cotton and using dicamba year in and year out for several years, dicamba resistance would be something to watch out for in those fields," he said. 
Glufosinate resistance follows a similar trend. "The main issues we have seen are on continuous cotton acres that have been in non-dicamba tolerant cotton. When farmers have consistently relied on glufosinate as their only post-emergence mode of action to control pigweed, we can see some glufosinate resistance there," he continued. 
He noted that one shining spot is that glufosinate tends to work on those dicamba-resistant fields and vice versa; a dicamba application typically works on the glufoisinate-resistant fields.  
2. Utilize multiple modes of action.
Overlaying residuals is recommended in those post-emergence applications to stay ahead of weed pressure. Hayden said, "We can clean up what we have in the field at the time as well as include a residual like an Outlook application or a Prowl H2O application. Both of those have worked well for us to control grasses and palmer pigweed in our cotton fields." 
Another option to consider for the cotton crop is Zidua, a longer lasting group 15 herbicide that is typically used in soybean or corn. Hayden said this is a step up in residual control in cotton and provides substantially longer control of both pigweed and barnyard grass compared to typical products. A Zidua application is ideal for the layby timing. 
Zidua is not labeled for an over-the-top spray application. Rather, it is labeled to be impregnated on a fertilizer application. Hayden reported that Tennessee has experienced remarkable success with broadscale commercial applications, and Arkansas has also gotten excellent weed control out of these practices. This year he looks forward to expanding the study to include application sites in Missouri. 
"Studies have shown that Zidua works on both sides of the Mississippi river. We are confident that it will work on flat planted fields, no-till situations, and on fields with raised beds," he said. 
Zidua can also be applied as a post-directed application with hoods. Hayden noted that this practice is very time consuming, often deterring farmers from adopting this option. To increase time efficiency, he said applications with drop nozzles have become more popular in the past couple of years. 
"In certain areas they are using a post-direct rig that is attached to a self-propelled sprayer. So, it is a wider application out to the overfolds and can also be used with post-emergence herbicides. It is a lot faster option than with a typical post-direct rig. Zidua is safe to apply in that manner, and we have seen success with that as well," he explained. 
Zidua works with blends of fertilizer, and Hayden said they are continuing to test certain urea coated products and tank mix partners to refine recommendations for product compatibility. He also noted that there are some caveats to using the product, since 250 pounds of dry fertilizer must be applied. 
"With that, you may need to pull some fertilizer out of those early pre-plant applications and save it for the post trip because it is quite a bit of material per acre at that time," he said.
3. Remember that herbicide resistance is on a case-by-case basis.
Hayden reminded that dicamba- and glufosinate-resistant pigweed are not considered target-site resistance where control is an all or nothing situation. 
"We can still see 50% control with dicamba alone. When a dicamba application is combined with a planned application of glufosinate 10 to 14 days later, complete control can be achieved. That has been a very good application, even in some of those resistant fields. The dicamba weakens the plant enough so the glufosinate can work well," he said. 
Testing and monitoring continue in fields with confirmed herbicide resistance. Hayden noted that this is a cooperative effort between farmers, consultants, and Extension researchers. It takes the cooperation of all to be successful in some herbicide resistance situations, and he encouraged farmers to reach out if they suspect a problem in their fields. 
"We would be happy to work with you to develop a program, because it is very much a case-by-case basis as far as resistance goes. Contact us If you have a question, and we can work through it." 
For inquiries and more information, Hayden can be reached by email at [email protected]. 
Subscribe to receive top agriculture news
Be informed daily with these free e-newsletters
You May Also Like
---