Lettuce industry abuzz over automated thinner 263380
Lettuce industry abuzz over automated thinner
U.S. lettuce growers are excited about crop production-changing technology now available which could revolutionize the vegetable industry.The first generation of commercial automated lettuce thinning machines are now thinning green lettuces in California and Arizona.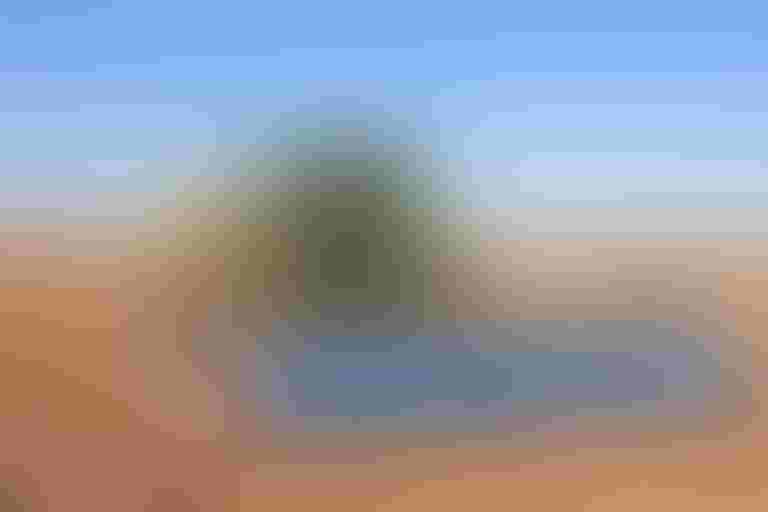 An Agmechtronix mechanical thinner will be among the new technology highlighted at an Oct. 24 field day in Yuma, Ariz.
U.S. lettuce growers are excited yet apprehensive about crop production-changing technology now available which will likely revolutionize the vegetable industry.
The lettuce industry has its sharply-focused eyes on the first generation of commercially available automated lettuce thinning machines now thinning green lettuces in California and Arizona.
About 99 percent of the U.S. lettuce crop is grown in the two-state area.
The thinners are designed to replace the labor-intensive hand thinning process in the $3 billion lettuce industry. About a dozen thinning machines are currently thinning lettuce beds in the West.
"The automated thinner represents a total leap forward in a crop which has been highly dependent on hand labor and allowing the machine to do the work," says Richard Smith, University of California Cooperative Extension (UCCE) vegetable farm advisor in Monterey County.
Smith added, "The mechanical lettuce thinner (overall) does a good job. It is changing people's thoughts on how to grow a lettuce crop."
The thinners offer a bright ray of hope to lettuce growers who face ever worsening shortages of farm workers. In the future, automated thinners could reduce production costs, boost profitability, and reduce the industry's reliance on a smaller, aging work force.
Current thinners on the market can handle a mix of bed widths and seed line numbers. The price of the machines can range from $70,000 to $200,000 or more, depending on the options and whether the machine is self propelled or pulled behind a tractor with a three-point hitch.
If you are enjoying reading this article, please check out Southwest Farm Press Daily and receive the latest news right to your inbox.
Most automated lettuce thinners utilize 'machine vision' technology which integrates high-end computers, sophisticated software, and cameras to recognize which plants should be kept or terminated.
Once identified, an ingredient is sprayed or dribbled on unwanted plants.
Why is thinning necessary? During lettuce planting, extra seeds are planted in the bed to create a good plant stand. Unwanted plants are removed about 30 days after planting, traditionally by hand-thinning crews armed with hoes.
The estimated grower cost to hand thin lettuce ranges from $80 per acre to $150 per acre. Automated thinner manufacturers suggest the machines can remove unwanted plants around the same price of hand thinning or at a lower cost.
Foothill Packing experience
For 37 years, Bob Erickson has worked with Foothill Packing, headquartered in Salinas, Calif. The company provides grower support services, including lettuce thinning, in vegetables and other crops in California and Arizona.
Erickson sees firsthand the reduction in his available workforce which has grown worse in recent years. Today, Foothill Packing can only hire 75 percent of its needed work force for lettuce thinning.
"The workforce just isn't there," Erickson said. "The lack of farm labor is forcing a marriage between technology and agriculture."
Several years ago, Foothill Packing jumped feet first into the realm of automated lettuce thinning. Foothill fronted the financial costs to help Oraka Developments Ltd. of Cambridge, New Zealand design an automated thinner.
Oraka had developed a successful automated asparagus harvester. About 80 Oraka asparagus machines are in operation worldwide.
Once built, Foothill tested prototypes of Oraka's "Self Propelled Automatic Lettuce Thinner" in customers' fields to work out the kinks. The equipment has thinned several thousand acres of lettuce.
"We went through many renditions of prototypes and methods," Erickson told Western Farm Press. "Today, the machine is doing what we want it to do."
Foothill Packing owns six Oraka self-propelled lettuce thinners. The Oraka thinner is manufactured by Ramsey Highlander in Gonzales, Calif.
Before the thinner, Erickson pegged his traditional lettuce hand-thinning lettuce costs at $90-$100 per acre. The Oraka thinner cost Erickson about $70 per acre to operate.
Handful of machines
Winter lettuce growers learned about automated lettuce thinners on the market, or near market introduction, during a lettuce thinning workshop at the Southwest Ag Summit held in Yuma, Ariz. in March.
Companies touting their machines included Vision Robotics of San Diego, Calif.; Blue River Technology of Mountain View, Calif.; Agmechtronix, Silver Springs, N.M.; Oraka Developments; and the University of Arizona.
Here is some basic information on each machine or concept.
Vision Robotics Corporation- San Diego, Calif. Information from Tony Koselka: tractor pulls machine; fertilizer kills unwanted plants; planned to deliver two machines in April; works well at 1.5 miles per hour; plans to increase speed and efficiency.
Blue River Technology- Sunnyvale, Calif. - Matthew Rossow - company had experimental prototype and hoped to deliver commercial unit in April; to develop proprietary algorithms to process data for easier interaction; kill step ingredient is fertilizer.
Oraka Developments LTD– Mike Schwarz and Ryan Crossley – self propelled machine thins lettuce at 2 to 2.5 miles per hour; improving computer software is priority; kill step ingredient is proprietary; machine operates on tires or tracks.
Agmechtronix– Silver City, N.M. – Ryan Herbon – Tractor pulled; optimal speed is 3 mph; kill ingredient up to the grower; spray system includes off-the-shelf components to minimize downtime; machine has Internet and cell phone connectivity; sold two machines.
UA automated lettuce thinner, Yuma – Mark Siemens – tractor pulled; upgrading the prototype; kill product decided by grower; thins at four acres per hour; also exploring automated weeding.
Economics of machine thinning
Laura Tourte, UCCE farm management advisor in Santa Cruz County, has studied the economics of mechanical lettuce thinners. Tourte says there is no definitive answer overall on the economic value of mechanical thinners since the technology is relatively new.
"In several cases, we have found the machinery has (economic) potential," Torte said. "In some cases, the cost of production can be reduced. Hand labor can be reduced."
To improve the economic value of automated lettuce thinners, she says two advancements are needed – improvements in the machine speed and precision. Some machines run fairly slowly - .5 to 1.5 miles per hour.
Tourte said, "A faster speed is needed to make the machine more efficient."
She says the quality of the machine thinning job can vary compared to hand-thinned stands. In field experiments, some plants (for keeping) were damaged by the machine or removed which reduced the yield and the grower's net return. Tourte says this is not the case across the board.
Kill step the make or break issue
The cost of the kill-step ingredient sprayed on unwanted plants is perhaps the largest challenge in automated thinning. The best product to kill unwanted plants may not be economically feasible for growers.
Vegetable grower Davie Brooks has grown vegetables for 37 years for Pasquinelli Produce. The company farms 9,000 acres of winter vegetables in the Yuma area.
Brooks says the worsening farm worker shortage opened the door to the development of automated thinners. He started work on an automated lettuce thinner a decade ago in the farm shop. He later handed the torch to others.
Current automated thinners on the market do not perform as well as hand thinning, says Brooks. Machine accuracy still has a way to go.
"When they perfect a machine I will probably buy one," Brooks said. "I am not going to buy a thinner that can't at least do as good of a job as a hand crew."
Brooks is confident the machines will get better.
He reflected, "If they can send a man to the moon I'm sure they can figure out how to thin lettuce with a machine."
Brooks is concerned about the cost of the material to kill unwanted plants. Acid-based fertilizer is cost prohibitive, he says. Plus, the material must be labeled for thinning use.
"For some reason, people don't want to use lower cost sulfuric acid mixed with water," the grower said. "They think it's too dangerous to use."
"That's malarkey," Brooks said. "Just figure out how no one can get hurt. Sulfuric acid is the cheapest product and kills unwanted plants fast."
Richard Smith has spent the last five years evaluating the entire automated thinning process, including spray materials.
"The (overall thinning) machine works well but the grower needs the right material to spray to take out unwanted plants," Smith said.
Over the years, a wide variety of kill methods have been tested including mechanical blades, flames, steam, electricity, and others.
Among the products which shows good promise, Smith says, is the herbicide product Shark.
What is the next step in automated lettuce thinners? One idea is to add a boom to the thinner machine to spray a needed nutrient, insecticide, or fungicide on plants kept in the bed. This could reduce production costs, including one less trip down across the field.
Smith is excited about the future of automated thinners.
"It's just getting started."
You may also like:
Subscribe to receive top agriculture news
Be informed daily with these free e-newsletters
You May Also Like
---