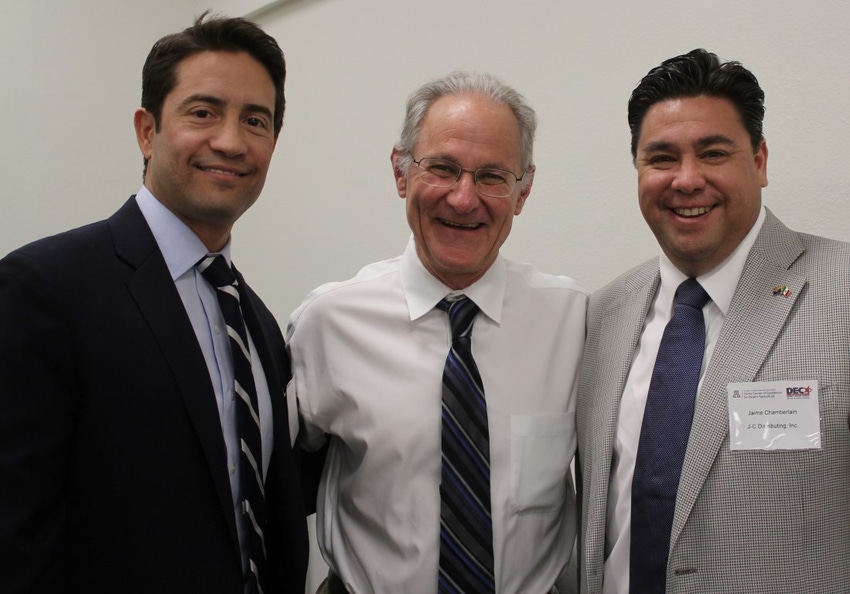 Chiming in on proposed changes to the North American Free Trade Agreement include from left - Gonzalo Avila, Fresh Produce Association of the Americas; Jonathan Rothschild, mayor, Tucson, Ariz.; and Jaime Chamberlain, J-C Distributing, Inc.
Sixty people and a large 'pachyderm' gathered in Tucson, Ariz. on May 11 to discuss the topic 'New Challenges and Opportunities in Cross-Border Agricultural Trade.'
Those attending represented a cross section of those involved in the process of pushing produce both south and north of the border. The giant elephant in the room was the North American Free Trade Agreement or NAFTA with its future status in question.
With panel discussions involving a dozen experts on the policies and logistics of bilateral trade of agricultural products between the U.S. and Mexico, and with Washington politics and regulatory decisions still uncertain, so too were some of the speakers.
Gonzalo Avila, board chairman for the Fresh Produce Association of the Americas (FPAA) who is employed by Malena Produce at Rio Rico, Ariz., expressed cautious optimism about NAFTA in his keynote address.
"It's important to ensure that people understand how important NAFTA is for the U.S., Mexico, and Canada, and our integrated economies because fair trade benefits us all - benefits that go beyond just importers and exporters of fresh produce," Avila said.
Today, consumers in North America have year-round supplies of healthy fresh fruits and vegetables at affordable prices, he noted.
Last year, the U.S. imported 6.3 billion pounds of fresh produce from Mexico through the Mariposa Port of Entry at Nogales. Arizona produce valued at about $170 million was exported per month to Mexico.
About 60 different produce items cross through the Mariposa Port. The Top 10 produce products exported from Mexico to the U.S. during the 2015-2016 season (in order of volume) included tomatoes, watermelons, cucumbers, squash, bell peppers, grapes, chili peppers, mangos, melons, and eggplant.
Avila noted, "This two-way trade across the border benefits American seed companies, box companies, pallet companies, farm equipment manufacturers, transporters, banks, food service distributors, and many more."
Erik Lee, executive director of North American Research Partnership (an agricultural think tank), admitted some reluctant pessimism.
"I'm a border guy myself, so I've assumed NAFTA would always be around and that agriculture would continue to be THE success story within that agreement. At this point, this might be a false assumption. Whatever happens going forward, I'm hopeful the U.S. will come to its senses in the future."
Nogales-based importer Jaime Chamberlain, president of J-C Distributing, Inc., and a past-FPPA chairperson, was equally cautious and candid.
"NAFTA, over the last 20 years, made North America the strongest economic block in the world.  And its renegotiation will affect the daily consumption of anything we buy in America."
Chamberlain added, "With the political environment we find ourselves in now it's even more important we are all educated to what's going on. All farmers need to know about their competitors and the future of their businesses, and where agriculture in general is going."
He sees more cross-border alliances being considered, and more American farmers partnering with their counterparts on the other side of the border so they have a continuous supply and distribution of their label throughout the year.
In the March 2017 quarterly update of Arizona-Mexico Economic Indicators, analysts reported Arizona exports to Mexico were down over a year ago, yet still represented $667 million a month in average value of exports going south; nearly a quarter of it fresh produce.
Tucson Mayor Jonathan Rothschild, who entered the mayoral office promising economic growth, was his usual ebullient self in welcoming the crowd.
"We live in challenging times with a lot at stake, more than just parochial interest along the border," Rothschild said. "We get it at the local and state level, but the message and the scope of the issue may not be reaching Washington."
Trade policies, including agriculture as a leading driver, impact everyone, said Rothschild. If NAFTA discussions go the wrong way it would not only seriously affect the economy but the quality of life. 
"The way we ultimately restore what we know is the correct path is to hone our message and hammer it home," Rothschild said. "While people are yammering in 'DC'…there's real life going on here with 55 million people within a thousand mile radius of the border.
The Tucson leader noted, "Now is the time for the agriculture industry to come to the fore and deal with folks on both sides of the aisle to get proper policy. Since we are a mega-regional trade and logistics center, we need to be ready for what lies ahead - something even bigger and better."
In his keynote message, Avila noted that since the passage of the trade agreement that trilateral trade of all sectors under NAFTA grew more than 370 percent from 1994 to 2016.
"While Mexico is the N. 2 supplier of agriculture items into the U.S., it is the No. 3 market for U.S. agricultural exports like apples, pears, grapes, and corn. Many American fruit and vegetable farmers are deeply integrated into the North American supply chain because NAFTA keeps food affordable for Americans," Avila said.
Subscribe to receive top agriculture news
Be informed daily with these free e-newsletters
You May Also Like
---