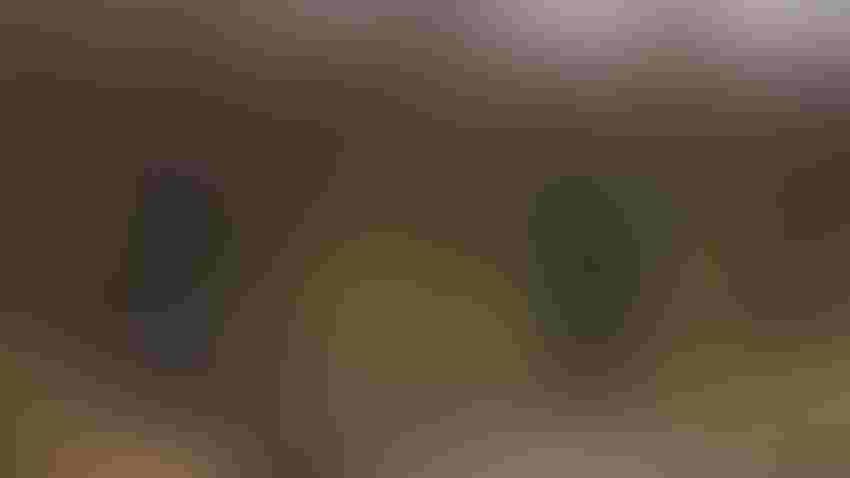 A poling crew removes mummy nuts from almond trees.
Almond Board of California
As almond growers shift their attention to postharvest activities, University of California experts are telling them that winter sanitation of their orchards is of utmost importance this year.
With reports of higher-than-average navel orangeworm damage in the 2023 harvest, UC Cooperative Extension farm advisers are telling growers to count the mummy nuts in 20 trees throughout each of their orchards.
Mummies are nuts that remained on the trees after harvest. If more than one mummy per five trees is found, growers should sanitize by shaking or poling nuts to the ground by Feb. 1 to reduce navel orangeworm pressure next year, urged Becky Wheeler-Dykes, a UC orchard systems and weed ecology farm adviser serving the northern Sacramento Valley.
If mummy nuts are caused by hull rot, this may indicate a need to reevaluate irrigation and nitrogen management practices next season, Wheeler-Dykes told growers in a fall almond newsletter.
The advice comes after early reports of a more than 200% increase in NOW damage in some counties this year and an expected high carry-over NOW population. Among the main causes was growers' decision last winter to skimp on sanitation because of cost.
"The decision is yours," UCCE farm adviser Franz Niederholzer said in the newsletter. "Lower yields and nut prices the last couple of years in the Sacramento Valley have made the decision to do proven practices difficult. However, not sanitizing at all invites potential disaster, for your operation and very possibly for your neighbors."
Niederholzer notes that winter sanitation is one of several lines of defense against NOW damage, along with timely harvest, well-timed in-season sprays, and mating disruption.
"The foundation of NOW management is orchard sanitation, but many steps are needed to reduce crop damage, especially when NOW numbers are high," he stated.
Many rejects
Almond reject levels this season were significant and widespread, according to Mel Machado, vice president of member relations for Blue Diamond Growers. Weather issues throughout the season were many, including heavy rain and humidity from Tropical Storm Hilary in August. But lack of sanitation ahead of almond bloom was one of the deciding factors in NOW damage, Machado said recently. A backlog in orchard removals also enabled moths to multiply.
The NOW moth lays its eggs inside the nuts and the maturing larvae feeds on them, making them unmarketable. Winter sanitation is the act of shaking trees in December and January to remove unharvested almonds.
The issues were widespread, from Red Bluff in the northern Sacramento Valley to Arvin in the southern San Joaquin Valley, Machado has said.
Subscribe to receive top agriculture news
Be informed daily with these free e-newsletters
You May Also Like
---