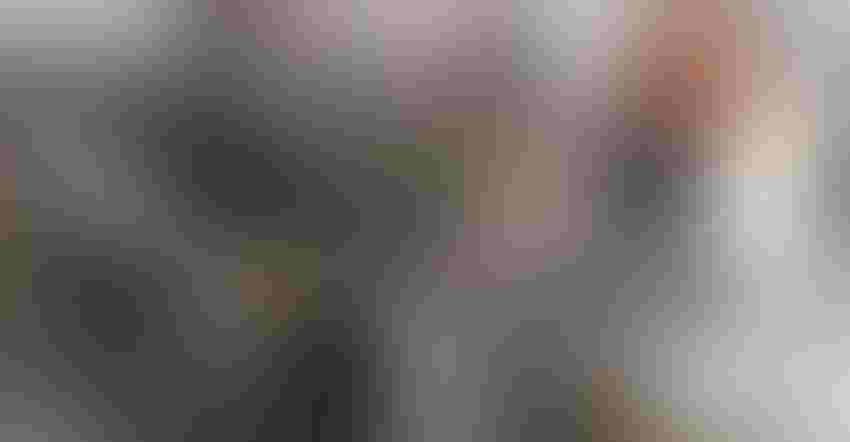 Researchers demonstrate a prototype automated tree pruner for reporters during a recent tour of Oregon State University's robotics lab.
Tim Hearden
During a recent tour of his robotics lab at Oregon State University, engineering professor Joe Davidson warned a group of reporters not to get too close to the new automated tree pruner he's testing, or they could get an unexpected haircut.
Thanks to a three-year grant from the National Institute of Food and Agriculture that runs through next summer, Davidson and other scientists from OSU and Washington State University are testing the pruner in fields as part of a larger effort to reduce the amount of human labor needed for farm tasks amid a shortage of workers.
The research is beginning with fruit trees – specifically apples – but the technology could eventually be "helpful in robotic thinning and harvesting in different tree crops and architectures," Davidson wrote in the grant proposal.
"We tested it in March in Prosser, Wash., and got about half of it done," he told reporters. "It was slow … We have a lot of work to do."
Pruning - a critical chore that maintains tree health and bolsters yield and quality in fruit crops - is one of the most labor-intensive orchard activities in the production of high-value trees, Davidson wrote in the application to NIFA.
Automating selective pruning is a complex system that uses high-resolution sensing, complex manipulation, and advanced decision making to determine which branches to prune, he explained.
Team of experts
To build the device, OSU and WSU have put together a project team with expertise in horticulture, agricultural mechanization, computer graphics, and robotics, according to Davidson. They're using computer models to develop "rules" for the pruning device, with a goal of teaching it to recognize portions of the tree that need cutting, and designing "a custom end-effector that can localize itself in real time" in the orchard, he wrote.
The research comes as robotics are becoming more attractive to growers of a host of different commodities. Wine grape growers in California, for instance, are increasingly turning to machines for pruning, canopy management and harvesting, according to the University of California, Davis.
In tree nuts, a University of Georgia study published in 2018 found that mechanical pruning of pecans reduced water stress and storm damage in trees without harming yields.
WSU, OSU and University of California researchers are teaming with farm groups and other researchers in a major global push to automate tree fruit harvests.
About the Author(s)
Subscribe to receive top agriculture news
Be informed daily with these free e-newsletters
You May Also Like
---