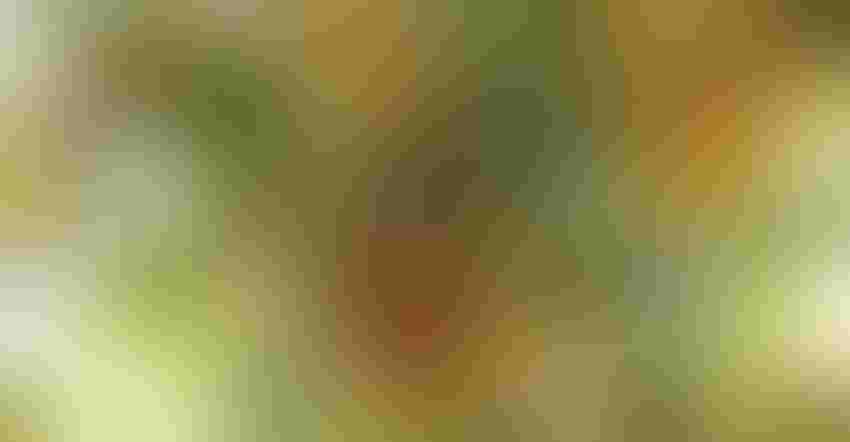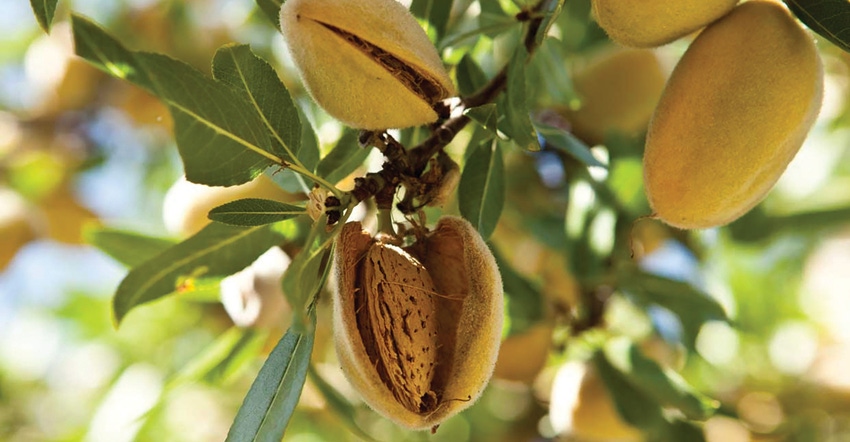 Almond growers typically stop watering at hull split to prepare orchards for harvest, but University of California advisers say it's important to resume irrigation when harvest is over.
Almond Board of California
Harvests of tree nuts in California are at varying stages, with early almond varieties all but finished while many walnut orchards have yet to begin producing this season's nuts.
As much as this summer's unrelenting heat waves and limited water availability have stressed trees, University of California advisers are urging growers to use whatever water they can muster for postharvest irrigation.
Some crops such as wine grapes and oil olives can tolerate or even benefit from deficit irrigation, but dry almond and walnut trees late in the season equate to fewer flowers in the following spring, orchard specialists say.
That's especially true for walnuts, for which researchers in recent years have said it's better to deficit-irrigate in the spring while closely monitoring tree stress levels and water normally later in the season.
"Unfortunately, an effective (deficit-irrigation) strategy has not yet been identified for walnuts and sustained moderate to high water stress … at any growth stage has been shown to affect walnut crop productivity and quality," UC Cooperative Extension advisers Katherine Jarvis-Shean and Curt Pierce wrote in a summer walnut newsletter.
Different factors of walnut productivity are vulnerable to water stress depending on the timing and extent, Jarvis-Shean and Pierce wrote. Water stress in the summer can not only affect the current season's kernel size and quality, but as buds are developing, severe stress in this period will typically reduce bloom counts and yield potential in the following season, they wrote.
Almonds need water, too
For almonds, growers typically stop irrigating at hull split to prepare the orchards for drying on the ground, but Extension advisers say it's important to return irrigation to the trees as quickly as possible after harvest to minimize water stress.
Flower-bud differentiation in almonds happens in late summer, so prolonged water stress during this period will reduce the bloom density and fruit set in the following spring, advisers say.
With less water available and with deficit irrigation infeasible, the UC scientists say good system management and precise irrigation application are the best approaches. Microirrigation systems can apply water and fertilizers more uniformly than other irrigation methods, resulting in potentially higher yields, higher revenue, and reduced watering costs, according to advisers.
A uniformity of 100% in an orchard means the same amount of water was applied everywhere, but all irrigation systems apply water at a uniformity of less than 100%, according to a UC essay on microirrigation. Clogging reduces the uniformity of applied water, and the small flow passages in microirrigation systems make them especially susceptible to clogging.
For more precise irrigations, the UC provides weekly crop-water loss estimates, or evapotranspiration (ET), reports on its Sacramento Valley Orchards ET page.
The university also suggests using a pressure chamber to monitor tree stress, and waiting to water until the readings show that trees are 2 to 3 bars drier than the fully watered baseline. Still, drought-related water stress may be unavoidable, and the UC offers a guidance document to manage it.
About the Author(s)
Subscribe to receive top agriculture news
Be informed daily with these free e-newsletters
You May Also Like
---