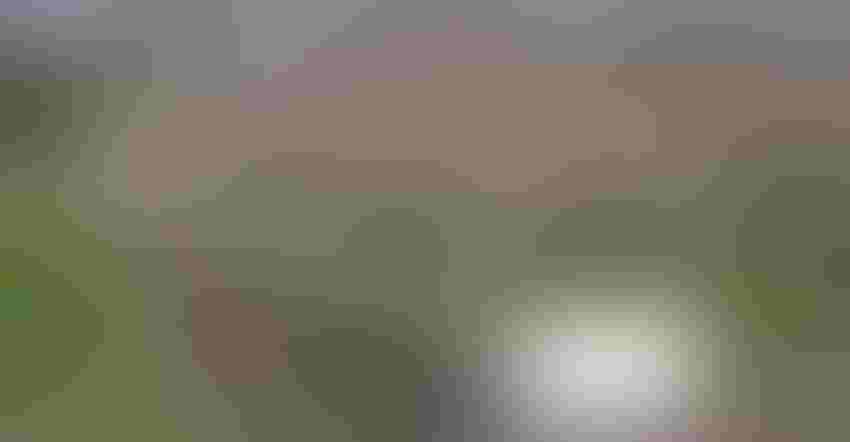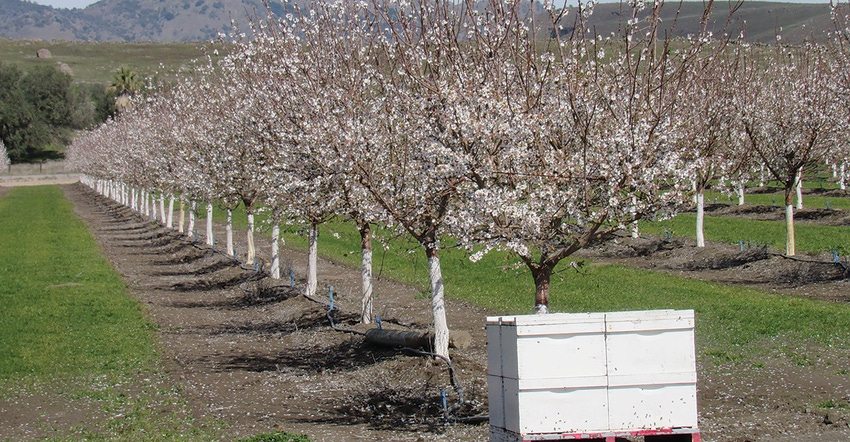 A bee box is placed in an orchard near Yuba City, Calif., during almond blossom in 2018.
Tim Hearden
California's annual almond crop represents the largest pollination management program in the world with a bevy of beekeepers uniting forces to supply in the neighborhood of a million beehives -- half of all those available throughout America -- for the event, according to California Pollinators, a statewide database.
Joining forces for the 2021 effort are BeeHero and the Pollination Connection, a union that will bring the providers of smart hive technology who operate the world's largest database of bee activity data into partnership with California's premier bee brokerage.
The amalgam, according to their press releases, "will help farmer generate more income by increasing crop yield and lowering operational costs."
It's a big marketplace according to researchers at UC Davis who note that 80 percent of almonds consumed globally are grown in California and depend entirely on pollination -- an entity that generates in excess of 100,00 jobs and results in more than $21 billion in state revenue and representing 25 percent of the state's total exports.
"California's almond growers deserve innovative tools for their work," said Omer Davidi, BeeHero's CEO. "The Pollination Connection's broad network will help us bring advanced, and cost-effective, pollination services throughout the state using smart hive technology to predict, measure, and optimize bee pollination quality in real time."
"Every almond grower looks for ways to increase yield. BeeHero's smart hives help predict and perfect the act of pollination," said Pollination Connection president Denise Qualls, a skilled apiarist bearing the informal title of Queen Bee.
"For me, as a bee broker and pollination specialist, an amalgam like this is long overdue. The industry has needed it, but never had the innovative technology to make it happen, so it's pretty darned exciting for me."
Innovation has proven itself
That innovative technology has proven itself with other crops, according to Davidi. "We've worked hard to develop ways to improve pollination and increase yield and while there's a lot more to learn about how pollination impacts output, we've already been able to increase crop yield in soybeans and avocados," Davidi said.
Almond pollination in California in 2020 resulted in a new record crop, so bees did their job well. "Bees are like snowbirds with both a summer and winter home," said Qualls. "Once West Coast nut pollination is done in the spring, the hives get shipped to places like Maine for blueberries or Oregon for apples."
"One of the things we've learned running a lot of research is that every bee contributes a little to the overall effort to pollinate a wide area," Davidi said. "How they are deployed in an efficient way is the key and their aggregation and deployment among a density of trees are part of the key to more successful pollination."
"In some cases, like apples, the goal isn't to maximize the number of flowers pollinated. You don't want to over pollinate because then you need to put a lot of work into thinning branches.  Optimizing pollination means you want the best output for farmers and sometimes that's quality, not quantity."
"We're streamlining the process to get more yield with less effort," summarized Qualls.
It's a tough business that faces colony collapse, anywhere from a 40-50% mortality rate, and the 2020 wildfires didn't help matters. "Luckily, most of California's bees had already finished their work and were in other states, so the California impact is related more to the queen bee breeding sector," Qualls said.
"One of our beekeepers near Sacramento lost her whole operation -- her house, barn, and 700 hives. Even without the wildfires, sustaining a bee farm is a tough job, it's a challenge, and we hope our innovation will aid the bee industry into a new generation of prosperity. Our motto is 'Pollinate and Prosper'."
For more news on tree nuts as reported by growers and farm advisors, subscribe to the Tree Nut Farm Press e-newsletter.
Subscribe to receive top agriculture news
Be informed daily with these free e-newsletters
You May Also Like
---