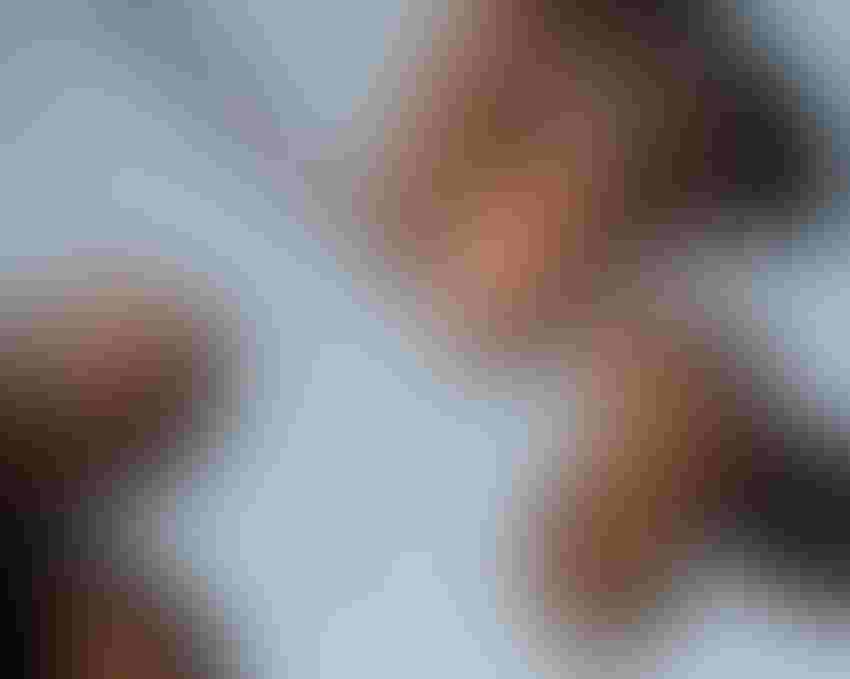 Pecan on tree ready for harvest
SWInsider/iStock/Getty Images Plus
While California is widely considered the tree nut production capital of the world, less than 4,000 bearing acres of pecans are grown commercially in the Golden State.
One of the most common reasons offered for low pecan production numbers is because most areas of northern and central California fail to provide the deep, well-drained soil that many pecan varieties prefer. Pecans also enjoy hot weather generally and are sensitive to colder temperatures and extreme frost events.
California does produce a healthy, large-variety, high quality commercial pecan. Truth be told, in a land well suited for other popular and profitable nut varieties, including almonds, walnuts and pistachios, there tends to be less interest in growing pecans over other nut varieties.
That being said, there are successful California pecan growers that believe the Golden State is ideally suited for "raising the bar" in well managed, profitable pecan operations. California's largest pecan producer, Ben King, is one of them.
King farms about 850 acres of pecans between two farms, one in the San Joaquin Valley near Visalia and a second north of Sacramento near Colusa where he also maintains an almond orchard.  In 2015 King provided testimony at a Pecan Federal Marketing Order hearing in Washington and explained his rather intense activity in pecan production and also shared some of his thoughts in support of a pecan marketing program.
King noted that Mexico is the leading producer of pecans with a 53 percent share of world production, followed by the United States at 40 percent. But he believes that California is posed to help increase U.S. production to a point where the U.S. replaces Mexico for the number one spot in global production.
There are critics on the West Coast that that are quick to point out there are cool weather-tolerant varieties of pecans that could grow well in California's diverse climate, but say those varieties are often less suitable and less profitable for commercial production, a position King doesn't share.
Critic's Choice?
While questions circulate and opinions differ on California's role as a major pecan producing state, they are not the only western state in the run to increase pecan production. Arizona and bordering New Mexico continue to expand their pecan production each year. New Mexico, in fact, was the nation's largest producer of pecans last year after Hurricane Michael destroyed a large percentage of Georgia's popular pecan crop.
By the numbers, Georgia generally produces the most commercial pecans followed, in order, by New Mexico (in recent years), Texas and then Arizona. Oklahoma is also growing rapidly as a pecan producing state. But Arizona may be in the driver's seat when it comes to being a popular and attractive location to grow high-quality pecans.
University of Arizona Agricultural & Resource Economics Professor and Extension Economist Russell Tronstad says looking back at statistics can be deceiving when it comes to the state's pecan production acres.
"Looking back to 2002, the agricultural census lists Arizona's pecan acres at near the same number as the 2017 census, 16,220 acres back then compared to 16,229 acres in the last census. But those early acres included many pecan varieties planted in lower elevations that didn't do as well in shallow soils as the newer varieties they are planting now at the higher elevations where deep roots can support healthy trees," Tronstad said.
"But in more recent years we are seeing new orchards going in on land that is more suited for pecan production and the newer varieties are doing very well. Other potential growers are taking note and we are seeing rapid expansion now in southeastern areas of the state."
Tronstad said a lot of pecan investment is filtering into the state and noted that many believe they are represented by California investors looking to expand nut operations in Arizona. But while he thinks some of that may be happening, he believes that more and more investors from other states are beginning to understand the growing value of high-quality pecans in his state.
"What we have working against us right now of course are trade disputes, especially with China, who traditionally has been the largest buyer of U.S. pecans. This is a major roadblock to tree nut expansion just about everywhere including Arizona, New Mexico, California and Texas. But eventually this should work itself out and that could open the gates for more pecan interest," he added.
Tronstad says it's not just pecans but pistachios that are gaining ground in Arizona. Of particular interest are organically grown pecans and pistachios. He says current orchard practices in his state match closely with organic standards and that could give a boost to Arizona-produced tree nuts in the years ahead.
At last count nearly 26,000 acres of pecans have been planted in Arizona, about 15,000 of those acres are bearing nuts each year.
The growth rate for new pistachio operations has also been significant, almost keeping pace with the growth of the state's pecan industry.
"We have a lot of ground to make up, but Arizona is starting to make a mark in tree nut production. We offer some advantages, like fewer pest and disease issues than many nut growing areas and we so far have escaped the dreaded pecan weevil and case bearer problem being experienced in pecan states that are east of us," he noted.
New Mexico and Texas pecan growth
In spite of Georgia's set back from last year's hurricane, few are doubting that in time the state will recover and once again lead the nation in overall pecan production. Texas remains another strong contender with its half-and-half native variety and improved commercial varieties of pecans it produces.
New Mexico, on the other hand, holds an advantage over many other states because of the well managed orchards in the Mesilla Valley and in Edy county in the southeast region of the state. With support from an ambitious program at New Mexico State University (NMSU), pecan research has helped to develop new varieties well suited to New Mexico's soil and environment.
Like other states, water remains a major challenge in semi-arid southern New Mexico, but so far a combination of groundwater and irrigation water from surface reservoirs have provided adequate moisture to produce the state's attractive 92 million pounds of commercial pecans to lead the nation in production last year, a 28 percent increase over 2016 numbers.
NMSU extension officials say pecan acres continue to expand but admit that water issues and market concerns can be limiting factors in the years ahead.
While California tree nuts like almonds, walnuts and pistachios continue to dominate the market worldwide, pecans may well be gaining some ground since the establishment of the federal pecan marketing order a few years back. Once trade relations normalize between the U.S. and its varied trading partners, investors have expressed optimism that pecan investment will pay attractive dividends, regardless where they are grown.
For more news on tree nuts as reported by growers and farm advisors, subscribe to the Tree Nut Farm Press e-newsletter.
Subscribe to receive top agriculture news
Be informed daily with these free e-newsletters
You May Also Like
---