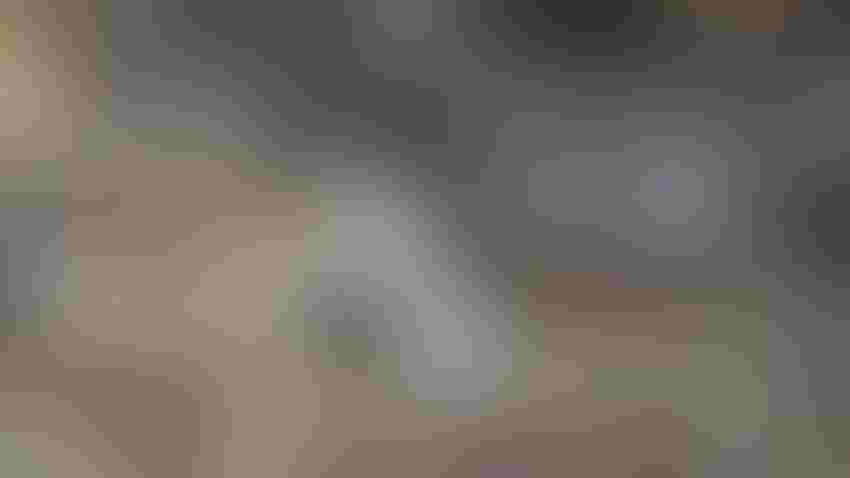 Almond farmers who do not properly sanitize their orchards ahead of bloom each season set themselves and their neighbors up for heavy Navel orangeworm infestations that cannot then be controlled by insecticides and mating disruption technologies.
Todd Fitchette
If 2017 was the Navel orangeworm train wreck in almonds, 2023 is turning out to be a "meltdown."
Mel Machado, vice president, member relations for Blue Diamond Growers, characterized this year's almond reject levels as significant and widespread. The reasons range from issues beyond the farmer's control to those they could manage.
Weather issues throughout the season, capped by heavy rain and humidity from Tropical Storm Hilary in August that led to mold and staining in almonds, were many. Machado says the staining will primarily affect the in-shell markets, though other nuts and end-uses could be impacted.
Though the weather issues were outside of the control of almond farmers, their decisions ahead of almond bloom last winter to not properly sanitize their orchards was one of the deciding factors in the significant boost of Navel orangeworms (NOW) this season. The NOW moth lays its eggs inside the nuts. The maturing larvae feeds on them, making them unmarketable.
"I know growers decided because of economics that they can't afford to do winter sanitation," Machado said. "I can prove that they're wrong and have the numbers to back that up."
Winter sanitation is the act of shaking trees in December and January to remove unharvested almonds. Almond industry experts and the University of California recommend this to control overwintering populations of NOW insects. The goal: eliminate the first flights of moths in the spring to reduce the beginning population of moths. Treatments including insecticides and mating disruption pheromones can aid in moth control throughout the season.
California almond farmers have suffered under several years of unprofitable almond prices. This led many to avoid costly practices such as winter shakes for sanitation, and insecticide treatments to control the moths. Other growers simply walked away from their orchards, leaving them to die because they could no longer afford to manage them.
It was those orchards – unmanaged, but still with almonds on the trees – that became havens for NOW moths, Machado said. Those insects were able to reproduce freely and infest neighboring orchards, including pistachios and other tree crops.
Orchard removals
Because of the large number of abandoned orchards, and those already planned for removal, orchard removal companies quickly became inundated with requests and could not get to all the orchards needing removal in a timely manner.
The result: higher populations of moths that continued to reproduce freely and infest tree nuts.
"I've got growers who did it all right; they sprayed three times and may have used mating disruption, but they still had 15% rejects," Machado said.
The issues are widespread, from Red Bluff in the northern Sacramento Valley to Arvin in the southern San Joaquin Valley, he said.
It's still too early to tell what impacts this will have on the size of the marketable crop. Almond harvest continues as the earlier varieties – Nonpareil and Independence in particular – are being harvested. Almond harvest, which began later than normal this year due to weather conditions, is expected to last through October.
At this point, the damage is done. NOW feeding has so damaged some almonds that they are unmarketable. Machado says the long game of NOW control must start after harvest with winter sanitation and the removal of as many abandoned orchards as possible. He admits this will take time.
The USDA earlier this summer projected that the California almond crop would be 2.6 billion pounds. This comes on top of a nearly 800-million-pound carryout of unsold nuts into the new marketing year, which started on Aug. 1.
Subscribe to receive top agriculture news
Be informed daily with these free e-newsletters
You May Also Like
---