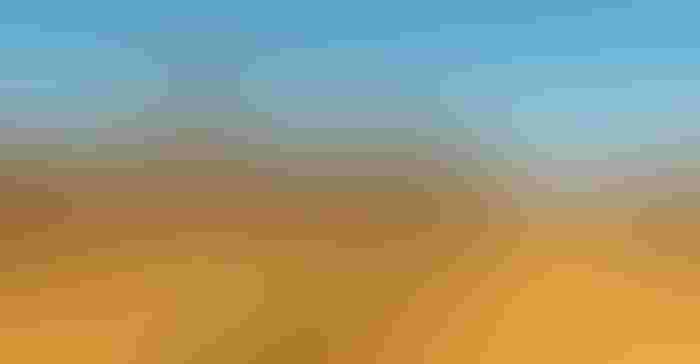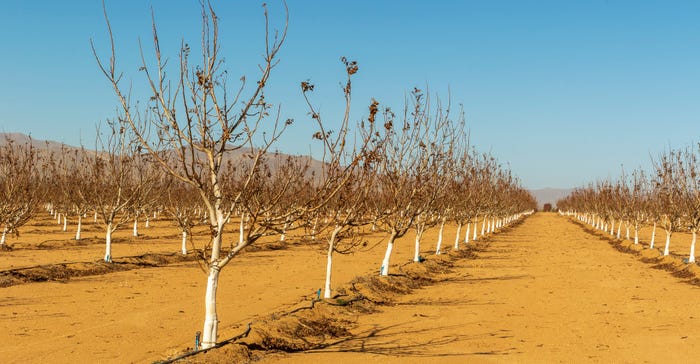 A section of northwestern Arizona with little apparent connection to agriculture other than a few pivots of hay is starting to be claimed by farmers willing to try walnuts and almonds in the desert landscape. Yes, walnuts.
A cursory view of the area between Kingman and the upper end of Lake Mead revealed a stark contrast between what appears to be successfully planted walnuts and pistachios, and the corpse of what was once likely a first- or second-leaf almond orchard planted in alluvial soil at the edge of a dry lake.
While pistachios and pecans have proven themselves capable of withstanding Arizona's desert climate, with its temperature extremes and summer monsoons, almonds have yet to see similar success and walnuts are apparently new to the Grand Canyon State. There are a few acres of bearing almonds planted near Salome, Ariz. Farmers familiar with the early adopters who tried almonds in Arizona all reported similar, failed outcomes. It was not for lack of trying, they said. The climate is apparently not conducive to growing almonds in Arizona. Will walnuts work? Time will tell.
Pistachio trees, with their biblical reference from the 13th century before Christ, have a long history of production in desert climates. In modern times, pistachios have shown themselves able to withstand the desert climate of Arizona and New Mexico. They do well in California's Mediterranean Climate. Well-managed pistachio orchards continue to successfully produce crops in the southeast corner of Arizona, around towns like Bowie and Willcox. Farmers are also successfully producing pistachios in New Mexico.
Whether walnuts and pistachios planted in this region of Arizona stand the test of time remains to be seen. It would seem from the type of groundwork appearing to take shape nearby, similar plans are under way to possibly plant more orchards.
Subscribe to receive top agriculture news
Be informed daily with these free e-newsletters
You May Also Like
---