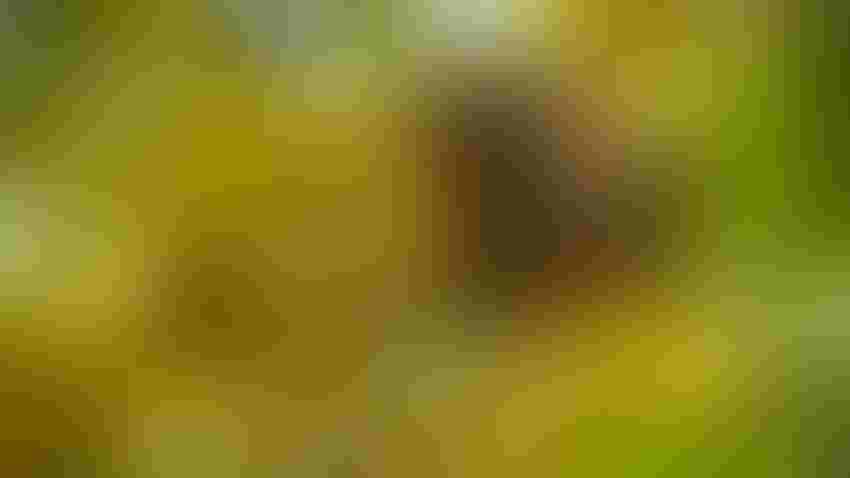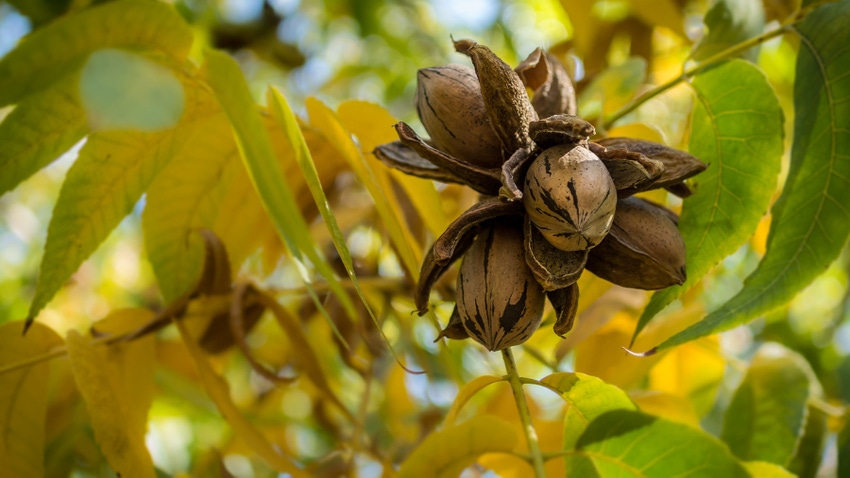 July's heat was hard on New Mexico pecans.
Skapie777 / iStock / Getty Images Plus
With a summer of intense heat and persistent drought, New Mexico pecan growers have little "wiggle room," in management decisions.
That's especially true for irrigation, says New Mexico State Extension Pecan Specialist Richard Heerema, Las Cruces.
"It's finally cooling down," Heerema said in mid-August. "But it has been hot. It has also been very dry. And we are not seeing the monsoon rain we expected. We had some rain the night before last (August 14). That was the first significant rainfall in this monsoon season and did not amount to anything."
The main thing growers need to do under these stressful conditions, he says, is "to stay on top of management.
"Pecans handle heat pretty well. In fact, they need quite a lot of heat to ripen the crop. But this summer they have had a lot more than they need. The main thing is that growers have to be diligent in tracking irrigation. They do not have much wriggle room."
He says irrigation capacity varies a lot among pecan orchards. "Many big growers will scale planting to irrigation availability. That requires some planning."
On year
Heerema says a lot of  New Mexico pecan growers are in an "on" year. "That's not the case for everyone. Some are on the opposite cycle. The orchards I've seen are in an up crop year."
The combination of a potential bumper pecan crop and a stressful season "adds another layer of management stress," Heerema says. "Again, less wiggle room. Growers can't skimp and must be certain they perform all the management practices necessary with a heavy or on crop, especially with a season of much higher temperatures than normally expected."
He says some orchards have experienced a lot of nut drop, which took off some of the heavy crop. "A few orchards lost a large percentage of the crop. That took production potential down some but most still have a decent crop." The month of July, he says, was hard on New Mexico pecans.  
Sizing well
He adds that it's too early to estimate production. "The crop is sizing up well and will be normal in that respect. And growers are being diligent with horticulture practices to manage physiological stresses."
Heerema says an unusual outbreak of spots on leaves occurred early in the season, before the heat dome covered the region. "We did see more than usual reports of spots on leaves and some growers were concerned about a disease issue. We were not able to identify any particular disease organism. Some people suspected anthracnose or Alternaria. But we were not sure."
 He says the spotting occurred on certain stages of leaf development. The issue was short-lived but did affect some orchards more than others. I don't expect major concern for most orchards for sizing the crop."
A few outbreaks of yellow aphids occurred before the heat set in, Heerema says. "That's a usual issue with aphids, yellow aphids in particular, including the black margined aphid and the yellow pecan aphid.
"We saw a few outbreaks that were controllable if growers were careful — scouting and following up with management practices. We have a lot of good products available to manage yellow pecan aphids."
He adds that some black pecan aphids, different than black margined aphid, were detected early.
"Black pecan aphids typically flare up toward the end of the season, August, September or early October," he says. "We saw them in late May and early June. That early sighting does happen occasionally, and we don't usually think it's an economic pest in the early part of the season."
He says growers were still seeing some black aphid symptoms in August. "Early detection was a bit of a surprise but I don't think it will be an economic concern in most orchards.
"It is important to scout and watch populations. If more than 1 per compound leaf is detected, it's a good idea to consider management."
Sooty mold
He adds that lack of rain could create problems with yellow pecan aphids. "Producers who aren't watching for the two yellow pecan aphids could end up with problems with honeydew accumulation and then sooty mold. Growers sometimes mistake sooty mold for disease, but it is fungal growth on honeydew. If it doesn't rain much in the summer, we often have bigger issues with honeydew. Growers have to stay on top of yellow pecan aphids."
He says the sooty mold can cause serious problems. "It blocks sunlight from reaching the leaves, affecting photosynthesis. Pecan growers can't afford an extra layer of stress with an on crop and physiological stress."
Drought conditions made weed management "a bit simpler," Heerema says. "With micro irrigation or sprinklers, weeds were easier to manage in the drier parts of the orchard floor."
Pecan stats
In 2022, the New Mexico utilized pecan production was 79 million pounds, down less than one-half of one percent from the utilized production of 78.70 million pounds in 2021, according to USDA-NASS.
Bearing acreage was estimated at 47,000 acres, up 2 percent from the previous year. The average yield per acre was 1,680 pounds, down 30 pounds from the previous year.
The 2022 price per pound in New Mexico at $1.68, was $0.72 lower than in 2021. The value of 2022 New Mexico pecan production was $132.72 million dollars, down 30 percent from 2021.
Subscribe to receive top agriculture news
Be informed daily with these free e-newsletters
You May Also Like
---