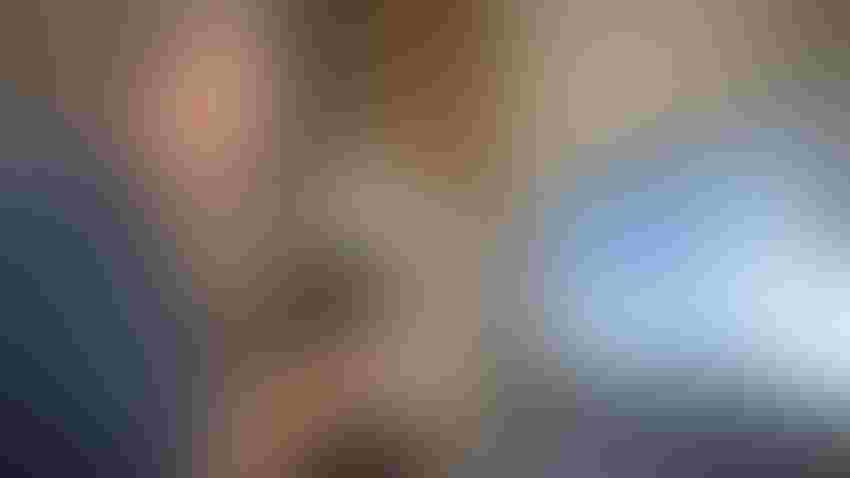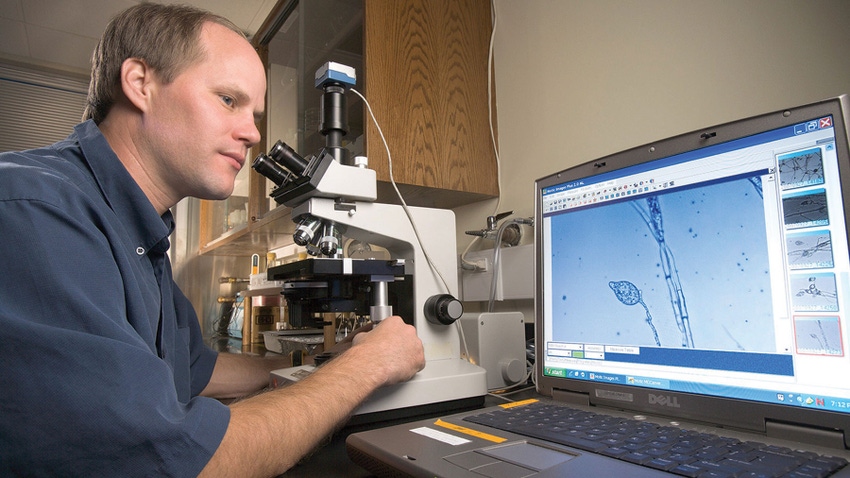 Plant physiologist Daniel Manter takes a closer look at a phytophthora culture.
USDA ARS
Wilbur-Ellis has announced the registration of a new fungicide that will provide at least a near-term solution to plant diseases such as phytophthora, which has raged in tree nut orchards this year after a wet winter and spring.
SPARRA, a phosphite promising broad-spectrum control, was approved for use in California specialty crops, the San Francisco-based farm products manufacturer said.
"SPARRA's EPA registration in California means our customers have a new tool for crops that need a broad-spectrum, systemic fungicide-bactericide for control of downy mildew, powdery mildew, pythium, phytophthora and many other key diseases in agricultural and greenhouse crops, turf and ornamentals, and conifers and other trees," Wilbur-Ellis specialty actives portfolio manager Chris Wooley said in a statement.
"SPARRA's unique formulation improves upon a well-established and efficacious active ingredient, and we are pleased to have received this registration for the upcoming use season," Wooley said.
The registration comes as the University of California has been seeking new weapons against phytophthora, a fungus-like pathogen that can affect almond crops. The UC has been working with the Almond Board of California to seek registration for a trio of new modes of action against phytophthora, which has killed trees this year in the San Joaquin Valley.
The fungicides – Orondis, Presidio and Elumin – will provide new coverage for phytophthora strains that have become resistant to phosphites, UC Riverside professor Jim Adaskaveg has said.
Disease crops up
While phytophthora has been rarely seen in California, it has cropped up in almonds in recent years because restrictions on the use of pure well water has caused growers to rely more on surface water, Adaskaveg said at a field day this spring.
"The problem is over the last couple of years, we've seen phytophthora develop in July and August" after spring and summer irrigation from surface-water sources, he said at the field day near Arbuckle, Calif. "Now we're seeing different species … We're trying to register different modes of action so we don't get resistance.
"Last time we had new materials was in the 1980s, so it's been 40 years," he said.
SPARRA boosts the concentration of EPA-registered potassium phosphite to 59.24% mono- and di-potassium salts of phosphorous acid, which Wilbur-Ellis says is the highest concentration in the industry.
The company says its unique formulation ensures maximum effectiveness against a wide range of fungal and bacterial infections, which it calls a "game-changer" for the agricultural sector.
Subscribe to receive top agriculture news
Be informed daily with these free e-newsletters
You May Also Like
---